Monday September 28, 2015
Beer 101
Good beer is back with a vengeance! Thanks to the craft beer explosion, now is the perfect time to reintroduce yourself to beer. 
Today there are more breweries in the United States than at any time since the late 19th Century, with many more still to come. The brews they are crafting have as much complexity as the world's best wines, if not more so.
Here are the basics for enjoying your next cold one!
Hand Full of Ingredients
Beer is made of four basic ingredients. Each of these ingredients contributes flavor and aroma of beer: malt, yeast, hops, and water.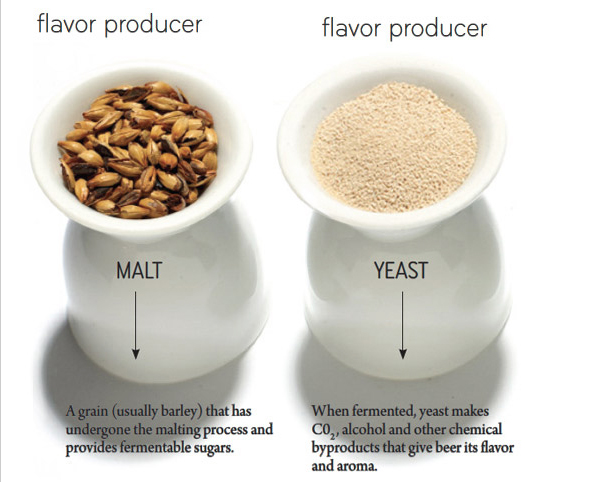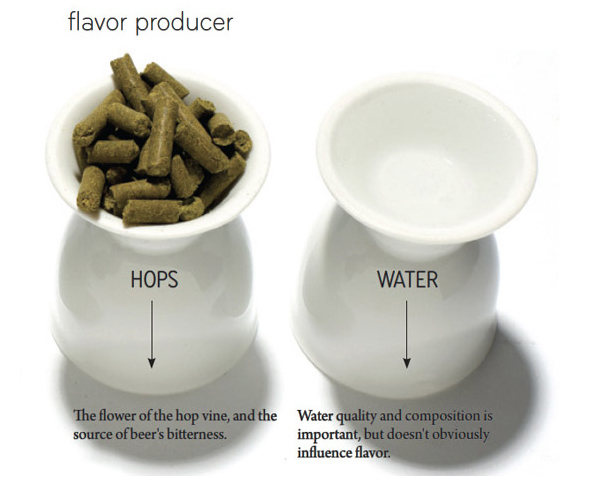 Every beer displays the character of all these ingredients to lesser or greater degrees. Beer styles are determined by the intensity of each ingredient relative to the others.
Beer Flavor Triangle
Some beers are heavier in malt, which we cicerones (the beer equivalent to a sommelier to wine) call malt forward. Others showcase hops (known as hoppy beers) or yeast (which we call yeast forward).
There millions of combinations of these ingredients. Add spices, honey, fruit, or any of the other additional tools in the brewer's kit and the possibilities for creating unique beer flavors are literally endless.
Ale vs. Lager
It is generally agreed that there are two broad subcategories of beer, ale and lager. The main difference between the two is the type of yeast used to ferment them.
Ale yeasts ferment at warmer temperatures (between 60 and 75°F) compared to the colder fermentation temps of lager yeasts (45 to 55°F).
The warmer fermentation of ale promotes the production of flavor and aromatic compounds, while the colder lager fermentation inhibits them. This is why lagers tend to have a crisper cleaner profile and ales are more fruity and spicy in flavor. Beyond these differences associated with yeast, the full range of beer flavors is available to both ales and lagers.
Beyond Light to Dark
Beer styles fall on a spectrum of flavor intensity from lighter to stronger.
Many think that flavor intensity corresponds to color: Light colored beers are light and darker beers are heavy. Wrong! Color really tells you little about the intensity of flavor in a beer.
A Belgian tripel looks very much like a pilsner, but 9% alcohol and the funky flavors of Belgian yeast make it significantly more intense. The black lagers of Germany are as dark as coffee, but drink more like a pilsner than a stout, with just a dash of roast.
Blond ales and golden lagers like pilsners fall on the lighter end of the scale. At the other end you find the big and brawny barley wines and imperial stouts, along with the tart and funky Belgian sour beers.  Beers at this end tend to be higher in alcohol, but that's not always the case.
In between, beers run up the scale from the luscious, caramel-tinged amber and Scottish ales to brightly bitter pale ales and rich, roasty porters and stouts.
Ideal Temperature
Ice cold is how Americans like their beer, but American-style lagers aside, that is not the best way to enjoy a finely crafted brew. Why?
The colder something is, the less you can taste it. And that includes beer!
The deep-freeze numbs your taste buds. When beer gets too cold the malty goodness disappears. Hop bitterness becomes more intense, harsh and unpleasant. To keep the correct balance, drink your lager beers at around 48°F and your ales at "cellar temperature," around 55°F.
Glass, Bottle, or Can?
Finally, be sure to pour that beer into a glass. Most of what we taste actually comes from what we smell. If you drink straight from the can or bottle you can't smell anything. You're cutting yourself off from three-quarters of the total beer experience.
A simple pint glass is fine for most beers, although a tulip glass or snifter will better serve those high-alcohol and highly aromatic beers like barley wines and Belgians.
Wednesday July 22, 2015
Yes, We Carry That!
The Beverage Depot has the best. Look no further for your favorite beer or cider...we carry it all!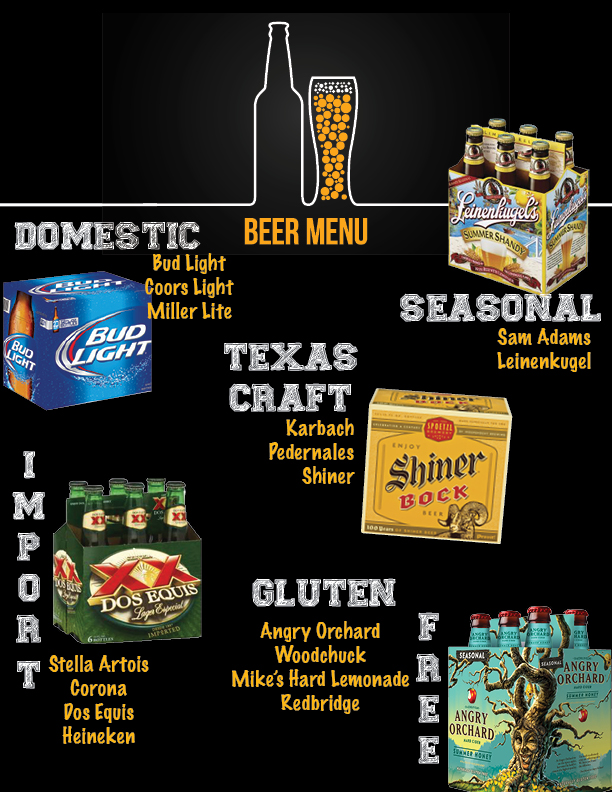 Friday May 1, 2015
Cooking with Kate: Pedernales Brewery Recipes
Cheddar Cheese Beer Dip
featuring Pedernales Brewery's Lobo Texas Lager
8-10 servings:
2 (8 oz) packages Hytop cream cheese, softened
½ cup beer
1 packet ranch dressing mix
2 cups Hytop fancy shredded mild cheddar cheese
Pretzels, crackers, or chips
Place cream cheese, beer, and ranch dressing mix in a bowl. Beat with an electric mixer until smooth and creamy. Add the cheddar cheese and mix on low until blended. If the dip is too thick, add a little more beer and mix well.
Keep refrigerated until ready to serve.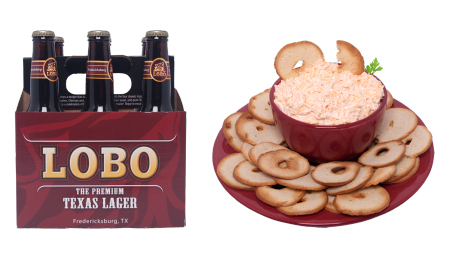 ---
Sweet and Spicy Beer Braised Sausage 
featuring Pedernales Brewery's Lobo Negro Black Lager
12 servings:
2 links (14 oz packages) smoked sausage or smoked jalapeño sausage
1 cup brown sugar, divided
12 oz. Lobo Negro Black Lager beer
Preheat the oven to 325F. Slice each link of sausage into ½" pieces. Spray a large baking dish with non-stick spray. Add the sliced sausage and half the brown sugar. Pour the beer over the sausage. Stir the mixture a bit, cover with foil, and bake in preheated oven for 1 ½ - 2 hours. Remove from oven, sprinkle with remaining brown sugar and stir. Reduce oven to 250F and bake sausage another 2 hours, stirring occasionally to baste the sausage in the sauce. Serve warm.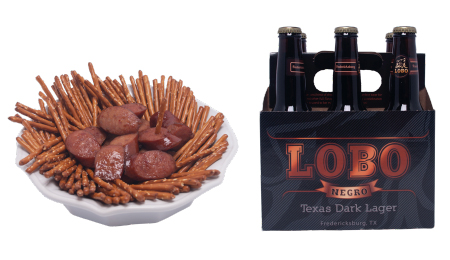 Thursday March 5, 2015
How to Make Green Beer
Learn the tips and tricks you need to create the perfect pint of green beer while avoiding common pitfalls (looking at you, flat turquoise beer). 
What you'll need: 
Beer
Pint glass
Green food coloring
How to:
Use a light-colored beer such as a pilsner or pale ale. The lighter the beer, the brighter the color. A dark beer will require more food coloring, which leads to green teeth.
Add beer to the coloring. To avoid flat beer, grab a pint glass and squeeze in 3- 5 drops of green food coloring. Slowly pour beer from a 12-ounce can or a 16-ounce bottle into the glass. Watch the color mix as the beer goes in. Want more color? Add a drop or two more of food coloring. If you put the beer in first, you'll have to stir it, which will make the beer go flat.
Stick with liquid green food coloring that comes in the little squeeze bottles. Adding blue to yellow-hued beer seems like a clever alternative, but we don't recommend, because you'll end up with turquoise beer.
Monday March 2, 2015
Blue Moon Belgian White
The beer's light, spicy citrus flavors pair well with seafood such as grilled shrimp, Asian dishes like pad thai, and marinated chicken dishes.
Ingredients and Profile:
Malts: Pale, White Wheat, Oats
Hops: Blend of Imported and Domestic
Our Twist: Valencia Orange Peel , Coriander
IBUs: 9
Original Gravity: 13º Plato
ABV: 5.4%
Glassware
Pour our Belgian White* into our signature Blue Moon® glass to highlight the depth of the beer. This glass opens wide at the top to make room for the aromatic citrus notes. Cap with a creamy, white head and garnish with an orange slice.
Appearance: Will appear cloudy because it's unfiltered for more depth of flavor.
Aroma: You'll notice a zesty orange fruitiness with a light spicy wheat aroma.
Taste: The flavor starts crisp and tangy and ends with a coriander and orange spiciness. The Valencia orange peel gives a subtle sweetness to the beer.
Mouthfeel: The oats give the beer a nice creamy body, so it's not too thin.
Finish: Our Belgian White* has a slow finish of coriander and orange spiciness.
One of our favorite recipes to pair with Belgian White Belgian-Style Wheat Ale is Blue Moon® Belgian White Artfully Crafted Grilled Chicken
Serves: Makes 4 Servings
Prep Time: 5 Minutes
Cook Time: 75 Min.
Difficulty: Easy 
Ingredients
1 (4-lb) whole chicken
2 tbsp. seasoning salt
4 tbsp. paprika (smoked paprika preferred)
1 tsp. white pepper
1/2 tsp. cayenne pepper
1 can Blue Moon Belgian White*
5 cloves
1 tsp. coriander seeds
Orange rind
Honey
Directions
Rinse chicken inside and out, and pat dry with paper towels. Combine seasoning salt, paprika, white pepper, and cayenne. Generously coat chicken with this mixture.
Drink half the can of Blue Moon Belgian White* (don't waste it!). Place beer can on a solid surface. Place cloves, coriander seeds, and orange rind inside beer can, with a dab of honey. Grabbing a chicken leg in each hand, plunk the bird cavity over the beer can. Transfer the bird-on-a-can to your grill and place in the center of the grate, balancing the bird on its 2 legs and the can like a tripod.
Cook the chicken over medium-high, indirect heat (i.e., no coals or burners directly under the bird), with the grill cover on, for approximately 75 minutes or until the internal temperature registers 165°F in the breast area. Remove from grill, and let rest for 10 minutes before carving.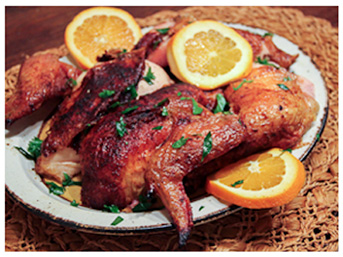 *Belgian-style wheat ale.
Friday January 2, 2015
Beer Me
Choose Your Own Adventure!
Spicy or bitter, hoppy or sweet, there's a beer style for everyone. Find yours with with our self-guided quiz.

Wednesday November 19, 2014
Spreading Good Cheer With Beer
Beers of every flavor and description are 'hot' on the buying and serving list this year.  We've "drafted" a few pointers that will help you with your holiday entertaining.
Buy fresh.
Be sure to buy beers made by American craft brewers. This will ensure that you are getting fresh, flavorful beer produced with pride right here in the USA.
Pour It On. 
Beer is meant to be shared. A perfect way to do this is to pour bottles into a glass or clear plastic pitcher that can be passed around the table. Don't over serve. One to one-and-a-half beers per person should be enough beer on the table at the beginning of the meal.
Give Options.
Offer at least two varieties of beer. Some like dark, others light. Offering two different choices can help to keep everyone happy.
Go with Glass.
Would you believe that brewers have longed used stemware for special beers. A thistle glass or "old-fashioned" glass is great if you have it, but wine glasses work well, too. When in doubt go with a six to eight ounce glass tumbler. It enhances the taste!