Posted on Friday, June 4, 2021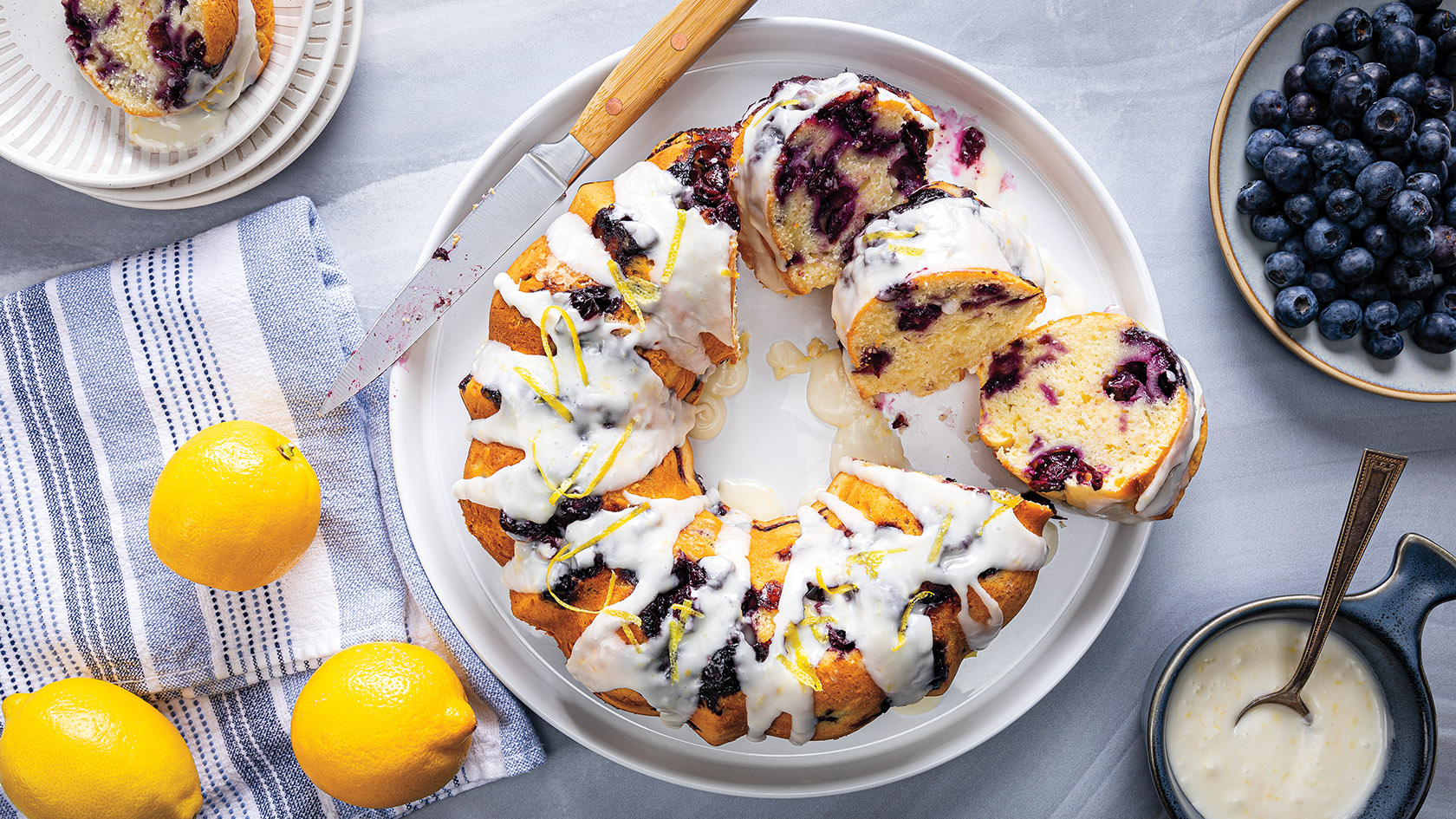 View the video version here.
Prep: 20 minutes plus cooling Bake: 55 minutes Serves: 16
Ingredients
Nonstick cooking spray
2 cups plus 1 tablespoon Food Club® All-Purpose Flour
2 teaspoons baking powder
½ teaspoon salt
1½ cups fresh blueberries
1 cup Food Club® Pure Cane Granulated Sugar
½ cup Food Club® Sweet Cream Unsalted Butter (1 stick), softened
2 large Fresh Harvest™ Grade A Large Eggs
3 tablespoons fresh lemon juice
1½ tablespoons fresh lemon zest plus additional for garnish (optional)
2 teaspoons Food Club® Pure Vanilla Extract
¾ cup plus 2 tablespoons Food Club® Sour Cream
1 cup Food Club® Pure Cane Confectioners Sugar
Directions
Preheat oven to 350°; spray a 10-cup Bundt pan with cooking spray. In medium bowl, whisk 2 cups flour, baking powder and salt. In small bowl, toss blueberries and remaining 1 tablespoon flour.
In large bowl, with mixer on medium-low speed, beat sugar and butter 3 minutes or until light and fluffy. Add eggs, 2 tablespoons lemon juice, 1 tablespoon lemon zest and vanilla extract; beat 2 minutes or until incorporated. Reduce speed to low. In 2 batches, alternately add ¾ cup sour cream and flour mixture, beating 30 seconds or until incorporated after each addition, scraping bowl occasionally; fold in blueberry mixture.
Transfer cake batter to prepared pan; bake 55 minutes or until toothpick inserted in center comes out with a few small crumbs. Cool cake completely in pan on wire rack; once cool, invert cake onto serving plate.
In small bowl, stir powdered sugar, and remaining 1 tablespoon lemon juice, ½ tablespoon lemon zest and 2 tablespoons sour cream. Makes about 1 cup.
Drizzle powdered sugar mixture over cake and garnish with lemon zest, if desired; cut into 16 (1-inch-thick) slices.
Approximate nutritional values per serving (1 slice): 216 Calories, 9g Fat (5g Saturated), 47mg Cholesterol, 101mg Sodium, 32g Carbohydrates, 1g Fiber, 18g Sugars, 3g Protein