Tuesday April 10, 2018
Cooking with Kate: A Batch Made in Heaven
Fun eats often come from inventive pairings (Exhibit A:
Nacho Popcorn
), but it's hard to beat one of the most classic pairings of all: cookies and ice cream. These treats are perfect for satisfying your every sweet tooth need: hot + cold, sweet + salty, crunchy + creamy, and more. Have some fun in the kitchen using these easy recipes for homemade ice cream sandwiches—especially with hot summer days just around the corner!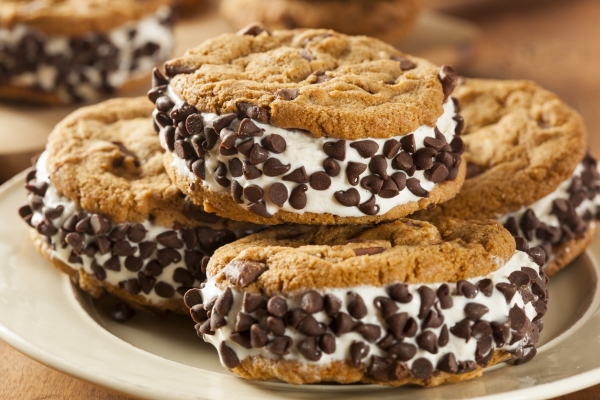 Not to mention, ice cream sandwiches are party perfect: just make them ahead of time, wrap them in plastic wrap or individual sandwich bags, and freeze them until you need them. As for the ice cream, be sure to check out Fresh Harvest Ice Cream, our very own private label brand of ice cream here at Brookshire Brothers! You can find every flavor you need for any of these yummy combinations:
Cowboy or Oatmeal Chocolate Chip Cookies (see below for recipe!) with Homestyle Vanilla Ice Cream rolled in Mini Chocolate Chips
Snickerdoodle Cookies with Butter Pecan Ice Cream rolled in Chopped Pecans
Soft Peanut Butter Cookies (see below for recipe!) with Dutch Chocolate or Moose Tracks Ice Cream rolled in Chopped Peanut Butter Cup Candies
Sugar Cookies with Strawberries & Cream Ice Cream Rolled in Colorful Sprinkles
To make cookie ice cream sandwiches: Allow the cookies to cool completely. Spoon 1 scoop (about ¼ cup) of softened ice cream (depending on the size of your cookies) onto 1 cookie and sandwich with another cookie. Immediately wrap in plastic wrap, wax paper, or an individual sandwich bag and place in the freezer for 2-3 hours to freeze firm. If you want to store them for longer, place the frozen cookie sandwiches into a gallon or larger freezer bag. Enjoy these straight from the freezer on really hot summer days!
SWEET DEAL: Get FREE Food Club Chocolate Syrup when you purchase Fresh Harvest Ice Cream (64 oz)! To sign up for this offer, text JOIN [insert your store number] to 59652.
---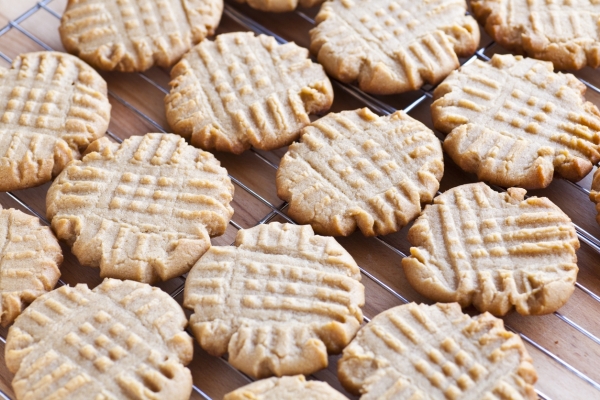 Quick 3 Ingredient Peanut Butter Cookies
This cookie recipe is not overly sweet so they are a great combination with sweet ice cream when you make these into ice cream sandwiches!
Ingredients
1 cup creamy peanut butter
1 cup white sugar
1 egg, room temperature
Directions
Preheat oven to 350 degrees. Line cookie sheets with parchment paper or spray with non-stick cooking spray.
In a medium bowl, mix peanut butter, sugar, and egg until smooth and fully incorporated. Scoop tablespoons of dough onto the prepared sheets. Roll the scoops in your palms to smooth them out and then slightly flatten with a cup dipped in a little sugar (so they don't stick). Use the tines of a fork to crosshatch mark the cookies.
Bake in the pre-heated oven for 7-9 minutes or until just lightly browned. Cool completely on wire racks.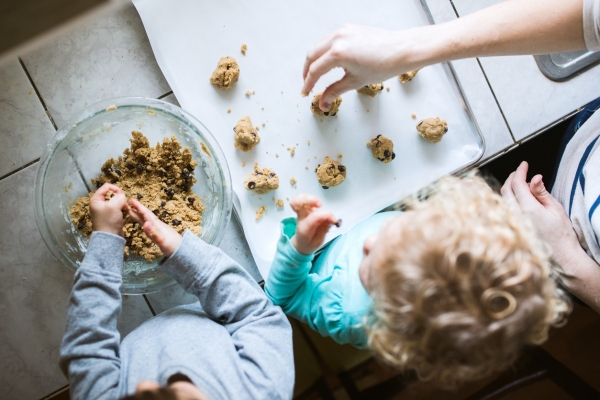 William's Family Oatmeal Cookies
This family cookie recipe is my go to for cookies and can easily be adapted with your favorite ingredients. My sister, Elaine, loves these with butterscotch chips instead of chocolate.
Ingredients
½ cup butter, softened
½ cup firmly packed brown sugar
¼ cup white sugar
1 egg, room temperature
1 tablespoon vanilla extract
1 cup all-purpose flour
½ teaspoon baking soda
¼ teaspoon salt
1 cup old-fashioned rolled oats
Optional Additions (1 – 1 ½ cup total):
butterscotch chips, dark or semi-sweet chocolate chips, raisins, chopped almonds, pecans, or walnuts
Directions
Preheat oven to 375 degrees. Line cookie sheets with parchment paper or spray with non-stick cooking spray. In a large mixing bowl, combine butter and sugars and beat until light and creamy, scraping down the sides of the bowl often. Add egg and vanilla and continue mixing until blended. In a small bowl or measuring cup, mix flour with baking soda and salt. Add dry ingredients to butter mixture and blend slightly. Add rolled oats and any of the optional additions and mix until fully incorporated.
Drop tablespoons of the dough 2 inches apart on prepared cookie sheets. Flatten slightly with the palm of your hand. Bake in preheated oven for 8-12 minutes or until lightly browned. Be careful not to overbake. Enjoy!
---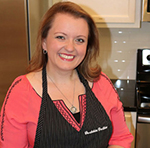 Kate Rudasill, Catering Coordinator for Brookshire Brothers, has been in the food-service industry for the past 14 years. As a graduate of Texas A&M University, a student of The Texas Culinary Academy, and a Nacogdoches, Texas native, Kate grew up with Southern tradition in her blood which caused her to have a deep love for bringing people together with food.
Monday August 7, 2017
5 Fun Ways to Fix S'mores
Any day that commemorates s'mores will be a beautiful day, but #NationalSmoreDay (Aug. 10) is also likely going to be very hot. If you're looking to bring the fun indoors while celebrating this classic campfire treat, we've got recipes for every need. Check it out: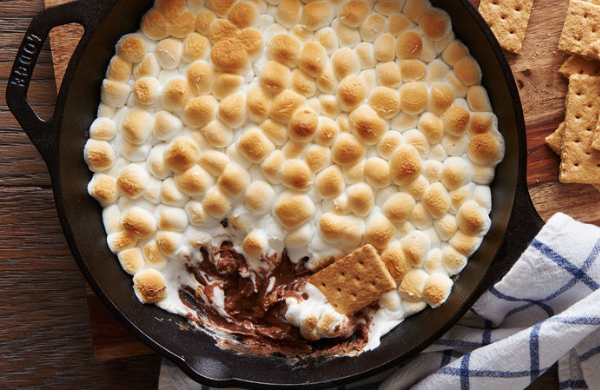 Peanut butter cups + s'mores? We need some-more of this one! This recipe is quick to fix and popular at parties, no matter the weather.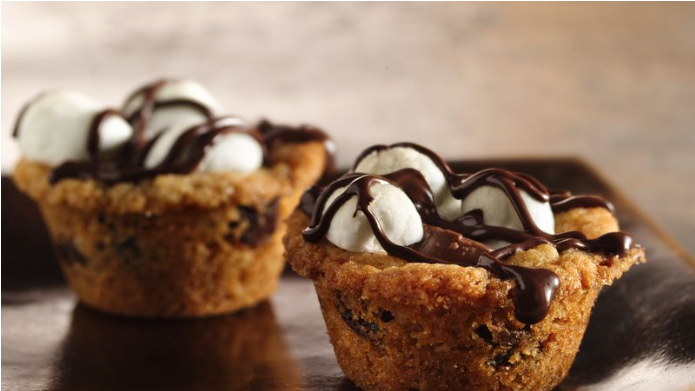 Take dessert or your bake sale to the next level with this popular Betty Crocker recipe!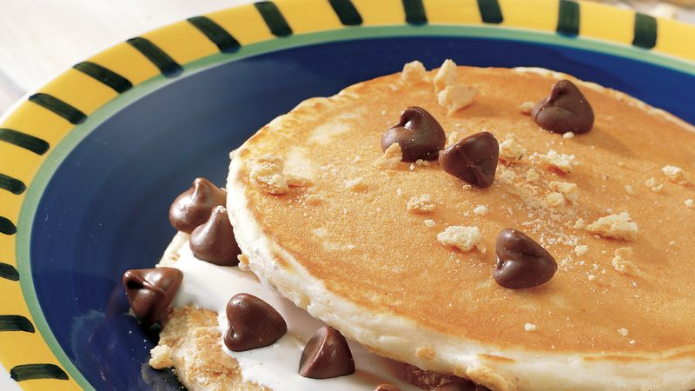 Who knew breakfast could taste so fun.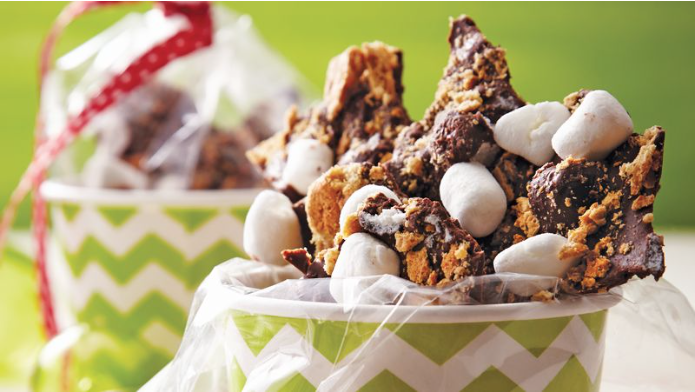 If this bark has bite, it's all delicious crunch. This super-simple recipe has three ingredients and only takes ten minutes to prep!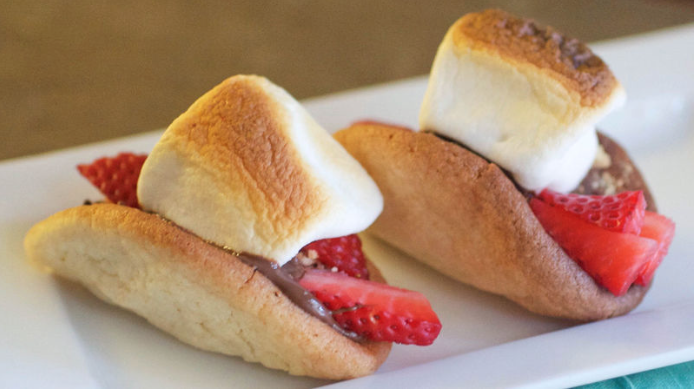 The pinnacle of s'more evolution—a sweet s'more taco.
Monday December 12, 2016
Naturally Sweet
As seen in Charm East Texas
Holiday baking brings so much joy.
 There is nothing quite like that first taste of cinnamon- and nutmeg-scented pumpkin pie each year. Every family seems to have a tradition that revolves around some sort of holiday baked good, even if it's just "Mama bakes 'em and we eat 'em".
Cookies, gingerbread houses and Christmas candy all have a common denominator — sugar. We all know we need to eat less sugar, but the holidays are the hardest time to achieve that goal. Even though it is important to eat less added sugar, there are some natural sweetener options available for baking that have what I like to call "intrinsic benefit." If you're going to eat sweets anyway, at least choose a sweetener that has some sort of benefit built in, like antioxidants, minerals or a lower glycemic index. Don't get me wrong, these sweeteners are still sugar, so they will increase your blood sugar and have plenty of calories, but used judiciously, naturally sweetened baked goods can be a lovely addition to your holiday baking spread. Here's some options to add to your pantry.
Cane sugar
Most of the refined sugar sold at the grocery store is beet sugar. Sugar beets are a GMO crop, so people who would like to avoid eating GMOs should choose cane sugar, which is never GMO. Organic cane sugar will be free of pesticides and other contaminants. Cane sugar has a slight molasses flavor and smell but can be used one-for-one in recipes that call for regular sugar. Cane sugar is nutritionally almost exactly the same as regular refined sugar. Turbinado (also known as Sugar in the Raw) is similar to regular cane sugar, but it is more coarse in texture and has a little more molasses added back to it for flavor. Because it is coarse, it can't be used as a direct substitute for sugar.
Sucanat
Sucanat is a special type of unrefined cane sugar made by beating cane juice with paddles to form gold-brown granules. It resembles brown sugar in appearance, but it is not the same thing since brown sugar is simply regular refined sugar with molasses added to it. Sucanat has a deep molasses flavor because it retains all of the molasses naturally found in cane juice, which enriches the sugar with vitamin B6 and minerals like calcium, iron, magnesium, potassium and selenium. It can be used one-for-one (preferably measured by weight instead of volume) in recipes that call for sugar, but it first needs to be ground in a spice grinder for about one minute until it is fine and powdery so as not to alter the texture of baked goods. Products baked with Sucanat will be a slightly darker color.
Coconut sugar
Coconut sugar is a flavorful sugar option that is available now at most grocery stores. It is made from the sap of coconut palm flowers, which is boiled down to make granules. It has a subtle nutty aroma which works well in most baked goods. Similar to Sucanat, it can be used one-for-one in place of regular sugar in recipes, but because it has irregularly sized granules, it should be ground in a spice grinder for about a minute prior to measuring. There isn't a lot of information on the nutritional content of coconut sugar, but it likely retains some of the nutrients available in the coconut plant, like vitamin C and several minerals. It is believed to have a lower glycemic index than refined sugar, but it still has the same amount of carbohydrates and calories as refined sugar.
Honey
I've opined about the heavenly origins of honey and its many health benefits in a previous issue. Honey is rich with enzymes, vitamins, minerals and even live bacteria that are all beneficial. Honey can be used in baking if the recipe calls for it specifically, or it can be substituted for corn syrup. However, honey doesn't work well for candy making because it is chemically different from corn syrup.
Maple syrup
Maple syrup is the neatest thing ever. Tap a hole in a maple tree, let the sap drip out, boil it down, and you've got maple syrup. It takes around 40 gallons of sap to make 1 gallon of maple syrup. Don't confuse maple syrup with pancake syrup, which is just sugar syrup with artificial flavoring. Aunt Jemima ain't got nothin' on the real thing. Maple syrup is great in baked goods because of its distinctive flavor. Use maple syrup in place of corn syrup in your pecan pie this season. The pie will have a slightly looser texture, but the flavor will be off the charts. Look for recipes like maple cake and other delicious ideas for baking with maple syrup. Maple syrup is rich in riboflavin, minerals and antioxidants. Grade B syrup (which is not inferior quality, just stronger tasting) has even more healthy minerals than Grade A, so I prefer to use Grade B when I can find it.
Date sugar
Date sugar is an interesting product made by grinding dried dates into a powder. Its properties are completely different from regular sugar since it is actually dried fruit, not pure sugar, so it won't work as a substitute in normal baking applications. It should be used in recipes specifically designed for date sugar like date-nut bread. Date sugar is rich in antioxidants, B vitamins, minerals and fiber.
Another option often employed in holiday baking, especially for those dealing with diabetes, are artificial sweeteners and reduced-sugar products. Artificial sweeteners are a complicated topic, but my usual advice is that they are probably safe if eaten occasionally and in small amounts. That being said, I don't recommend Splenda (sucralose) because there is some preliminary research indicating that it may have a harmful effect on gut bacteria and insulin response. Sugar alcohols and stevia are probably the safest low-calorie sweeteners available. (Sugar alcohols can cause gas and bloating if used in excess.) The myriad other options in colorful little packages on your restaurant table are probably safe, but I generally recommend practicing the precautionary principle when determining whether a relatively new and artificial substance in the food supply can cause harm. If in doubt, err on the safe side and stick with the most natural products available.
Get adventurous and try your hand at baking with some of the delicious and flavorful natural sweeteners available for some special holiday treats this year. And remember, enjoy the holidays and don't feel obligated to undertake a major New Year's resolution after it's all over. Choose to eat mindfully throughout the holidays. Take the time to savor each bite slowly, listen to your hunger and satiety signals (no, really, the leftovers will be there later), and remember that the only reason the food is extra special is the people with whom you are sharing it. May you savor each bite and each moment this holiday season.
Try out some of these great products and brands at your local store. Speak to your Store Director and Shop Brookshire Brothers Brands here.
Merry Christmas! 
Angela Larson is a registered dietitian (RD) who works with Brookshire Brothers promoting real fresh, real delicious healthy foods and providing nutrition education to the community. She is also a clinical dietitian representing Woodland Heights Medical Center in Lufkin where she does community education on food and nutrition. Food is her passion, so Angela loves trying new recipes and exploring the more holistic side of nutrition. Angela loves to cook, garden, and spend time outdoors. Look for Angela's monthly articles in Charm East Texas.  
Wednesday July 13, 2016
Cooking with Kate: Sweet and Salty Chex Mix Recipe
You'll love this famous mix from Catering Coordinator, Kate Rudasill, featuring Pedernales Brewery's Robert Earl Keen Honey Pilsner!
Sweet and Salty Chex Mix
Ingredients:
1 cup light corn syrup
1 ½ cup light brown sugar
¾ cup butter
1 pinch baking soda
Robert Earl Keen Honey Pilsner syrup (recipe below)
12 cups assorted cereals – Golden Grahams, Cheerios, Chex, Kix, or Crispix
4 cups mini pretzel twists
2 cups assorted nuts – pecans, peanuts, almonds, cashews
Directions:
Preheat the oven to 250°F. Lightly grease a large, rimmed cookie sheet or large roasting pan. In a very large bowl, mix assorted cereals, nuts, and pretzels.
In a medium saucepan over medium heat, bring corn syrup, butter, and brown sugar just to a boil, stirring to dissolve sugar. Remove from heat and add baking soda and beer syrup, mixing well. Carefully pour over cereal mixture and toss to coat.
Spread mixture in greased pans. Bake in preheated oven for 1 hour, stirring every 15 minutes. Remove from oven, spread on waxed paper, and cool completely. Store in airtight containers.

Robert Earl Keen Honey Pilsner Syrup
1 (12 oz) can REK honey pilsner (from Pedernales Brewing Company)
½ cup granulated sugar
In a large saucepan over medium-high heat, bring the beer just to a boil, stirring frequently. Reduce the heat to medium, keeping the beer at a low simmer for 30-40 minutes until the beer has reduced to about ½ cup, stirring every couple of minutes so that it does not burn. Remove the saucepan from the heat and add the sugar. Stir until the sugar has completely dissolved. Use immediately or cool completely and store in an airtight container.
Note: Syrup can be stored in the refrigerator for up to 6 weeks. Let come to room temperature before using.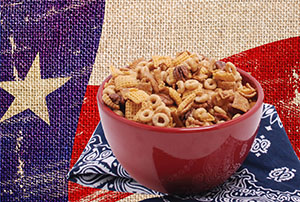 Friday June 12, 2015
The Sweet Route to Dad's Heart
We've all heard the saying... "The only way to a man's heart is through his stomach." All children understand this old adage as well. Sure, all fathers could use a tie, but how about an edible tie? Keep your spot in Daddy's heart with this quick, easy, cute and most of all yummy recipe.
Father's Day Marshmallow Pops
Ingredients:
12 Jet-Puffed s'moremallows marshmallows
4 oz. of each icing variety (white and blue)
1 Tbsp. nonpareils
Materials:
12 paper straws
1 wooden toothpick
Directions:
Dip toothpick into water and insert on the bottom side of the s'mores mallow going half way up. Wiggle toothpick around several times to expand hole. Remove toothpick and immediately insert paper straw into hole. Repeat for all marshmallows. Set aside.
Fill a piping bag with a round decorating tip or a sandwich size zip-top plastic bag with the icing. If using plastic bag, snip a tiny opening on one of the bottom corners with kitchen shears. You can also buy icing already in tubes! 
Using white icing, pipe shirt's collar and side pocket onto s'mores mallow. Repeat for all pops. Using blue icing (or any other color), pipe tie right below collar. Immediately attach nonpareil decorations using tweezers. Only pipe one tie at a time as icing tends to dry really fast and it must be wet in order for nonpareils to adhere.
Set aside and let dry. You may cut the straws a little shorter and insert them into the center of frosted cupcakes for adorable Father's Day cupcakes!