Posted on Thursday, March 7, 2019
There is nothing better than a good old fish fry. They bring together friends, family and most of all community. At Brookshire Brothers, we love our
community
and have put together these recipes for this time-honored season of fish frys and lent. BONUS: Keep reading to find out how you can get most of your fish fry ingredients for FREE with our latest Fast Feast!
Crispy Fish With Louisiana Fish Fry
Ingredients
3 or 4 lbs of fish or seafood
10 oz of Louisiana Fish Fry
Directions
Rinse fish well in ice cold water. Shake off excess water
Roll fish in LA Fish Fry Seafood Breading Mix until coated
Deep Fry at 350ºF until internal temperature is 145ºF and until golden brown
* Also good on oysters, shrimp, and vegetables.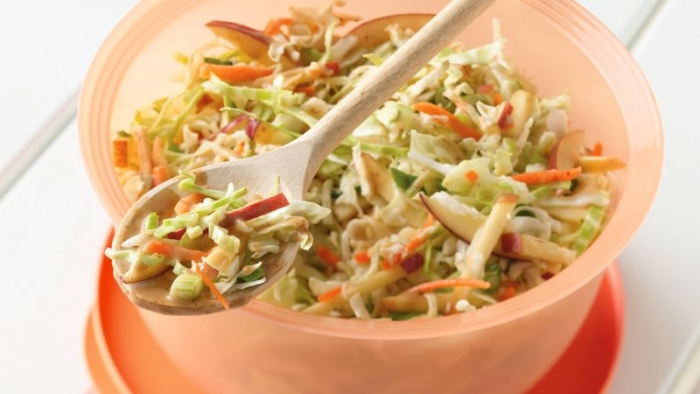 Honey-Mustard Coleslaw With Apples
Prep: 15 min | Cook: 15 min | Yield: 12 servings
*Recipe courtesy of our vendor partner Pilsbury
Ingredients
1 bag (16 oz) coleslaw mix (8 cups)
1/2 cup chopped green onions (8 medium)
2 medium apples, cored and cut into matchstick pieces
1 cup light honey-mustard dressing
Directions
In large bowl, toss all ingredients.
Serve immediately, or cover and refrigerate up to 24 hours before serving.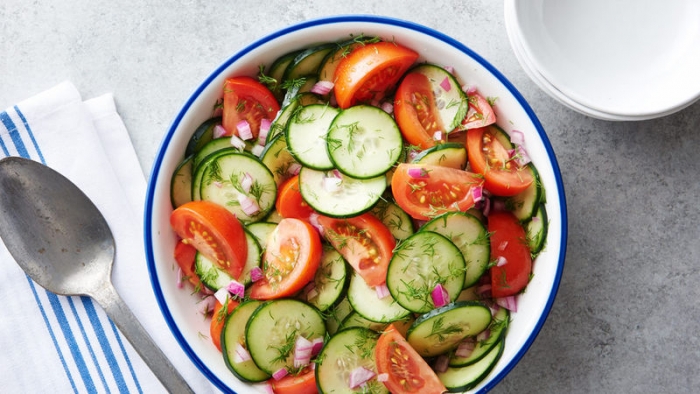 Dilled Cucumber and Tomato Salad
Prep: 15 min | Cook: 1 hr 15 min | Yield: 8 servings
*Recipe courtesy of our vendor partner Pilsbury
Ingredients
4 medium tomatoes, each cut into 8 wedges (about 3 cups)
2 medium cucumbers, thinly sliced (about 5 cups)
1/2 cup finely chopped red onion
1/2 cup rice vinegar
4 teaspoons sugar
1 tablespoon finely chopped fresh dill
1/2 teaspoon seasoned salt
Directions
In large glass serving bowl, mix tomatoes, cucumbers and onion.
In small bowl, mix all remaining ingredients until blended.
Pour vinegar mixture over vegetables; toss to mix.
Cover; refrigerate 1 hour to blend flavors.
Toss again just before serving. Serve with slotted spoon.
But wait, there's MORE!!
We've prepared a feast of savings perfect to pair with these delicious dishes—don't miss out!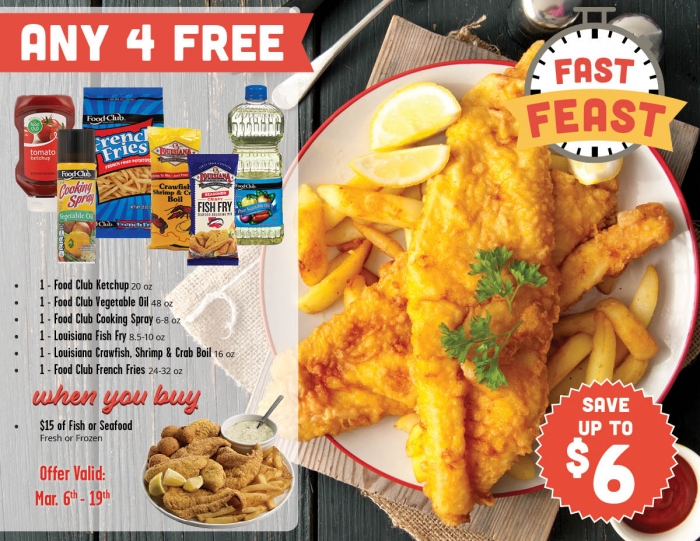 Fast Feast: Buy 1, CHOOSE ANY 4 FREE
March 6 through March 19, 2019
When you buy $15 of Fish or Seafood, you can choose any four of these foods FREE. **NOTE: You can mix and match, or you can get four of the same free item. It's whatever combination you prefer!**
1 - Food Club Ketchup (20 oz)
1 - Food Club Vegetable Oil (48 oz)
1 - Food Club Cooking Spray (6-8 oz)
1 - Louisiana Fish Fry (8.5-10 oz)
1 -Louisiana Crawfish, Shrimp & Crab Boil (16 oz)
1 - Food Club French Fries (24-32 oz)
Save fast and feast big TODAY—
find a store near you
. Can't find one of these items? Talk to your local store director!