Thursday March 28, 2019
Create a Brunch Burger Fast Feast
Everybody loves brunch. Why? Any dish is acceptable! Everything from breakfast, lunch, and dinner can be served, and this Brunch Bacon and Egg Burger is no exception! Keep reading for extra savings on this phenomenal brunch dish.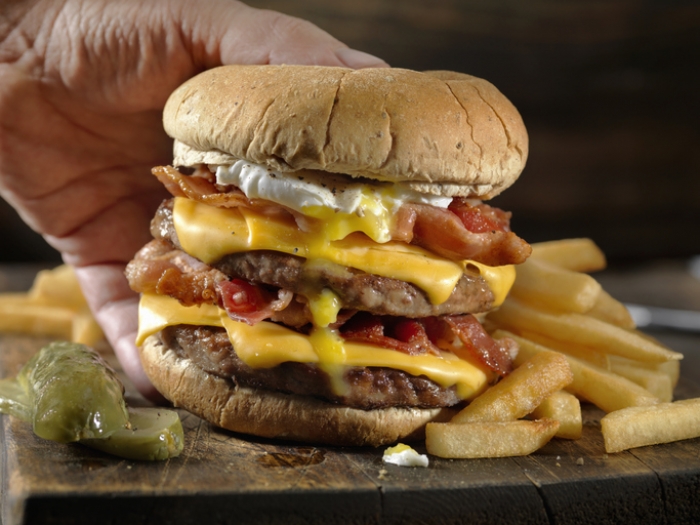 Ingredients:
1lb ground beef
8 slices of bacon
4 Fresh Harvest Hamburger Buns
6 Fresh Harvest Eggs
4 slices of Food Club Sliced Cheese
1/2 cup sliced onions
1 head of lettuce
1 large tomato, sliced
Salt & pepper to taste
Directions:
Cook the bacon on medium-high heat and be sure to drain them after they are done.
Combine the ground beef, salt, and pepper; form into four patties.
Cook the hamburger patties in the same pan as the bacon on medium-high heat until they are just slightly pink inside.
Right before they are finished cooking, add the cheese on top so that it melts.
Drain the pan.
Fry your eggs to your preference.
Finally, assemble your buger with the veggies to your liking!
* Serve with Food Club Snack Chips to finish your Fast Feast.
---
But wait, there's MORE!!  
We've prepared a feast of savings perfect to pair with this delicious dish—don't miss out!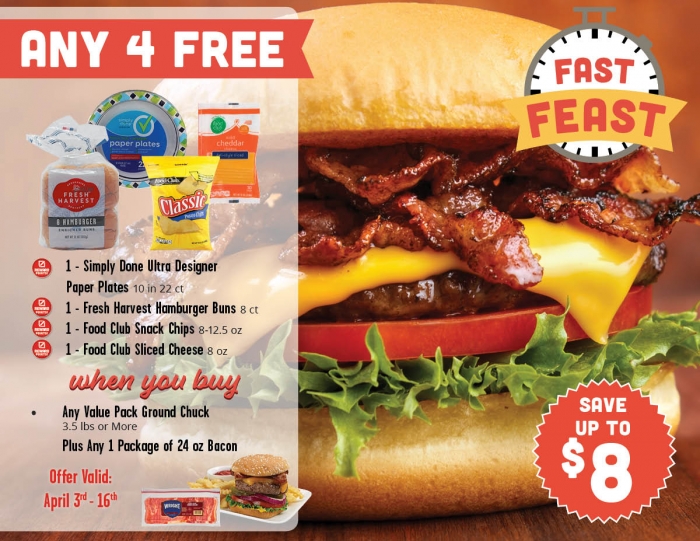 Fast Feast: Buy 2, Get 4 Free
April 3 through April 16, 2019

When you buy ANY value pack Ground Chuck (3.5lbs or more) and ANY one (1) package of 24 oz bacon, you can choose between 2-4 items FREE! The best part? You can mix and match your free items or get up to four of one kind free!
1 - Simply Done Ultra Designer Paper Plates (10 in 22 ct)
1 - Fresh Harvest Hamburger Buns (8 ct)
1 - Food Club Snack Chips (8-12.5 oz)
1 - Food Club Slice Cheese (8 oz)
Save fast and feast big TODAY—
find a store near you
.* Can't find one of these items? Talk to your local store director!
*Promotion is not available at the following stores: