Thursday November 10, 2016
Cooking with Kate: A Thankful Heart
This year, more than ever, there seems to be a rush to skip over November and Thanksgiving and get right to the Christmas season. I am, however, clinging to my pumpkins, waiting for the leaves to fall and working on being thankful daily for this season. Thanksgiving is my favorite holiday, so I'm looking forward to spending time with my friends and family. I hope you take time, as you make your Thanksgiving plans, to gather around a table with your loved ones, share why you are thankful this year and enjoy this quick and easy recipe. Many blessings for a Happy Thanksgiving!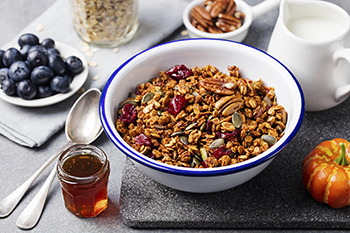 Pumpkin Seed Pecan Oat Granola                        
2 cups old fashioned rolled oats
12 ounces pecan pieces
¼ cup all purpose flour
2 teaspoons cinnamon
¼ cup brown sugar
2 sticks salted butter
12 ounces roasted pumpkin seeds
Preheat oven to 350°F. In a medium bowl, combine rolled oats, pecans, flour, cinnamon, and brown sugar. Add the softened butter and use a fork or pastry blender to combine until the oat mixture is crumbly and the butter is evenly distributed. Spread onto a greased cookie sheet and bake for 8-15 minutes in the preheated oven until golden brown and toasty. Watch closely as the pecans tend to burn easily. Remove from the oven, cool completely, and mix in the roasted pumpkin seeds. Store in an airtight container until ready to use.
NOTE: This granola is fantastic sprinkled on yogurt, fruit, and ice cream; or eaten with milk as a cold/warm cereal. You can also add your favorite dried fruit for an extra kick of flavor.
Click here to see other recipes from Brookshire Brothers Catering Coordinator, Kate Rudasill.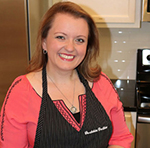 Kate Rudasill, Catering Coordinator for Brookshire Brothers, has been in the food-service industry for the past 14 years. As a graduate of Texas A&M University, a student of The Texas Culinary Academy, and a Nacogdoches, Texas native, Kate grew up with Southern tradition in her blood which caused her to have a deep love for bringing people together with food.