Monday November 13, 2017
Thanksgiving: The Make-Ahead Menu
There are four things you never want to be late for: weddings, funerals, airplane flights, and—you called it—Thanksgiving dinner. Being early for Thanksgiving—particularly if you're a contributing chef—is key to a healthy, happy holiday for everyone. Here are three recipes based on classic Thanksgiving dishes to help you get a jump-start on the ultimate feast, whether you're a host or honorary guest.
Make-Ahead Baked Sweet Potatoes
(Recipe courtesy of our valued vendor partner Betty Crocker)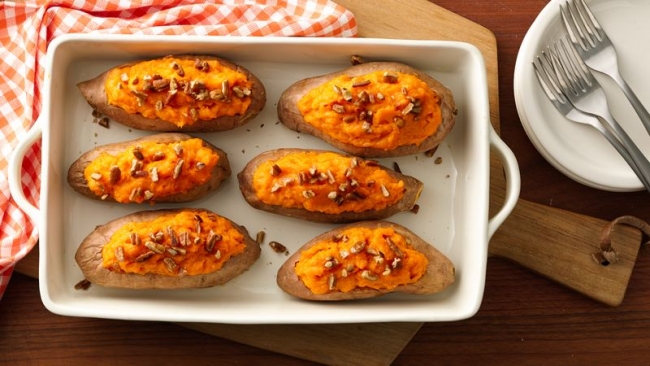 This healthy side dish only takes 15 minutes to prepare—and it keeps well for up to 24 hours! Who knew saving time could taste so delicious?
Read more: Another great option is this
crock-pot recipe
for a sweet potato casserole!
Ingredients
6 medium sweet potatoes (2¼ pounds)
2 tablespoons packed brown sugar
2 tablespoons butter or margarine, softened
Directions
Heat oven to 375ºF. Pierce sweet potatoes with fork to allow steam to escape. Bake about 45 minutes or until tender.
Cut thin lengthwise slice from each potato; carefully scoop out inside of potato, leaving a thin shell. Mash potatoes in a large bowl until no lumps remain. Beat in sour cream and milk. Beat in brown sugar, butter, and salt until potatoes are light and fluffy.
Place shells in ungreased rectangular baking dish, 13x9x2 inches. Fill shells with potato mixture. Cover and refrigerate no longer than 24 hours.
Heat oven to 400ºF. Bake uncovered about 25 minutes or until potato mixture is golden brown. If baking filled shells immediately after mashing potatoes, bake about 20 minutes.
---
Slow-Cooker Chive-and-Onion Creamed Corn
(Recipe courtesy of our valued vendor partner Betty Crocker)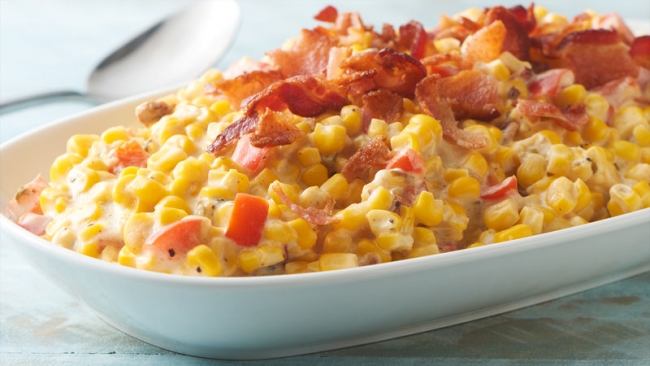 Keep things worry-free with this comforting side dish that's crock-pot easy and bursting with sweet flavor.
Ingredients
Slow Cooker Liners
4 slices bacon
4½ cups frozen whole kernel corn (from two 1-lb bags), thawed
½ medium red bell pepper, chopped (½ cup)
½ cup milk
¼ cup butter or margarine, melted
1 teaspoon sugar
½ teaspoon salt
⅛ teaspoon pepper
1 container (8 oz) reduced-fat chive-and-onion cream cheese
Directions
Place a slow cooker liner inside a 5 to 6½ quart slow cooker bowl. Make sure that the liner fits snugly against the bottom and sides of the bowl, and pull the top of the liner over the rim of the bowl.
In a 12 inch nonstick skillet, cook bacon over medium-high heat, turning occasionally, until crisp. Drain on paper towels. Crumble bacon.
Mix corn, bell pepper, milk, butter, sugar, salt, pepper and half of the bacon in the cooker. Refrigerate the remaining bacon.
Cover and cook on a High heat setting for 2 to 2 ½ hours.
Stir in cream cheese. Cook on a High heat setting for 10 more minutes. Stir well and then sprinkle with remaining bacon. Corn can be kept warm on a Low heat setting for up to 1 hour.
---
Layered Pumpkin Cheesecake
(Recipe courtesy of our valued vendor partner Betty Crocker)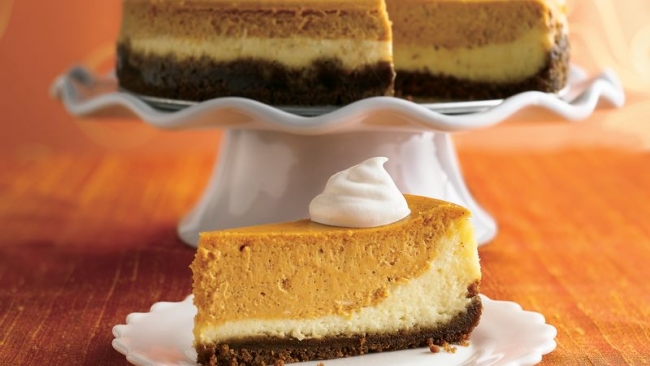 This highly-rated cheesecake recipe doubles the flavor with a layer of classic vanilla stacked with a layer of spiced-up pumpkin. Make it up to 24 hours ahead of your Thanksgiving get-together!
Ingredients
2 cups gingersnap cookie crumbs
¼ cup butter or margarine, melted
CHEESECAKE
4 packages (8 oz each) cream cheese, softened
1 cup canned pumpkin (not pumpkin pie mix)
1½ teaspoons ground ginger
1 teaspoon ground cinnamon
Directions
Heat oven to 300°F. Grease 9-inch springform pan with shortening or cooking spray. Wrap foil around pan to catch drips. In a small bowl, mix cookie crumbs and butter. Press crumb mixture in bottom and 1 inch up the side of the pan. Bake 8 to 10 minutes or until set. Cool 5 minutes.
In a large bowl, beat cream cheese with electric mixer on medium speed until just smooth and creamy;

do not overbeat

. On low speed, gradually beat in sugar. On low speed, beat in eggs, one at a time, until just blended. Spoon 3 cups of the cream cheese mixture into pan; spread evenly.
Stir pumpkin, ginger, cinnamon, and nutmeg into remaining cream cheese mixture; mix with wire whisk until smooth. Spoon over mixture in pan.
Bake 1 hour 25 minutes to 1 hour 30 minutes or until edges are set but center of cheesecake still jiggles slightly when moved.
Turn oven off; open oven door at least 4 inches. Leave cheesecake in oven 30 minutes longer. Remove from oven; place on cooling rack. Without releasing the side of the pan, run knife around edge of pan to loosen cheesecake. Cool in pan on cooling rack for 30 minutes. Cover loosely; refrigerate at least 6 hours but no longer than 24 hours.
Run knife around the edge of the pan to loosen cheesecake again; carefully remove the side of the pan. Place cheesecake on serving plate. Store cheesecake covered in refrigerator.
Tuesday September 26, 2017
Cooking with Kate: Almost Autumn...
A Fall Favorite Recipe: Pumpkin Crumb Muffins with Maple Icing
 While this past week was the Autumnal Equinox and the first official day of fall, Texas rarely gets that memo in September. Still, we can look forward to cooler temperatures just around the corner—and that means favorite fall recipes too! Pumpkin spice
everything
is always popular this time of year and, while it's not my coffee preference, I
love
pumpkin bread and muffins. One particularly quick recipe I love to fix is Pumpkin Crumb Muffins. What's great about this easy recipe is that it includes a wonderful crumb topping and maple icing. Don't forget, pumpkin is a good source of fiber, Vitamin A, Vitamin C, and beta-carotene, which actually helps keep these muffins moist and delicious. Visit a
nearby Brookshire Brothers
to get started today!

Pumpkin Crumb Muffins with Maple Icing
Yield: 15 large muffins or 28-30 mini muffins
Ingredients - Muffins
1 ¾ cups all-purpose flour
1 teaspoon baking soda
2 teaspoons ground cinnamon
1 ¼ teaspoon pumpkin pie spice
½ teaspoon salt
½ cup canola or vegetable oil
½ cup granulated sugar
½ cup packed light or dark brown sugar
1 ½ cups canned pumpkin puree
2 large eggs, at room temperature
¼ cup milk, at room temperature
Crumb Topping
¾ cup all-purpose flour
¼ cup granulated sugar
¼ cup packed light or dark brown sugar
1 tablespoon pumpkin pie spice
6 tablespoons butter, softened
Maple Icing (optional)
1 ½ cups confectioners' sugar
3 tablespoons pure maple syrup
1 tablespoon milk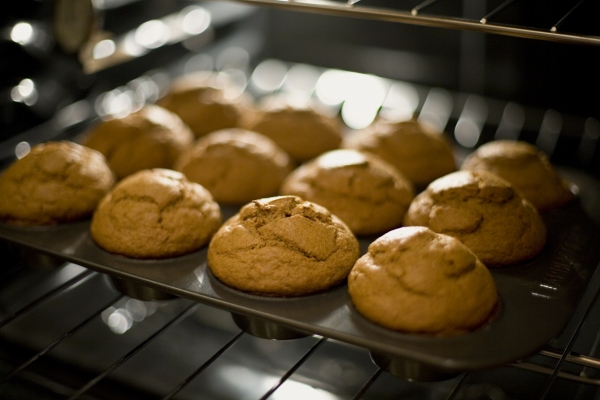 Read more: Pumpkin's not the only fall favorite produce—check this winter squash recipe from Angela Larson (RD) too!
Directions
Preheat oven to 425°F. Spray (2) 12-count or mini muffin pans with nonstick spray or line with cupcake liners. Set aside.
Make the muffins: In a large bowl, whisk the flour, baking soda, cinnamon, pumpkin pie spice, and salt together until combined. Set aside. In a medium bowl, whisk the oil, granulated sugar, brown sugar, pumpkin puree, eggs and milk together until combined. Pour the wet ingredients into the dry ingredients, then fold everything together gently just until combined and no flour pockets remain. Spoon the batter into liners, filling them ¾ full.
Make the crumb topping: Whisk the flour, granulated sugar, brown sugar, and pumpkin pie spice together until combined. Cut in the softened butter until crumbs form. Spoon crumbs evenly on top of the batter and gently press them down into the batter so they stick.
Bake for 5 minutes at 425°F then, keeping the muffins in the oven, reduce the oven temperature to 350°F. Bake for an additional 16-17 minutes or until a toothpick inserted in the center comes out clean. The total bake time for these muffins is about 21-22 minutes. Allow the muffins to cool for 10 minutes in the muffin pan as you make the icing.
NOTE: For mini muffins, bake for 15-18 minutes at 350°F or until a toothpick inserted in the center comes out clean.
Make the icing: Whisk all of the icing ingredients together until combined and smooth. Drizzle over muffins and serve warm. Cover tightly and store at room temperature for 1-2 days or in the refrigerator for up to 1 week.
Make ahead tip: For longer storage, freeze muffins (with or without icing) for up to 3 months. Allow to thaw overnight in the refrigerator, then bring to room temperature or warm up in the microwave if desired.
You can find all of the ingredients to the 'Pumpkin Crumb Muffins with Maple Icing' recipe at a Brookshire Brothers location near you. For Brookshire Brothers location information please visit our location finder page here.
---
View other recipes from Brookshire Brothers Catering Coordinator, Kate Rudasill.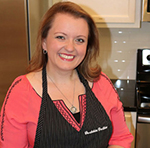 Kate Rudasill, Catering Coordinator for Brookshire Brothers, has been in the food-service industry for the past 14 years. As a graduate of Texas A&M University, a student of The Texas Culinary Academy, and a Nacogdoches, Texas native, Kate grew up with Southern tradition in her blood which caused her to have a deep love for bringing people together with food.