Posted on Wednesday, June 10, 2020
It may be summertime, but the truth is comfort food never goes out of style. We hope you enjoy this comfort filled casserole from our Director of Catering Kate Rudasill.
Cheesy Beef and Potato Casserole
Ingredients
1 pound ground beef
1 medium onion, finely diced
3 cloves fresh garlic, minced
4 pounds potatoes, washed
Salt and black pepper
2 cups shredded cheddar cheese
1 (10.75 oz) can condensed cheddar cheese soup
1 (12 oz) can evaporated milk
½ teaspoon salt
½ teaspoon black pepper
¼ teaspoon cayenne pepper
Directions
Preheat oven to 350°F. Spray a 9X13 baking dish with nonstick spray.
In a large skillet over medium-high heat, cook ground beef and diced onions until beef is fully cooked, about 8-10 minutes. Add minced garlic and cook an additional 2 minutes. Drain meat mixture to remove grease.
Peel and thinly slice potatoes (less than ¼" slices).
Layer ¼ of the potato slices in the bottom of the sprayed baking dish. Season with salt and pepper. Add ¼ of beef/onion mixture evenly over the potatoes. Sprinkle with ½ cup shredded cheese.
Repeat potato, beef/onion, and cheese layers two times. On the last layer, use only the potatoes and beef/onion mixture. Set aside the remaining ½ cup of shredded cheese.
In a medium bowl, combine cheese soup, evaporated milk, salt, pepper, and cayenne. Whisk until smooth.
Pour soup mixture evenly over casserole.
Cover baking dish tightly with aluminum foil. Bake in preheated oven for 1 hour.
Remove foil, sprinkle with reserved ½ cup of shredded cheese, and continue baking for 15-20 more minutes or until potatoes are tender and casserole is bubbly and lightly browned.
Serve with seasoned green beans.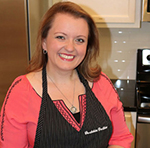 Kate knows food. She grew up with the Southern tradition of good food with the hospitality to match. A graduate of Texas A & M University, a student of The Texas Culinary Academy, and a Nacogdoches, Texas native, Kate's greatest joy is bringing people together over a scrumptious meal.