Monday February 23, 2015
Chardonnay Day - Chardonnay-themed Brunch
It's never too early to include Clos du Bois Chardonnay into your day! Host a fun Chardonnay Day-themed brunch for friends by incorporating the wine into everything from your food to décor and of course, your drinks.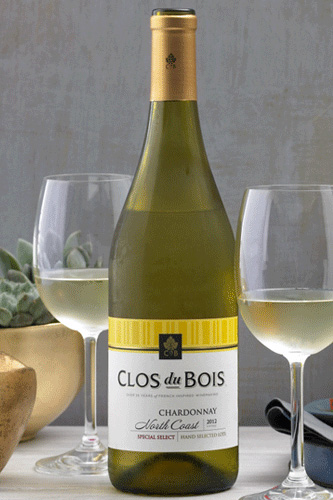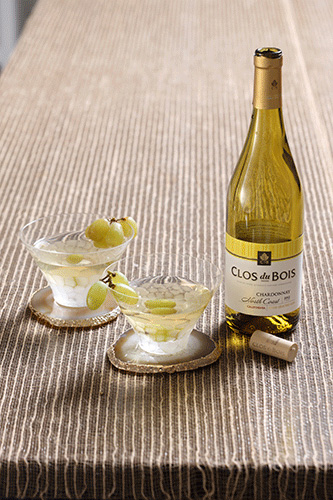 For those of us who have made a habit of dropping ice cubes into white wine, try a more elegant solution: frozen grapes. If you like your Chardonnay extra chilled, freeze green grapes for a few hours and drop them in your wine glass; no need for ice cubes which dilute your wine! Frozen grapes are also visually appealing and elevated.
For a fun DIY activity at your brunch, place several bottles of Clos du Bois North Coast Chardonnay in a large silver bucket and the frozen grapes in another beautiful bowl. Include a variety of mix-and-match glassware and create a DIY bar where guests can pour a glass of Clos du Bois Chardonnay, drop in a few frozen grapes, and top it off with edible flower petals.
Keep the corks from all of the open bottles of Clos du Bois Chardonnay and create placeholders for guests by cutting a slit into the cork, writing guests' names on a card and putting the card into the cork.
I like to make easy and delicious food that doesn't take a whole day to prepare. Incorporating Clos du Bois Chardonnay elevates any recipe and adds a fun twist. Some of my favorite ideas include:
Top off any salad, such as goat cheese and micro greens, or thinly sliced summer squash, or grapefruit and lobster, with a homemade (easy!) or store bought (easier!) Clos du Bois North Coast Chardonnay dressing. Mix olive oil with 1/2 cup of Clos du Bois Chardonnay, and season to taste with garlic, lemon juice, salt & pepper, garden herbs, or whatever seasoning you prefer.
Elevate asparagus with a Clos du Bois Chardonnay-infused cream sauce.
Potato salad is hearty and filling. I like to serve my red potato salad with a Chardonnay vinaigrette using 1/4 cup Clos du Bois Chardonnay, 1/4 cup red wine vinegar, 1/2 cup olive oil, 2 tablespoons lemon juice, 2 tablespoons Dijon mustard and seasoning.
The secret to a breakfast pound cake is the topping. Take a store bought pound cake and top it with a Chardonnay glaze. Mix 1/4 cup of melted butter into 2 cups of sifted powdered sugar and add 1 tablespoon of Clos du Bois Chardonnay and 1 tablespoon of milk. Beat until smooth and drizzle over pound cake.