Posted on Friday, September 10, 2021
National Kids Take Over the Kitchen Day is a perfect opportunity to encourage the youngest in the family to learn responsibility and have fun in the kitchen. They see you cooking and cleaning in the kitchen every day, and now it's their turn! Let them run wild with adorable recipes and learn to clean up after themselves while having fun on this holiday September 13th.
The day was inspired by Young Chefs Academy, and they recommend the following to celebrate:
As the kids measure ingredients, practice fractions together. Maybe even converting the measurements from one recipe by half or doubling for a challenge!
Teach them about dividing responsibilities as they prep. It can be tough to learn how to kindly and efficiently delegate. 
Let them read and speak the recipes aloud to learn challenging words and phrases, especially when using a French recipe!
Allow even the youngest to participate. There are plenty of jobs, even if that is just pouring or taste testing. 
Find the perfect recipe for your kids. Crav'n Flavor has provided several ideas for fun, easy recipes to celebrate the holiday. 
These Crunchy Animal Cookie Logs are such a fun way to let the kids create without worrying about the oven or other dangerous things. The only thing you may have to help them with is the chopping!
Take celery and chop it into small "boats" or sections. Spoon droplets of peanut butter into the celery boats in the child's preferred design. Let them pick out their favorite animal from these Crav'n Flavor Animal Cookies and add raisins as they like.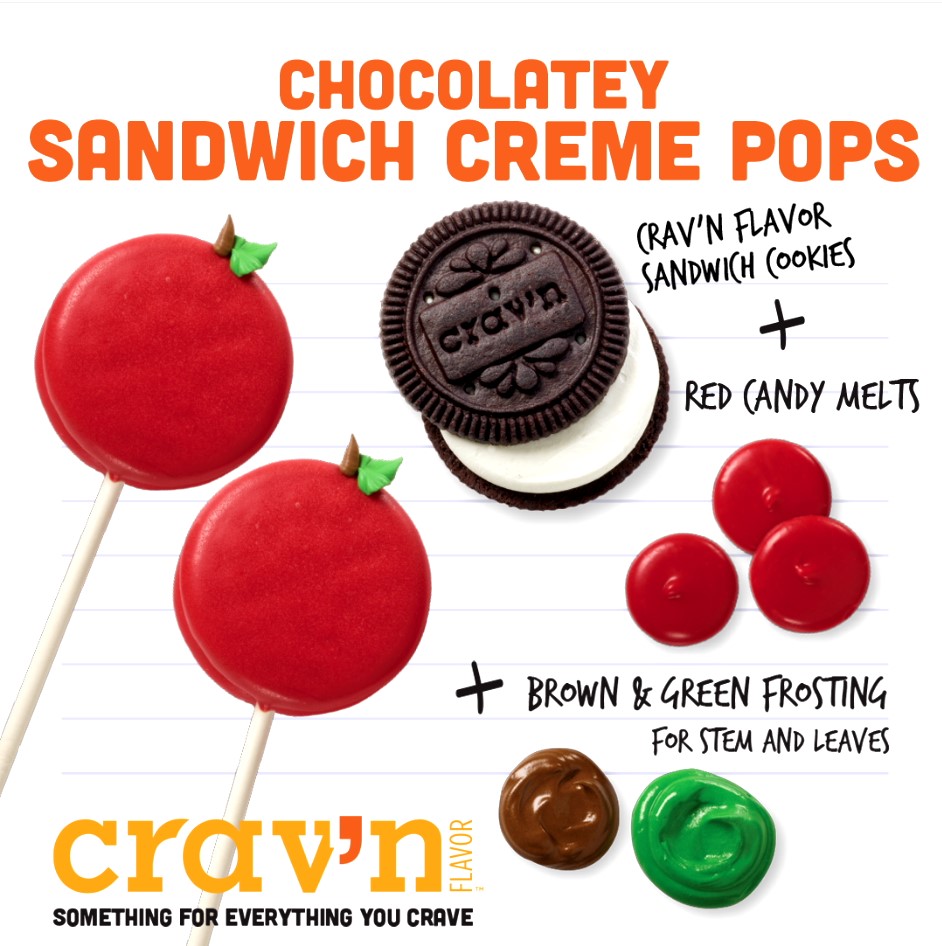 Try these Chocolatey Sandwich Creme Pops for a fun way to let the creativity fly! This sweet treat is super fun and can be completed with a microwave. 
Begin by using your food-safe sticks to spear your Crav'n Flavor Sandwich Cookies. We recommend using foil or wax paper to allow the cookies to dry and harden without making a mess. Melt the red candy melts in a microwave safe bowl and dip your cookies in. When they have hardened a little, melt your brown and green frosting to add the stem and leaves or any other creative decorations your kids desire.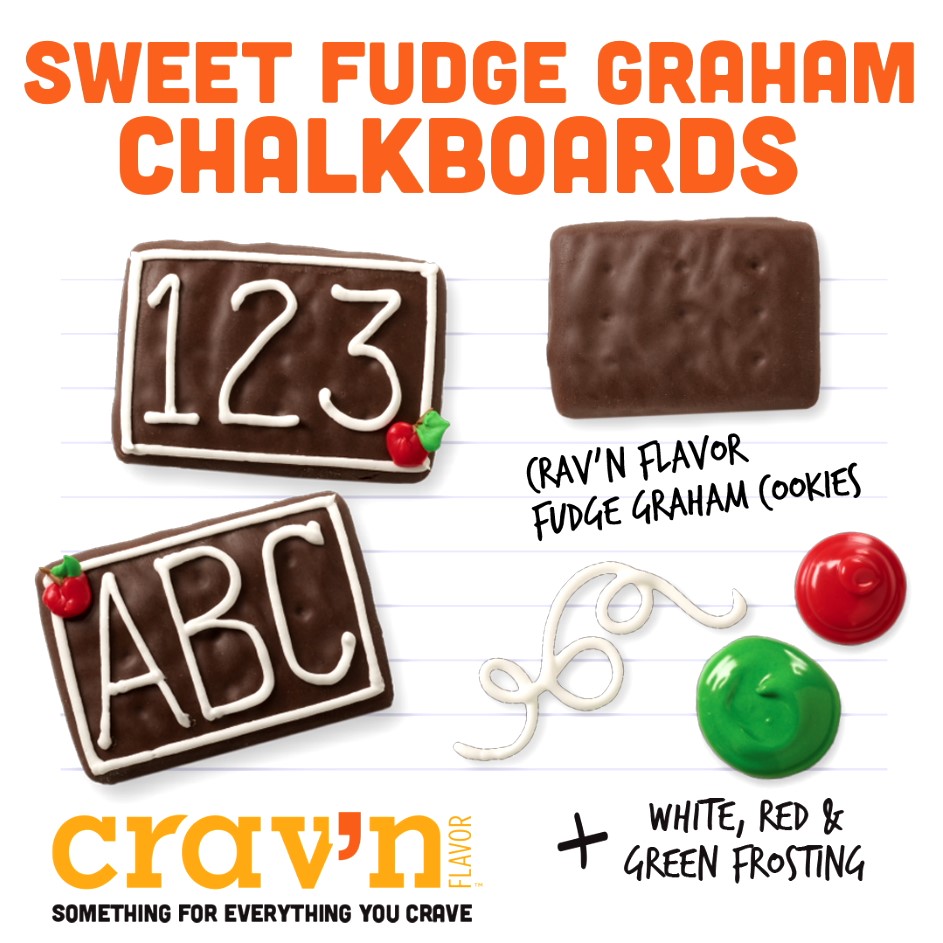 Use the ingredients from the previous snack to create these Sweet Fudge Graham Chalkboards! Teach the kids about being frugal with money and prepping in advance by buying ingredients for both recipes! 
Pull out your Crav'n Flavor Fudge Graham Cookies and use a piping bag (or a plastic bag with the corner cut out) to funnel your white, red and green frosting through to create fun designs that will also taste great. 
What kid wouldn't love throwing together some delicious ingredients into a fun trail mix creation they can enjoy for days to come? This Cheesy Penguin Trail Mix is a perfect option to celebrate National Kids Take Over the Kitchen Day!
Gather your favorite trail mix ingredients, Crav'n Flavor Penguin Crackers, peanuts, raisins, chocolate chips and more, and combine them in a food-safe, airtight container or go ahead and distribute them in small Ziploc bags for easy snacking.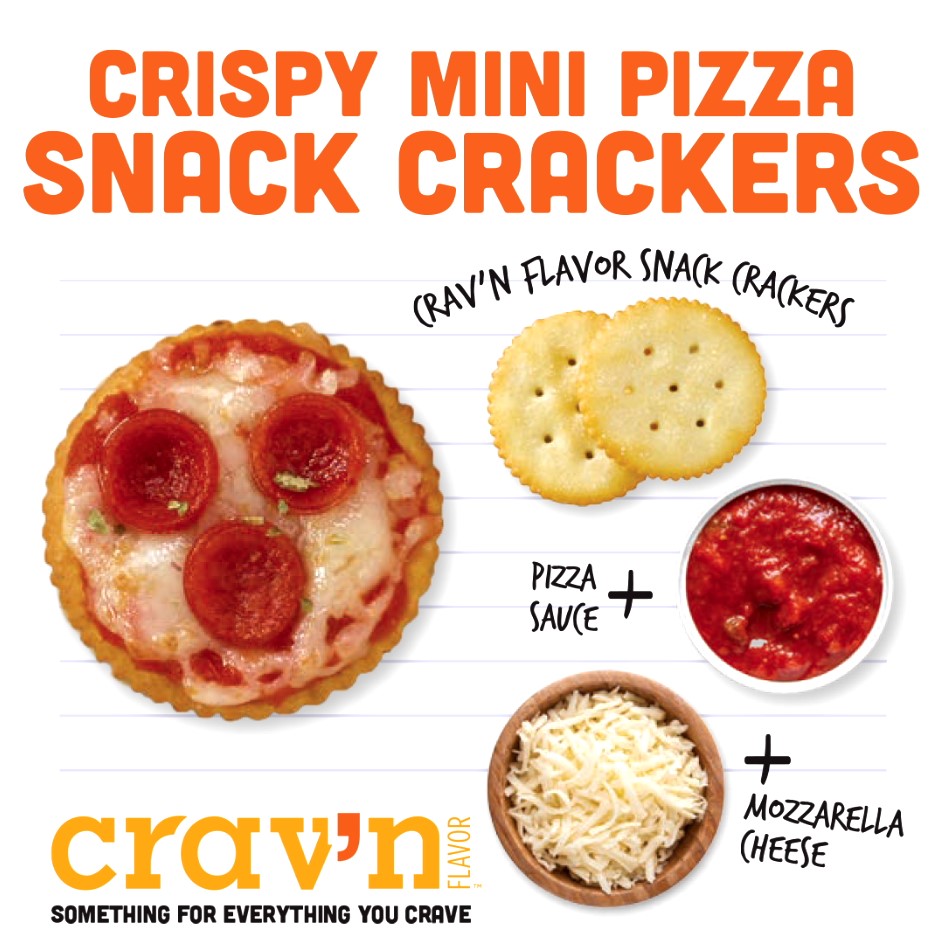 Create delicious mini pizzas with this Crispy Mini Pizza Snack Crackers recipe! The kids will love making something so small a yummy by themselves. 
Pick up your Crav'n Flavor Snack Crackers and use a spoon or butter knife to spread your pizza sauce. Sprinkle your preferred amount of Mozzarella Cheese and other toppings like pepperoni and basil. Decide on your warming method (microwave, toaster oven, etc.) or eat them as-is!
Don't forget the clean-up! This is the time to teach invaluable lessons about responsibility and cleaning. And you can make it fun! Let them use dish towels and clean wipes and go wild. 
You can make cleaning simple with Brookshire Brothers and Simply Done, our favorite brand to clean with. From paper plates to disinfecting wipes, Simply Done has it all. 
In the end, you won't be disappointed with this fun holiday meant to encourage and create much laughter.