Thursday December 18, 2014
Casual New Year's Eve Get-Together
Keep it SIMPLE! That's our advice for celebrating the New Year.
You can make the night special without creating a fuss.
Start things popping with sparkling wine or champagne.  Pick up a small carton of fresh raspberries or cranberries. Drop one in the bottom of the champagne flute and you have a specialty drink!
To make things really sparkle – stir a little cranberry juice in the bubbly and call it a poinsettia!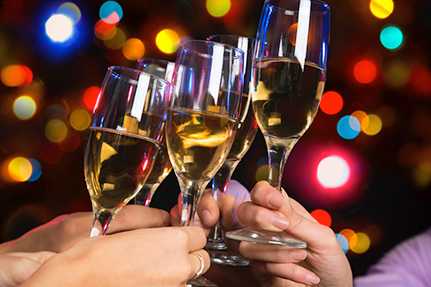 10-9-8-7-6-5-4-3-2-1!
DECORATIONS
Less is MORE!  Ask everyone to bring a battery operated alarm clock (or set their cell phones with a fun ring tone for an alarm)   Place the clocks all over the party area or a collection on a mirrored tray as a centerpiece. You know what happens at midnight – you've got 'live' music just like Times Square.
Make a quick centerpiece by placing glittering ball ornaments in a wire basket or crystal bowl.
Fun Serving Ideas
Use hollowed-out colorful bell peppers, cabbage, squash or round bread loaves for fun and colorful containers to hold veggie dip.

Add a little swag to your glasses! Tie a little metallic curly ribbon to the stems!  A different color of ribbon for each guest can keep drinkware from being misplaced.

Bump up plain coffee served with dessert to an inviting espresso bar! Set up espresso carafes (regular and decaf) with extras for stir-ins and toppers.
Stir-Ins: flavored syrups, flavored creams or eggnog, cream and sugar
Toppers: whipped cream, ice-cream toppings, candy sprinkles, ground nutmeg or cinnamon
TOASTS (not so Trivial!)
Pour out some trivia to stir things up.
Did you know the name 'champagne' is copyrighted? Only wine produced in the Champagne region of France can be called Champagne.
Everything is considered sparkling by using the method champenoise.
How many bubbles are in one bottle of champagne?  49 million
Under pressure – The pressure in a champagne bottle is three times higher than in an automobile tire.
Tub time!  American actress Marilyn Monroe is believed to have taken a champagne bath. That would require about 350 bottles of the good stuff!
How fast does a cork travel?  Try 38-40 miles per hour. It pops out as fast as 100 mph then slows down!