Monday April 18, 2016
Boost Your Beauty with Avocados
You may not realize it, but the benefits of avocados go beyond just enjoying the taste. Many of the same properties that make avocados vital to our internal health can keep you looking vibrant and youthful on the outside, too. Avocados contain 4% of your daily value of vitamin E — an antioxidant that protects body tissue from damage caused by substances called free radicals. Free radicals can harm cells, tissues and organs. They are believed to play a role in certain conditions related to aging. Avocados are an all-natural moisturizer that can rejuvenate and dramatically soften your skin and hair. To see for yourself, try these all-natural remedies that you can make at home using avocados and other ingredients found right in your kitchen.
Dry Hands
We all know that hands can get dry in the winter. Between the cold, rainy weather and wind, many of us have googled "home remedies for dry hands" a time or two. But did you know that besides the normal "wash your hands with warm water" and "use mild soap" suggestions and tips, you can actually find your best moisturizer in your kitchen?
Give moisturizing with an avocado hand cream a try by whipping up this easy treatment. It provides all of the benefits of avocado's nourishing oils with gentle exfoliation delivered by the rolled oats.
Avocado hand cream recipe:
1/4 fully ripened Hass avocado, halved, pitted, peeled
1 egg white
2 tablespoon rolled oats
1 tablespoon lemon juice
In a shallow bowl, mash avocado until smooth. Add egg white, oats, and lemon juice. Stir until combined. Massage into hands. Leave mixture on for 20 minutes. Rinse with warm water.
Dark Circles & Puffy Eyes
A little Vitamin K, C and E are all your eyes need to get some relief! You can get all three of those things from avocados! Just cut up some triangle-shaped slices and place under your eyes for 20-30 minutes.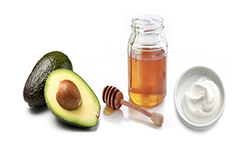 Frizzy Hair
Why can avocados calm frizzy hair? Its oils are light and moist, much like the oils that our skin produces naturally. The nutrients in avocados help smooth and weigh down frizzy hair.
The avocado hair mask recipe below combines avocado with egg whites for an extra protein boost that can ramp up your hair's shine factor and tame frizzy hair at the same time.
Avocado hair mask recipe:
1/2 Hass avocado
2 egg whites
Combine egg whites with mashed-up avocado. Leave in hair for 15 minutes, then wash and condition.
Dead Skin Cells
We all want the glowing skin that comes from a facial. But, how realistic is that for us all with our busy lives? For at-home skin benefits, mix an avocado with yogurt and raw honey and rub it onto your skin. This soothing facemask will get rid of dead skin cells.