Sunday March 10, 2019
Real Fresh, Real Delicious: Crawfish Boil
17 Pro Tips, Creative Fixins, Nutritional Fun Facts & More
Crawfish season is here! I love that a crawfish boil brings people together in an old-fashioned "food ritual" where everyone participates in the cooking before joining together to eat. The community part of it is almost as much fun as the eating!
My husband is from south Louisiana, and he can work through a pile of crawfish in short order. PRO TIP: For veteran crawfish eaters, plan for 4-5 pounds of live crawfish per person. For crawfish-eating amateurs, estimated 2-3 pounds and have plenty of fixins for filling tummies. 
While eating crawfish is mostly about having fun, they're pretty nutritious too! DID YOU KNOW these little critters are rich in a variety of vitamins and minerals? Specifically, mudbugs provide B vitamins, folate, vitamin E, and other minerals such as selenium (an antioxidant mineral).
Getting creative with the "fixins" can be a wonderful way to make the meal more filling, delicious, colorful, and nutritious. The boiling liquid makes a tasty "stock" that can be used to flavorfully cook a variety of sides. Mesh bags are available for keeping veggies and other sides separated from the crawfish in the boil. Some pros use frozen corn to help cool the water down and allow the crawfish to cook gently.
Need some inspiration for the fixins? Try some of these options for a fun and festive crawfish feast. Just remember to add sturdier sides with potatoes at the beginning of the boil and add more delicate veggies later in the cooking process.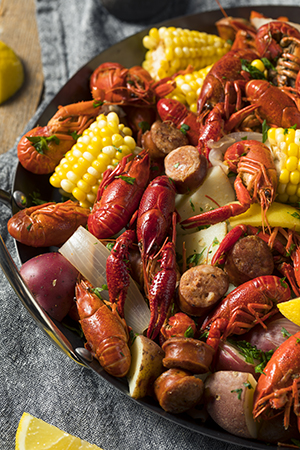 Sausage, especially smoked or andouille varieties
Potatoes
Garlic bulbs, cut in half
Corn on the cob
Onions, sliced in half
Celery
Lemons, cut in half
Asparagus
Mushrooms
Brussels sprouts
Cauliflower
Broccoli
Fresh green beans
Carrots
Let the good times roll! Or, as the Louisiana French migh say "Laissez les bons temps rouler!"
---
First crawfish boil? Here is everything you need to know!
Cooking crawfish is an art with many questions: How long do you boil crawfish? How much water do you need? How many pounds of crawfish do you need per person? We're here to help with this guide featuring the Nothing to Mix – Just Pour and Boil recipe from our vendor partner Louisiana Fish Fry. With just the right amount of the finest garlic, onion, paprika, and lemon, this powdered boil guarantees a perfect result every time.
Before you begin, keep your crawfish fresh in a cooler full of ice. When you're ready to start cooking, rinse them with fresh water.
DIRECTIONS
Fill a large pot with enough water to cover seafood. We recommend cooking (and eating) outside using a 19-quart stockpot with an interior basket; alternatively, you can cook smaller batches on the stovetop instead.
Add LA Fish Fry Crawfish, Shrimp & Crab Boil and any other fixins. Stir well and bring to a rolling boil.
Add crawfish. Return to a rolling boil, and boil for 5 minutes.
Turn fire or stove off and let the crawfish soak for 15-25 minutes. NOTE: The longer seafood soaks, the spicier it will be.
Serve drained crawfish & fixins over a large table covered in newspapers. Keep paper towels handy and use an extra plate or bucket to dispose of the shells.
---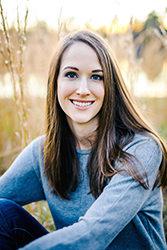 Angela Larson is a registered dietitian (RD) who works with Brookshire Brothers promoting real fresh, real delicious foods and nutrition education to the community. She is also a clinical dietitian representing Woodland Heights Medical Center in Lufkin where she does outreach education on food and nutrition. Food is her passion, so Angela loves trying new recipes and exploring the more holistic side of nutrition. Angela loves to cook, garden, and spend time outdoors. In addition to the Brookshire Brothers blog, look for Angela's monthly articles in Charm East Texas. 
Tuesday January 16, 2018
What's in Season: The Easy Winter Guide
With two-day shipping, online streaming, swipe-right dating, we're living in an instant-click world. However, there are still some things that require extra time and patience—fruits and vegetables included. While you can purchase certain produce all year round, there's often a time and place when you can get them at their best flavor and greatest value. For example, when the temperatures are too cold here in the U.S. to get fresh blueberries—a summer fruit—you'd have to go farther south to get what you wanted, perhaps a two week shipment from Chile—with tax.
Our point is, when you shop for produce according to the season, you're guaranteed to pick fruits & vegetables that are not only better tasting, but also the best bang for your buck. Here's a quick list of what you should look for this winter.
Winter Fruits and Vegetables
(According to the USDA)
Apples
Avocados
Bananas
Beets
Brussels Sprouts
Cabbage
Carrots
Celery
Grapefruit*
Kale
Leeks*
Lemons*
Onions
Oranges*
Parsnips
Pears
Pineapple
Potatoes
Pumpkins
Rutabagas
Sweet Potatoes and Yams
Turnips
Winter Squash
The produce marked with an asterisk(*) is only in season during the winter. All other produce is in season for more than one season.
More ideas for tapping into your taste buds with winter produce:
A hot pot of chili on a cold winter's day is one of the most comforting foods in Southern cuisine. This particular recipe is quick and easy, and it features several winter veggies!
Butternut squash is a seasonal favorite because of its delicious buttery undertones, plus it's oh-so-nutritious! Check out this recipe from registered dietitian Angela Larson.
Turnips are a delicious low-carb alternative to potatoes with less than half the calories and carbs. Furthermore, they're rich in minerals, B vitamins, vitamin C, and—most importantly—in flavor.
Kate features several winter ingredients in her favorite recipes for National Soup Month: White Chicken Chili and Tuscan Bean & Kale Soup.