Thursday March 31, 2016
Nature's Health Food - Asparagus
The perfect addition to any meal this spring and summer - asparagus!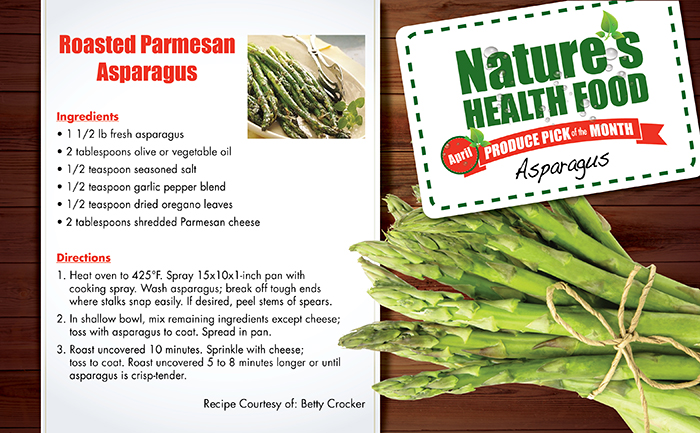 To download PDF, click here
Monday March 21, 2016
Cooking with Kate: Stroll Into Spring
Springtime is finally here! Even with the mild winter, it's great to see the sunshine and the azaleas, daffodils, and dogwoods in full bloom. This time of year brings Easter celebrations, ball games, and family picnics. Here are two quick and easy dishes that are sure to please at any potluck.
Glazed Ham with Pineapple and Thyme
1 (8-10 lb.) boneless, smoked ham
2 cups pineapple juice
½ cup brown sugar
1 tablespoon fresh thyme leaves 
Preheat oven to 325°F. Spray a deep, 9" X 13" aluminum pan with non-stick spray. Cut ham in half lengthwise and then slice into ¼" – ½" slices. Lay slices in sprayed pan. Pour juice over ham slices. Sprinkle with brown sugar and thyme. Tightly wrap the pan with aluminum foil and bake in preheated oven for 2 ½ - 3 hours or until ham slices are heated through. Keep warm to serve.
Cheesy Corn Casserole
1 can whole kernel corn, drained
1 can creamed-style corn
1 cup sour cream
½ cup butter, melted
2 cups shredded cheddar cheese            
1 box Jiffy corn muffin mix
salt and pepper
Preheat the oven to 350°F. Spray a 9" X 13" baking dish with non-stick spray. In a large bowl, mix all ingredients until just combined. Pour mixture into sprayed pan. Do not cover. Bake in preheated oven for 30-45 minutes or until golden brown. Let casserole sit for 10 minutes before serving.
Tuesday March 1, 2016
Cooking with Wine
What wine to use? What to do with the leftover? Red or white, dry or sweet? So many questions, but they're all answered here with three simple rules!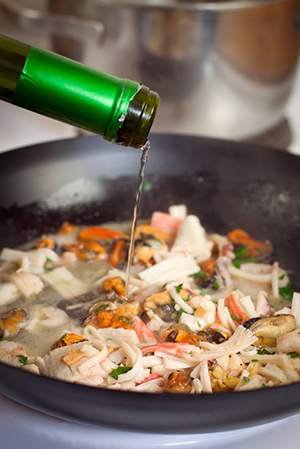 Buy a bottle you'll drink
Rule #1 - Don't venture into a new recipe that calls for a wine that you know you don't like. When cooking with wine, the alcohol cooks out and the flavors are more concentrated. If you are not a fan of a varietal of wine, don't attempt the recipe.
Money isn't everything
Rule #2 - Just because the price tag is more expensive, doesn't mean your meal needs it. Most recipes that call for using wine can have a price cap at $12-$15 per bottle. Also, "cooking wines" are not necessary. Buy your favorite bottle for your taste buds and budget.
Leftover wine?
Rule #3 - You've just finished your decadent dish, but you have half a bottle of wine leftover. Most people may know what we would do with it (drink it, right?)...But, for those who are avid chefs-in-the-making, store that bottle (with the cork) in the refrigerator. It should have a shelf life for up to a week for you to tackle your next recipe!
Now, go have some fun in the kitchen!
Monday February 29, 2016
Nature's Health Food - Sweet Onions
Buttery, Sweet, Cheesy...Onion? That's right! Our Produce Pick for March will redefine sweet onions for you. Try this dip for a great crowd pleasing treat!
To download PDF, click here
Tuesday January 26, 2016
Cooking with Kate: Heart Health & Valentine's Day
February is American Heart Month! What better way to celebrate the heart holiday then to get heart healthy?
Here are some simple tips for heart-healthy eating:
Use olive oil instead of butter.  Olive oil is rich in antioxidants and helps lower cholesterol.
Go nuts! Almonds and walnuts are packed with protein and fiber, and can help lower bad cholesterol levels.
Pump up potassium! Potassium-rich foods like oranges and low-fat yogurt help control blood pressure.
Eat more fish! Especially salmon or tuna that are high in Omega-3s. Check out the glazed salmon recipe below for a quick, heart-healthy dinner.
Add flavor to chicken and fish with fresh herbs (rosemary, dill, oregano, thyme, rosemary) instead of salt, butter, or oil).
Have a Happy and Heart-Healthy Valentine's Day!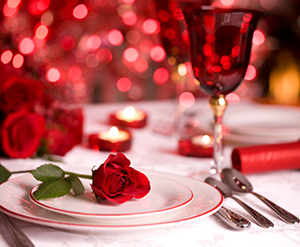 Citrus-Honey Glazed Salmon with Wild Rice and Sugar Snap Peas with Toasted Almonds
½ teaspoon fresh ginger, peeled, grated
2 cloves fresh garlic, minced, divided
1 ½ tablespoons olive oil, divided
2 teaspoons low-sodium soy sauce
1 teaspoon honey
2 tablespoons fresh or jarred lemon juice (1 lemon), divided
2 tablespoons chopped fresh basil or 1 tablespoon dried basil
1 lb. boneless, skinless salmon fillets, cut into 4 pieces
4 lemons, thinly sliced
1 package wild rice mix, cooked according to package directions
1 lb fresh sugar snap peas
2 tablespoons chopped fresh flat-leaf parsley
2 tablespoon sliced almonds, toasted
¼ teaspoon lemon zest
salt and pepper, to taste
Preheat oven to 450° F. In a large bowl, combine ginger, ½ of the garlic, 1 tablespoon olive oil, soy sauce, honey, ½ of the lemon juice, and basil. Add salmon fillets, tossing gently to coat, and marinate in the refrigerator for 10 minutes.
Prepare rice according to instructions on package, excluding any salt, oil, or butter. Cut 8 pieces of aluminum foil; wide enough to fit one piece of salmon and ¼ of the snap peas. Remove fish from marinade and discard remaining marinade. Arrange lemon slices on top and bottom of fish fillet. Place one fish fillet and ¼ of snap peas together on one piece of foil. Cover with another piece of foil and tightly fold together top and bottom edges of foil to create a seal to the steaming pouch. Repeat with remaining fillets and snap peas. Place packets on baking sheet and bake for 12 minutes.
In a small bowl, mix remaining garlic, ½ tablespoon olive oil, remaining lemon juice, parsley, almonds, lemon zest, and salt and pepper. When packets are finished baking, carefully cut them open. Divide the almond mixture evenly over the snap peas and stir to coat. To serve, place salmon fillets over wild rice and add seasoned snap peas.
Thursday January 21, 2016
Nature's Health Food - Halos Mandarins
Treat your sweetheart to this sweet treat! Try our February Produce Pick of the Month!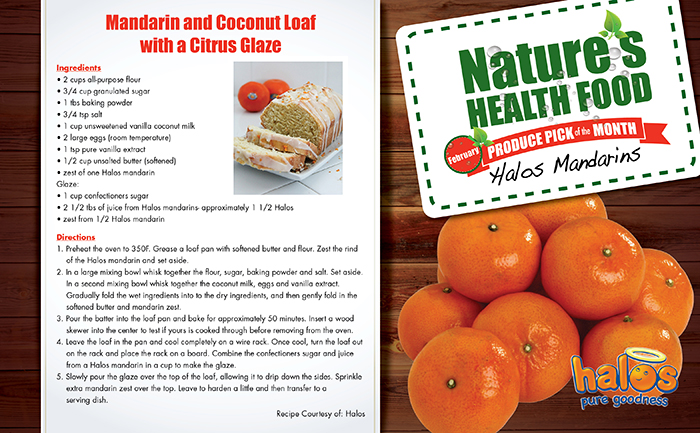 To download PDF, click here
Monday December 7, 2015
Christmas with Johnny Appleseed
Donut holes never tasted so good! Read more for a great hard apple cider kick to the traditional Christmas dessert.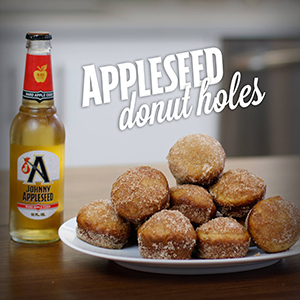 Ingredients
Donut Holes:
2 cups Johnny Appleseed Hard Apple Cider
2 whole cloves
2 cups all-purpose flour
1 1/2 teaspoon baking powder
1 1/2 taspoon baking soda
1 teaspoon cinammon
1/4 teaspoon salt
1 large egg
2 tablespoons salted butter, melted
2/3 cup light brown sugar
1/2 cup buttermilk
2 tablespoons apple sauce, naturally sweetened - no sugar added
1 teaspoon vanilla extract
Cinnamon Sugar Coating:
3 tablespoons butter, melted
1/2 cup granulated sugar
1 tablespoon cinnamon
Directions
Donut Holes:
Start by simmering the Johnny Appleseed with the 2 cloves in a small saucepan over medium heat for 15-20 minutes until the apple cider reduces down to ½ cup. Remove the cloves from the concentrate and pour the Johnny Appleseed into a container and refrigerate while you prepare the donut batter.
Position a rack in the center of the oven and preheat the oven to 350 degrees F. Spray a mini muffin pan with non-stick cooking spray and set aside.
In a large bowl, Mix together the flour, baking powder, baking soda, cinnamon and salt, set aside. In a medium bowl, combine the egg, melted butter, and brown sugar, whisk until smooth (the smoother this is, the fluffier the donut holes!) Then, add in the apple sauce, vanilla, buttermilk, and the refrigerated Johnny Appleseed concentrate.
Add the wet ingredients to the dry ingredients and whisk until just well-combined. Pour the batter by the teaspoon into the prepared muffin pans about ¾s of the way full. Make sure to not overfill. Bake the donut holes for 9-11 minutes.
Cinnamon Sugar Coating:

In a medium bowl, combine the sugar and cinnamon together. Dip the tops of each donut hole into the melted butter then coat with the cinnamon sugar mixture. Repeat with all the donut holes. Depending on how long you dip the donuts into the butter, you may need more butter and/or more cinnamon sugar. 
Monday December 7, 2015
Nature's Health Food - Navel Oranges
Skip the turkey and dressing leftovers and prepare this dish for your family tonight!
To download PDF, click here
Tuesday December 1, 2015
Cooking with Kate: It's the Most Wonderful Time of the Year
Christmas season is here! Bring on the twinkle lights, hot chocolate by the fireplace, and fun times with family and friends at a myriad of Christmas parties. With all the hustle and bustle, it's easy to get overwhelmed by party details. Whether you're serving adults or a roomful of kiddos, keep things simple and quick with a few make-ahead appetizers and a decked out hot chocolate bar. Here are two crowd pleasing party appetizers and my favorite recipe for homemade hot chocolate mix.
Merry Christmas to you and your family as you celebrate this season!
Polish Mistake(s)
1 lb lean ground beef
1 lb Owens hot ground sausage
1 lb Velveeta cheese, cubed
½ teaspoon Worcestershire sauce
½ teaspoon garlic powder
½ teaspoon onion powder
½ teaspoon oregano
2 packages cocktail rye bread 
In a large skillet, brown ground meat and sausage over medium high heat until fully cooked. Drain well. Add cubed Velveeta cheese to the meat mixture and heat until melted. Add remaining ingredients and stir well. Mixture can be made up to 4 days ahead of time and refrigerated. To serve – Preheat oven to 350° degrees. Spread meat mixture over sliced cocktail rye and place on cookie sheets. Bake for 10-15 minutes until bubbly and lightly browned. Enjoy immediately.
Pinecone Dip
2 (8 oz) packages cream cheese, softened
1 package Hormel dried beef, diced
1 bunch green onions, thinly sliced
1 small can chopped black olives
3 tablespoons Accent seasoning
1 bunch flat leaf parsley, chopped (no stems)
1 small package sliced almonds
assorted crackers and pita chips, for serving
Blend cream cheese, dried beef, green onions, black olives and Accent seasoning in medium bowl until well combined. Shape into desired shape (pinecone or Christmas tree, etc) on serving platter. Press sliced almonds into dip to resemble a pinecone and sprinkle with chopped parsley. If making a Christmas tree – use almonds as tree trunk, chopped parsley as leaves/needles, and pieces of red/yellow bell pepper as ornaments. Cover and chill well until ready to serve. Dip can be made up to 2 days in advance.
FC's Hot Chocolate Mix
1 cup powdered coffee creamer, original or plain
1 ½ cups powdered sugar
2 ¾ cups powdered chocolate milk mix (like Nestle Quick)
3 cups powdered milk
1 tablespoon cinnamon
Mix all ingredients in a large air tight container. Hot chocolate mix can be stored for up to one year in an airtight container in a cool, dry area. To use: Mix 2-3 tablespoons of mix with 8-10 ozs hot water until blended. Add additional mix to taste.
Topping ideas for the hot chocolate bar:
whipped cream
chocolate and caramel syrups
mini marshmallows
flavored marshmallows – French vanilla, peppermint, toasted coconut, cinnamon bun, pumpkin spice
Kraft caramel bits (small balls of caramel used for caramel apples)
Andes mint pieces (found on the baking aisle near the chocolate chips)
Heath toffee bits (found on the baking aisle near the chocolate chips)
Chopped peppermint bits (use soft peppermint sticks)
Tuesday September 22, 2015
Nature's Health Food - Apples
A staple on everyone's shopping list becomes the catalyst for welcoming fall into our lives! Add the smell of apples in your house as you bring out all your fall decor.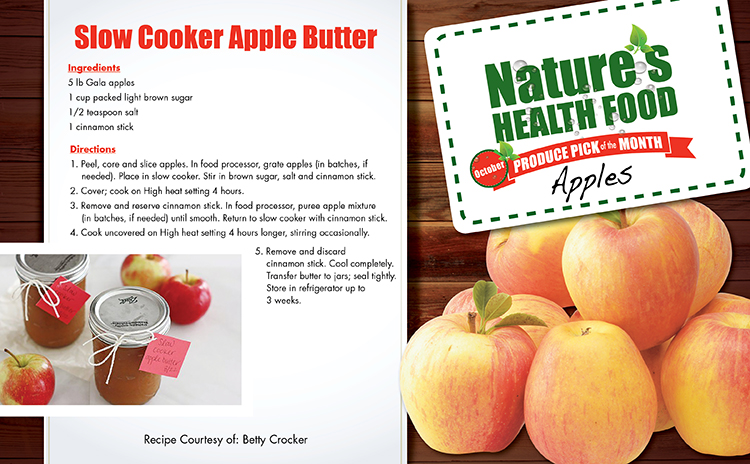 To download PDF, click here
Pages