Friday July 21, 2017
Cooking with Kate: Destination Argentina
One of my favorite things about my job is researching different cuisines from around the world for themed events. Lately, I've been learning about Argentinian dishes, and one food keeps coming up over and over—quince. Argentina is one of the world's top producers of quince, and many describe the fruit as similar in texture and appearance to an apple or pear, but usually bright yellow when fully ripe. Unlike, pears and apples, quinces are rarely eaten raw because they are too hard and sour. Because
this produce
is high in pectin, it is often used to make jams and jellies. Commercially, quince is produced into a sweet/tart, sticky, hard paste known as
dulce de membrillo
. This paste is then used in sandwiches and tarts, like the pastafrola recipe below.
Pastafrola
Traditional Argentine Tarts with Quince Jam
Yield: 1 (9-10") tart or 8-10 individual tarts
Ingredients
For the crust:
1 cup sugar
1 stick + 6 tablespoons salted butter, room temperature
1 teaspoon good quality vanilla
1 egg + 1 egg yolk, room temperature
3 cups all purpose flour
1 egg + 1 tablespoon water, for egg wash
For the filling:
2 cups (15-16 ounces) quince jam / paste (dulce de membrillo or membrillo casero)*
2-3 tablespoons water
Directions
For the crust:
Mix the sugar and butter together with a hand mixer until creamy. Add the vanilla, egg, and egg yolk. Continue to mix with a hand mixer until smooth. Using a spoon, incorporate the flour and salt, a little at a time, being careful not to handle or overwork the dough too much. Wrap the dough in plastic wrap and refrigerate for 30 minutes.
For the filling:
Place the quince paste into a medium bowl. Add the water and mash with a fork until you have a smooth paste.
To assemble: 
Separate the dough into 2 pieces: ¾ for the crust and ¼ to make the strips for the lattice topping. Roll out the larger portion of dough to about ¼" thickness. Lightly coat a pie dish or tart pan with cooking spray or butter, and press the dough into the dish. Spoon the quince paste into the crust. Roll out the second piece of dough and cut into long strips with a knife or pizza cutter. Add the dough strips to the top of the tart in the classic lattice pattern or have fun making your own design.
In a small bowl, mix the egg with the water. Brush the crust with a little of the egg wash, and bake at 350°F for 20-30 minutes, until crust is golden brown. Let cool for 10-15 minutes before serving.
Tuesday July 18, 2017
Cooking with Kate: Fresh From the Garden
One of the best things about growing up in the country was our family's summer garden—sun-ripe tomatoes, fresh sweet corn, carrots of all sizes, and so many different kinds of peas. As such, I'm forever disappointed that I did not inherit the family green thumb. Plants tend to die under my care with alarming frequency! Thus, I'm always grateful for the fresh produce available at my local Brookshire Brothers as one of my favorite recipes lets you use a whole garden of veggies!
My sweet friend, Valena Spradley, gave me this summer sauté recipe, and I've always loved how quickly this dish comes together, using whatever vegetables you have on hand. I've also included a recipe for cream peas, which can make a delicious addition to this recipe—or any summer meal! Lady Cream, Zipper Cream, Texas Cream, Crowders, Field Peas—take your pick and turn on the stove!
Fresh Summer Vegetable Sauté
Ingredients
6 slices uncooked bacon, diced
2 tablespoons butter
1 small white onion, diced
1 clove garlic, minced
2-3 ears fresh sweet corn, cut off the cob
2 yellow squash, diced
2 zucchini, diced
½ - 1 cup heavy cream
1 pinch cayenne pepper or red pepper flakes
Optional Additions
1 jalapeño pepper, diced
1 bell pepper (any color), diced
1 bunch fresh asparagus, cut into 1-inch pieces
1 carton grape tomatoes, cut in half
Directions
In a large, deep-sided skillet with a lid, sauté the bacon pieces over medium heat until crisp. Remove bacon from skillet and place in a paper-towel lined bowl or plate, leaving the bacon grease in the skillet. Add the butter, onions, and garlic to the skillet. Sauté for 1-2 minutes until the onions begin to soften. Add the corn, squash, zucchini, and any other vegetables you are using. Sauté over medium-high heat for 2 minutes, stirring occasionally. Add enough heavy cream to lightly coat the vegetables – you do not want them swimming in cream, but need enough liquid to keep the vegetables from drying out. Reduce the heat to medium-low, cover the skillet, and gently simmer for 5-10 minutes or until vegetables are soft. Add the crisp bacon to the skillet with a generous pinch of freshly ground pepper and a small pinch of cayenne or red pepper flakes. Taste the vegetables before adding any salt – the bacon, butter, and cream will add some salt to the dish so you might not need to add any! Serve warm with your favorite grilled or roasted meats.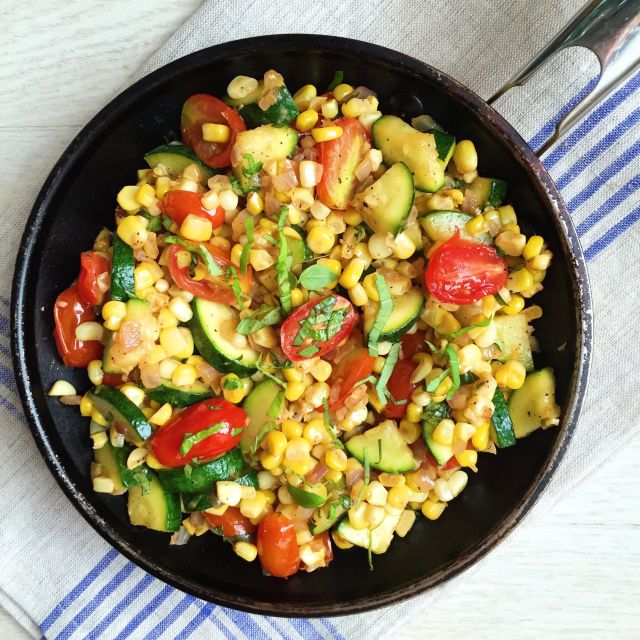 The Rudasills' Fresh Cream Peas
Ingredients
½ pound uncooked bacon, diced
½ stick salted butter
1 medium-large white onion, diced small
2 cloves garlic, minced
1 ½ - 2 pounds shelled cream peas, preferably fresh but frozen can be used
2 cups chicken broth
Salt and pepper to taste
Directions
In a large pot with a lid, sauté the bacon pieces over medium heat until the bacon grease begins to render and the bacon is barely cooked. Remove the bacon from the pot with a slotted spoon and reserve for later. Increase the heat to medium-high, and add the butter to the pot. Add the diced onion and garlic to the pot and sauté for 3-5 minutes until the onions are translucent. Add the peas, cooked bacon, and chicken broth to the pot. Add enough water so that the peas are covered by about one inch of liquid. Bring the peas to a low simmer over medium-high heat, reduce the heat to low, cover the pot halfway with the lid, and continuing cooking for 1 to 1 ½ hours until the peas are soft, stirring every 10-15 minutes. Taste the peas and season with freshly ground black pepper and salt, if needed. Serve warm with fresh cornbread!
Hope y'all are having a great summer!
Tuesday May 30, 2017
Cooking with Kate: An Easy Summer Meal
With things heating up outside and the summer season upon us, I'm often looking for quick and easy meals that do not take much thought or cooking. Avocado toast is all the rage and with good reason – nutrient-dense avocados, from our farm-fresh produce selection, are an excellent source of monounsaturated fats (the good kind), Vitamins C, E, K, and B-6, folate, magnesium, potassium, and beta-carotene. Adding protein-rich eggs makes this a great meal for a quick breakfast or a busy weeknight. Enjoy!
Avocado Toast with Poached or Shirred Eggs
Makes 2 breakfast servings or 1 dinner serving
Ingredients
2 slices whole grain bread
1 tablespoon salted butter, softened
1 ripe avocado
1 lime, juiced
2 eggs, room temperature
pinch smoked paprika
a sprig fresh thyme or pinch of dried thyme leaves
salt and pepper
For shirred eggs                                                                                          
2 tablespoons heavy cream
2 tablespoons shredded parmesan or gruyere cheese
For poached eggs                                                      
1 tablespoon white vinegar
Directions
Preheat oven to 425°F. Spread softened butter on sliced bread; lay on cookie sheet. Set aside. As soon as you begin cooking the eggs, place the buttered bread in the oven to toast for 3-5 minutes. Watch carefully to prevent burning.
Scoop avocado flesh into a small bowl. Season to taste with salt, pepper, and lime juice. Mash and mix well. Set aside.
For shirred eggs
In a small greased ramekin, mug, or baking dish, add eggs (not beaten). Drizzle with heavy cream, sprinkle with cheese, and season with salt, pepper, paprika, and thyme. Bake in preheated oven for 7-10 minutes (7 minutes for runny yolks; 10 minutes for a firm yolk).
For poached eggs
Crack the eggs into 2 separate small bowls or cups. Bring a small, deep saucepan of water to a low simmer (small bubbles barely breaking on the surface). Salt the water and add 1 tablespoon vinegar. Use a spoon to create a swirling whirlpool in the water. Slowly lower the egg into the center of the whirlpool. This will help the egg white to wrap around the yolk. Add the second egg. Cover the saucepan and let the eggs cook for 5 minutes without stirring. Use a slotted spoon to remove the eggs from the water. Carefully drain the eggs on paper towels.
Serving
Spread mashed avocado on buttered toast. Add shirred or poached eggs. Sprinkle with additional salt, pepper, and paprika. Serve immediately.
---
Click here to see other recipes from Brookshire Brothers Catering Coordinator, Kate Rudasill.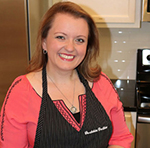 Kate Rudasill, Catering Coordinator for Brookshire Brothers, has been in the food-service industry for the past 14 years. As a graduate of Texas A&M University, a student of The Texas Culinary Academy, and a Nacogdoches, Texas native, Kate grew up with Southern tradition in her blood which caused her to have a deep love for bringing people together with food.
Monday April 3, 2017
How to Brunch 101
Dinner parties may be in your wheelhouse, but can you transition into a 10am brunch? With the Easter season around the corner, we're here to teach you how to make your next brunch extra delightful!
Brunch Buffet
We love a good brunch because it's easy on the host, and who doesn't love good coffee cake? Most of the menu items can be prepared ahead, giving you ample opportunity to mingle and enjoy the party along with your guests.
A staple brunch recipe is some kind of egg bake, along with a breakfast meat and lots of cheese. Many casserole recipes can be interchanged for your preference of bacon or sausage. 
*Expert tip: A vegetarian dish is always a good backup idea!
Fresh Flowers
Nothing says "brunch" like a bouquet of Spring's best flowers. Pick up whatever blossoms look the prettiest at your local Brookshire Brothers and scatter informal bouquets throughout your home. 
*Expert tip: White ceramic pitches make charming vases!
Ribbons & Bows
Traditionally, brunches are a "women only" kind of gathering. The men usually stick to the football game on prime time TV, sitting on the sofa with a rack of ribs. With this in mind, don't skimp on the feminine touches. Wrapping your forks and spoons with a simple ribbon can give a bit of cheer and elegance to your brunch. 
*Expert tip: Your floral department can assist in making large bows!
Final Touches
We love seeing a host go the extra mile in creating the perfect scene for any occasion. To really set the stage for a perfect spring-theme brunch, try your hand at creating the perfect adornment for your guests' glasses below.
Easy Candied Mandarins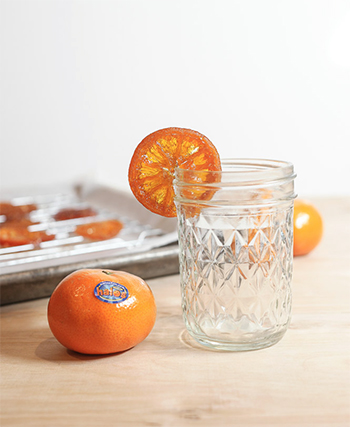 Recipe courtesy of Halos Mandarins
Ingredients
1/3 cup honey
1 cup water
5 Halos mandarins
Directions
1. In a wide-base pan, mix honey with water and heat over low until combined completely.
2. Slice mandarins as thin and uniform as possible, discarding the end pieces. Gently add them to the honey-water, and add a small amount of additional water if necessary to keep the mandarins completely submerged.
3. Cover and heat on low for 45 minutes to an hour, checking it occasionally to ensure that the mandarin slices don't burn.
4. Turn the heat up to a low-medium and keep covered for another half hour, checking frequently. Remove from the stovetop as soon as they start to bubble. The honey will have formed a caramel-colored syrup that hardens as it dries.
5. Remove the mandarin slices onto a slotted stainless steel baking rack or broiler rack placed on top of parchment paper on a baking sheet. Cook in a 250-degree preheated oven for thirty minutes. Turn them over and cook for another thirty minutes. Let cool completely.
Expert tip: If they're still slightly tacky, you can dust with coconut sugar to help make them easier to handle!
Monday January 23, 2017
Texas-Sized Big Game Snacks
Your team is set, but is your menu game day ready? Lucky for you, we've got the perfect snacks for your loud and loaded potato skins-loving uncle and delightful sweets for that reminiscing running back. 
  Party Wings and Boneless Wings are the go-to
  protein-packed hors d'oeuvre that will satisfy
  everyone. You can find this and other great party
  trays from your local Brookshire Brothers Deli.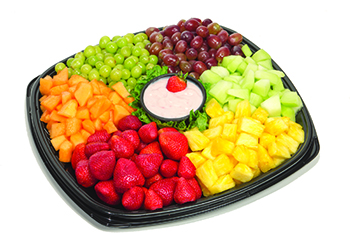 For a lighter snack that the Football Wives will appreciate, go for our Fruit Tray with sweet fruit dip. Complement Trays like this can be found when you order from your Deli.
---
Looking for a personal touch this year? Score big with this tried and true Sweet & Salty Chex Mix Recipe from our Catering Coordinator, Kate Rudasill. With a craft beer favorite from The Beverage Depot, Robert Earl Keen Honey Pilsner, this recipe gives the best of both worlds when it comes to salty and sweet. 
We've got everything you need, whether you're looking for a deli solution or ingredients to make your own creation, at your local Brookshire Brothers. Find a store near you today!
Monday January 2, 2017
Ditch the Salad Bar
Eat better. That's what we all plan to do at the start of every year after coming off the holiday binge on all things delicious. If we could just eat better, then we might fit into that pair of jeans we've been keeping around just in case. And with all that extra energy we might even get around to finishing those Pinterest projects — all 3,674 of them.
Problem is, what exactly is healthier? Sure, cut back on the fast food, eat less sugar and fried food, but what do you eat instead? Most people head for the holy grail of healthiness: the salad bar. And while the salad bar may appear to be the mecca of healthy eating, I encourage you to look closer and think again.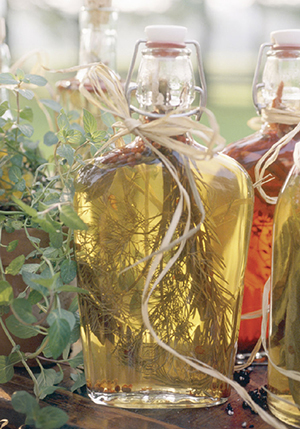 What is the salad bar's biggest offense? Lurking among all that beautiful vegetable goodness is that last little thing you drizzle on the salad: the dressing. The problem with dressing? No, it's not the calories; it's the soybean oil, which is the majority of practically every commercial salad dressing on the face of the earth. Soy — that's healthy, right? Well, not exactly. Over 85 percent of the soy grown in the United States is a genetically modified organism (GMO) and new studies have shown that soybean oil likely contributes to other problems like diabetes and heart disease when compared to other dietary oils.
Another thing that can make your salad a little healthier is to go organic.  Whenever possible, buy organic produce when it is available and your budget allows. The next best thing is to peel items like apples and peaches. And if nothing else, wash your produce thoroughly with vinegar and running water to remove as much residue as possible.
 
So, is there any saving grace for salad? If salad's not healthy, then what is? Salad can be a very healthy choice, if you do it right. Bring your salad savviness home and spruce up the ingredient list with some olive oil and good quality produce.
The last key to solving the salad dilemma is in making your own dressing at home. While soybean oil is a dietary villain, extra virgin olive oil is a dietary hero that is so good for you, it's ridiculous. Make dressing at home with just two main ingredients: olive oil and something tangy like vinegar or citrus juice. Try this local recipe at home, and you'll be well on your way to completing at least one of those long overdue Pinterest projects. Maybe.
Simple Salad Dressing
1 tablespoon vinegar of any type or citrus juice
2-3 tablespoons extra virgin olive oil (adjust according to taste)
1 teaspoon Dijon mustard (optional)
Pinch of salt and pepper
Add all ingredients to a Mason jar or well-sealed container. Shake until emulsified. Serve. 
Find other tips to keep your New Year healthy from Angela Larson here.
Angela Larson is a registered dietitian (RD) who works with Brookshire Brothers promoting real fresh, real delicious healthy foods and providing nutrition education to the community. She is also a clinical dietitian representing Woodland Heights Medical Center in Lufkin where she does community education on food and nutrition. Food is her passion, so Angela loves trying new recipes and exploring the more holistic side of nutrition. Angela loves to cook, garden, and spend time outdoors. Look for Angela's monthly articles in Charm East Texas.  
Monday November 21, 2016
Thanksgiving, Pilgrims, and Brussels Sprouts
I love Thanksgiving. It's truly a holiday focused on love of family, friends, and country. I've recently been reading about the hardships the original Pilgrims faced, of which they certainly had their fair share. Yet, they were also exceedingly thankful for the simplest things like health, shelter, vitality, and good food.
We don't face the same hardships, so at times it can be easy to take even these simplest things for granted. What a tremendous blessing that we don't have to hunt and plant our food. Instead we have a plethora of delicious and healthy things to choose from in your local Brookshire Brothers Produce Department. After all Thanksgiving is not just about the food, it's about the people that you get to spend it with.
A Thanksgiving feast is meant to bring families together to celebrate what is really important – love and gratitude for one another. So today, I'd like to share my love of all things brussels sprouts (don't roll your eyes). They are delicious, and I promise they don't taste like they smell! When you roast them at a high temperature, the smell dissipates and what is left is a wonderful caramelized bite of happiness.
Brussels sprouts are one of the most delicious and savory vegetables around, and they deserve a place on your Thanksgiving table. As an added bonus, brussels sprouts are cruciferous vegetables, meaning they are antioxidant rich, cancer-fighting ninja veggies. They're high in vitamin C, B, and K, as well as a good source of folate and fiber.
Give this recipe a try and may your Thanksgiving be filled with deliciousness, love, laughter, family, and a grateful heart for the abundance of blessings God has so graciously bestowed upon us. Happy Thanksgiving! 
Roasted Brussels Sprouts with Bacon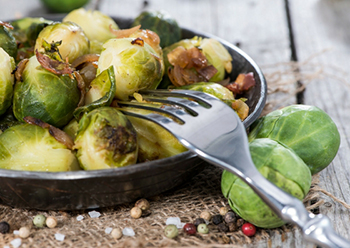 Ingredients
- 2 lbs Brussels sprouts, trimmed and halved
- 2 Tbs olive oil
- 2 tsp water
- Salt and pepper
- 3 slices bacon, cooked and chopped fine
Instructions
Adjust oven rack to middle position. Heat oven to 500 degrees. Line baking sheet with aluminum foil for easy clean-up. Toss Brussels sprouts with olive oil, water, ½ teaspoon of salt, and ¼ teaspoon of black pepper on baking sheet. Spread out Brussels sprouts in a single layer with cut side facing down. Cover baking sheet tightly with aluminum foil and roast for 10 minutes. After 10 minutes, remove foil and continue cook an additional 10 minutes until sprouts are tender and browned. Toss with chopped bacon and season to taste with additional salt and pepper. Serve. 
Note:  An optional ingredient is chopped toasted pecans. 
Angela Larson is a registered dietitian (RD) who works with Brookshire Brothers promoting real fresh, real delicious healthy foods and providing nutrition education to the community. She is also a clinical dietitian representing Woodland Heights Medical Center in Lufkin where she does community education on food and nutrition. Food is her passion, so Angela loves trying new recipes and exploring the more holistic side of nutrition. Angela loves to cook, garden, and spend time outdoors. Look for Angela's monthly articles in Charm East Texas.  
Monday October 17, 2016
Cooking with Kate: Happy Halloween!
It's hard to believe that Halloween is right around the corner...especially when it still feels a bit summery outside. Hopefully the temperature will drop some before the trick-or-treating weekend is upon us! Have some fun this year with your kiddos making these fun after-school and party recipes that are simple, quick, and delicious!
Toothy Apples
3-4 apples – Granny Smith, Gala, or Fuji
smooth or crunchy peanut or almond butter
mini marshmallows
Slice apples into quarters and remove the core. Slice each quarter in half and spread a small amount of peanut or almond butter on one of the sides. Add 5-7 mini marshmallow "teeth" to one slice and top with another slice, peanut butter side down to hold the marshmallows in place. Refrigerate your "toothy" apples until ready to serve.
Fall Party Snack Mix
6 cups Chex or Crispix cereal
1 cup mini pretzel twists
6 tablespoons butter, melted
¼ cup brown sugar
1 teaspoon cinnamon
1 cup peanut butter pieces or chocolate candies
1 cup mini marshmallows
1 cup candy corn or other fall candy
Pre-heat the oven to 275°F. Line a baking sheet with parchment paper and set aside. Melt the butter in a large bowl. Add the cereal and pretzels and toss evenly to coat. In a small bowl, mix the brown sugar and cinnamon, then toss with the cereal mixture to evenly coat. Spread the cereal mixture onto the baking pan and bake for 20 minutes. Cool the cereal mixture completely. Once cool, add the candy, candy corn and marshmallows. Serve in a large bowl for a party or package into small bags to give out to friends 
Spiced Apple Cider
Makes 16-20 servings
2 ½ quarts apple cider
24 ozs pineapple juice
24 ozs orange juice
1 teaspoon ground nutmeg
1 teaspoon ground cinnamon
4-6 cinnamon sticks
1 tablespoon whole cloves
In a large crock pot, mix apple cider, pineapple juice, orange juice, ground nutmeg, and ground cinnamon. Add cinnamon sticks and cloves (see note). Heat on high for 1 hour.  Turn heat to low and continue heating for 1-2 hours or until ready to serve. Refrigerate any remaining cider.
NOTE: If you have cheesecloth available, use a small square of cloth to wrap the cinnamon sticks and cloves and then tie with twine. Add to the pot and remove before serving. If cheesecloth is not available, use a slotted spoon to remove the cloves before serving.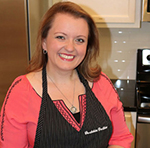 Kate Rudasill, Catering Coordinator for Brookshire Brothers, has been in the food-service industry for the past 14 years. As a graduate of Texas A&M University, a student of The Texas Culinary Academy, and a Nacogdoches, Texas native, Kate grew up with Southern tradition in her blood which caused her to have a deep love for bringing people together with food.
Friday October 7, 2016
"Push Up" Breast Cancer Awareness
October is Breast Cancer Awareness Month and we want to spread awareness while having fun! "Push up" your girls while making "push-it-up" cake pops with your friends. Spending time baking and focusing on women's health will cause you all to rally and respond to this sisterly need!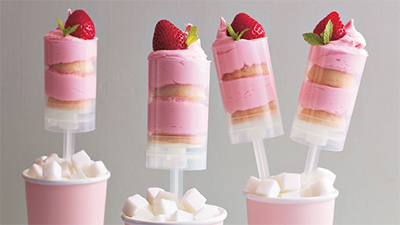 Pretty In Pink Push-It-Up Cake Pops
Recipe courtesy of Betty Crocker
Ingredients
1 box Betty Crocker™ SuperMoist™ white cake mix
1 1/4 cups water
1/3 cup vegetable oil
3 egg whites
1 container (12 oz) Betty Crocker™ Whipped strawberry mist frosting
12 plastic push-up pop containers
12 small fresh strawberries
12 sprigs fresh mint, if desired
Directions
1. Heat oven to 350°F. Spray 24 mini muffin cups with cooking spray.
2. In large bowl, beat cake mix, water, oil and egg whites with electric mixer on low speed 30 seconds. Beat on medium speed 2 minutes. Fill muffin cups half full with batter. (Cover and refrigerate remaining batter until ready to bake; cool pan before reusing and spray again with cooking spray.)
3. Bake 10 to 15 minutes or until toothpick instered in center comes out clean. Remove cupcakes from pans to cooling racks; cool completely, about 15 minutes. (Repeat with remaining batter to make about 48 additional mini cupcakes. Freeze cupcakes for another use.)
4. Spoon frosting into decorating bag (fitted with desired tip) or resealable food-storage plastic bag (with small corner cut off). To assemble, drop 1 cupcake into each push-up container; pipe desired amount of frosting on cupcake. Top each with second cupcake; pipe with frosting. Garnish with strawberry and mint sprig.
Friday August 12, 2016
Turnip the Volume: Vegetable Beef Soup Recipe
TURNIP the volume on dinner with summer vegetable beef soup, featuring the oft forgotten and lowly turnip.  Turnips are a delicious low-carb alternative to potatoes with less than half the calories and carbs.  They are rich in minerals, B vitamins, and vitamin C, but most importantly in flavor.  Prepare them just like you would a potato by peeling and throwing in the soup pot until they are tender. 
Turnip the Volume:  Vegetable Beef Soup
Ingredients
7-bone steaks or blade steaks- about 2 lbs (2-3 steaks)
2 Tbs Extra-virgin olive oil
1 medium onion, diced
6 oz tomato paste (1 small can or jar)
3 cloves garlic, minced
4 cups beef stock, reduced sodium or homemade
4 cups chicken stock, reduced sodium or homemade
2 stalks celery, small dice
4 medium turnips, peeled and diced
1 ½ cups petite baby carrots
1 28 oz can diced tomatoes
2-3 fresh tomatoes, diced (optional)
10 oz frozen corn (1 small bag)
3-4 sprigs fresh thyme (or ½ teaspoon dried)
2 dried bay leaves
¼ cup minced fresh parsley
Salt and pepper, to taste
Instructions
1.  Season steaks with a sprinkle of salt and pepper. Pat steak surface dry with paper towels. Heat olive oil in a large soup pot over medium-high heat until just smoking. Add steak and cook until well browned on all sides, 5-6 minutes per side. Remove steak and set aside.  
2.  Add onion and tomato paste to the pot and sauté for 3 minutes until just softened. Add minced garlic and cook, stirring for 30 seconds. Return steak to the pot. Add beef stock and simmer steak gently for 1 1/2 hours or until tender.  
3.  Remove steak from the pot and set aside. Add chicken stock, celery, turnips, baby carrots, diced tomatoes with juices, fresh tomatoes, frozen corn, fresh thyme, and bay leaves. Allow to simmer until vegetables are tender, about 20 minutes. When steak is cool enough to handle, shred beef, discarding any bones, and return shredded beef to soup pot. Add additional broth or water as needed to thin soup to desired consistency.  
4.  Remove bay leaves, thyme sprigs, and season with salt and pepper to taste. Add fresh parsley off heat. Serve.  
Angela Larson is a registered dietitian (RD) who works with Brookshire Brothers promoting real fresh, real delicious healthy foods and providing nutrition education to the community. She is also a clinical dietitian representing Woodland Heights Medical Center in Lufkin where she does community education on food and nutrition. Food is her passion, so Angela loves trying new recipes and exploring the more holistic side of nutrition. Angela loves to cook, garden, and spend time outdoors. Look for Angela's monthly articles in Charm East Texas.  
Pages