Tuesday October 2, 2018
Real Fresh, Real Delicious: Spice It Up
As seen in Charm East Texas
Columbus sailed the ocean blue in 1492, and it's time to commemorate the occasion this Columbus Day! When Columbus set sail, one of his primary aims was to locate the "spice islands" along the Asian coast; exotic spices were rare and valuable commodities in those days. Columbus may have missed the mark in his search for the spice islands (landing on Cuba instead!), but in its place he discovered a whole new world where culinary inspiration awaited.
Spices are a quintessential component in the diversity of food and culture all around the world. In honor of Columbus Day this year, let's do a little of our own exploring and celebrate the diverse world of spices with all their delicious culinary magic.  They were magical enough to make Columbus sail across the ocean to find them, but luckily they are as easy to find as 
a quick trip to your neighborhood Brookshire Brothers
.  
15 Flavorful Facts On Spices 
All spices are rich in various types of antioxidants, making them a tasty way to bolster the body's defenses against different diseases and illnesses.  
Those living in hot climates tend to cook with more spices because the spices inhibit spoilage.  Taste preferences are passed on genetically, and those who eat the most seasoned food tend to be healthiest, live longer, and have more offspring. 
Herbs come from the leaves of plants while spices are produced from other parts (bark, buds, roots, seeds, etc).  Some herbs and spices with very different flavors can come from the same plant, such as cilantro leaves and coriander seeds.
The best all-around anti-microbial spices are thyme, cinnamon, tarragon, and cumin.  Spicy chilies and hot peppers kill up to 75% of bacteria, while black pepper, ginger, celery seed, and lemon juice kill about 25% of bacteria.  
Some spices—especially cinnamon and garlic—appear to have a pronounced beneficial effect on blood lipids, making them a good choice for heart health.  
Nutmeg and mace come from the same seed, but nutmeg is the seed while mace is the lacy reddish covering on the seed. Mace has a similar flavor to nutmeg but is slightly more pungent.
Fenugreek can safely help increase milk supply in nursing mothers.  
Saffron threads are stigmas from flowers cultivated in the Middle East. The flowers bloom for only one week of the year, and each flower produces only three threads that must be hand-harvested; it's no wonder that saffron is expensive!  Saffron has a unique flavor that adds a distinctive and sophisticated touch to dishes. 
Oregano has strong anti-microbial properties, improves blood sugar, kills cancer cells, and can even function as a powerful antiseptic used in food packaging and the medical industry.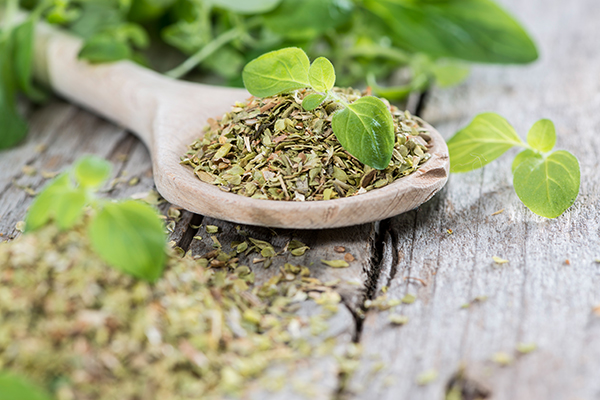 Researchers in Brazil found an antioxidant in parsley, thyme, chamomile, and red pepper that improves neuron formation and strengthens the connections between brain cells.
Historically, spices were a valuable currency for trade. They were prized for not just food seasoning, but also medical purposes.  Many modern pharmaceuticals are based on compounds originally found in spices and plants.
Cinnamon has many benefits including blood sugar management, anti-microbial properties, heart benefits, cancer prevention, and even brain-boosting properties.
Cayenne and other spicy peppers have been shown to increase metabolic rate and aid weight loss. Spicy peppers also aid digestion and have been shown to cut cancer risk.   
Turmeric contains powerful antioxidants that work well as an anti-inflammatory and can even act as an alternative to traditional over-the-counter pain relievers. With a slightly pungent and sweet flavor, Tumeric is very popular in Indian cuisine.  Its vibrant golden hue works well as a natural alternative to food coloring—you might just see it in organic macaroni and cheese! 
Foods that are well-seasoned can be more palatable with less salt.  Before reaching for the saltshaker, see first that your food is seasoned well with herbs, spices, and something sour such as vinegar or lemon juice. These alternatives can enhance a salty flavor without adding more salt.  
---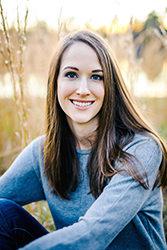 Angela Larson
 is a registered dietitian (RD) who works with Brookshire Brothers promoting 
real fresh, real delicious
 foods and nutrition education to the community. She is also a clinical dietitian representing Woodland Heights Medical Center in Lufkin where she does outreach education on food and nutrition. Food is her passion, so Angela loves trying new recipes and exploring the more holistic side of nutrition. Angela loves to cook, garden, and spend time outdoors. In addition to the 
Brookshire Brothers blog
, look for Angela's monthly articles in Charm East Texas. 
Wednesday September 20, 2017
Pistachios: Everything You Need to Know
Did you know that hearing the crack of a pistachio shell is considered good luck in some countries? What about this nut's distant cousins—mangos and poison ivy? Then there's the whole weird green color (thanks to chlorophyll), and we've heard talk of Turkey wanting to fuel a town entirely on pistachio shells.
Needless to say, there's a lot to about this strange nut and its strange history. Lucky for you, we've compiled answers to some of the most-asked questions about pistachios—our September
produce
feature—as well two fun recipes. Read on to see why this nut is everything it's cracked up to be.
What is the pistachio and where did it originate?
The pistachio nut, a native of Iran, Syria and Greece, has been cultivated for more than 10,000 years. It is considered by some to be one of the oldest edible nuts on earth and is referred to in the Old Testament—Genesis 43:11—along with almonds. The pistachio belongs to the same family as the cashew. The fruit of the pistachio differs from all other nuts because of its green color and the semi-opening of the shell. In Iran, it is called the "smiling pistachio" and in China it is called the "happy nut." Because of this physical characteristic, it is the only nut that does not need to be shelled for roasting and salting. It used to be common to dye pistachios red to cover any blemishes on the shell but most consumers now prefer the natural color.
It was not until the 1930s, when vending machines became popular, that pistachios imported from Italy became a popular snack food in the United States. After WWII, the evergreen trees that bear pistachios were imported to California. The name pistachio is the Italian version of the Persian word pistah, which means "nut".
When and where do they grow now?
While it's easy to purchase pistachios at any time during the year, these nuts are at their best tasting and greatest value during the harvest, which—according to the American Pistachio Growers organization—can take place anywhere from late August to early October. In America, most pistachios are harvested in western states, such as California, Arizona, and New Mexico.
How are they picked?
Growing in clusters similar to grapes, pistachios tend to naturally fall off the tree when they ripen, where they are gathered by hand, net, or some other means. According to several sources, most harvesters will also shake the branches with machines to help the nuts fall off. Good pistachio nuts will split while on the tree, although some will not. Typically, the only pistachios sold in stores are the ones that have naturally opened.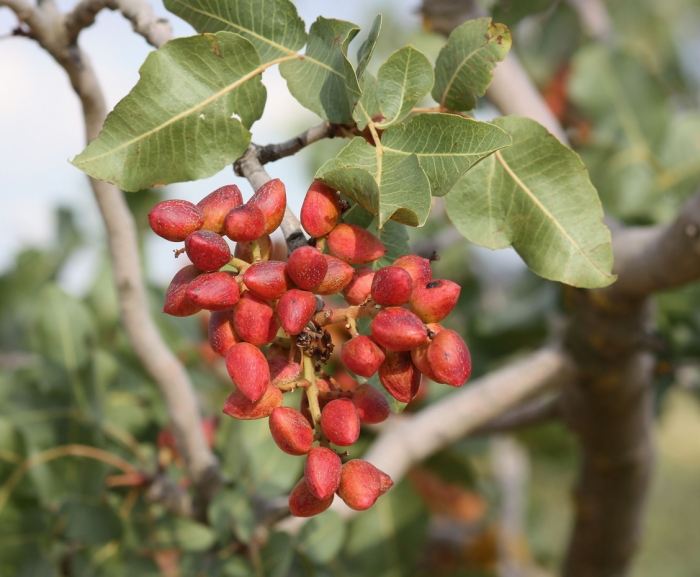 Are pistachios good for you?
Yes! In fact, you can break down the research surrounding this nutritional nut into at least six major health benefits, according to Organic Facts:
Healthy Heart
According to evidence, a daily intake of pistachios appears to help with lowering levels of "bad" cholesterol (LDL) in the body, thanks in large part to this nut's rich source of antioxidants, unsaturated fatty acids, and phytosterols.
Weight Management
In comparison to dried fruits and other nuts (almonds, cashews, pecans, etc), pistachios are low calorie, protein rich, and low fat—making this nut the go-to snack for weight management. In other words, this nut makes that feeling of fullness last longer without the extra calories/fat.
Prevents Macular Disease
Researchers have also found pistachios to be high in lutein—a nutrient that's found in most dark green leafy vegetables. This antioxidant is particularly important in healthy vision, as it helps reduce the risk of age-related macular degeneration.
Dietary Fiber
As with most nuts, pistachios are great for intestinal health due to their dietary fiber. One ounce (30g) of pistachios can contain about 3 grams of fiber, which is more than enough to boost daily digestion.
Aphrodisiac Properties
A 2011 study (Aldemir et al) suggests that pistachios can improve reproductive vitality among men by at least 50% after three weeks of 100g (roughly 3.5oz) taken daily.
Antioxidant Properties
Pistachios are such a rich source of antioxidants that even their shells contain large amounts of this nutrient, according to researchers from Tarbiat Modarres University. Antioxidants are important as they can help reduce the risk of cancer.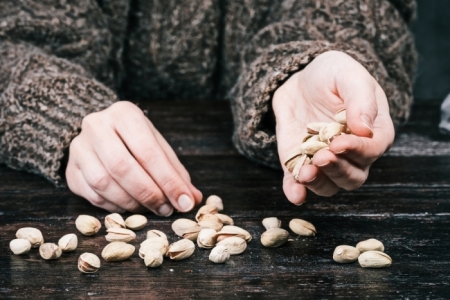 How much should you eat per day?
Most sources recommend 1-2 handfuls a day (roughly 1.5-3oz or 200-400 calories), although you should be careful about how the pistachios are served. Eating raw or roasted pistachios is the most nutritional option, but sweetened or salted pistachios can be a nice treat so long as you keep an eye on the intake.
Raw vs. Roasted Pistachios: Which one is better?
Usually the heat of cooking results in a loss of nutrients, yet pistachios are a different story. According to Healthline and other sources, these nuts largely do not change in terms of health benefits, whether they're roasted or raw. Both varieties contain similar amounts of calories, protein, carbs, and fiber.
What to do with pistachio nuts?
The great thing about nuts in general is that there are many easy ways to incorporate their nutritional goodness into your daily diet. Pistachios alone can make for a great snack at work, after school, or while watching Monday night football with friends. Beyond that, pistachios have been included in many different recipes—savory and sweet alike, as seen by these two highly rated recipes from Betty Crocker:
Apricot-Pistachio Rolled Pork
4+ stars rating
Prep: 30 min | Total: 5 hour 35 min
Servings: 12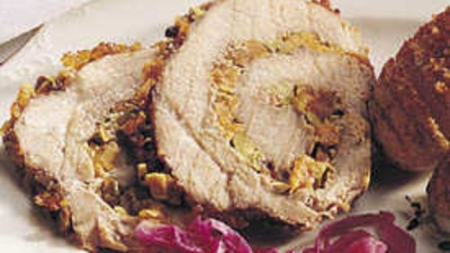 "Get dinner rolling with pork loin that's wrapped around a sweet, crunchy apricot-pistachio filling and roasted to perfection."
Ingredients
1 single uncut boneless pork loin roast (4 lb)
½ cup chopped dried apricots
½ cup chopped pistachio nuts
2 cloves garlic, finely chopped
¼ teaspoon salt
¼ teaspoon pepper
¼ cup apricot brandy or apricot nectar
1 tablespoon butter or margarine
¼ cup coarsely crushed cracker crumbs
2 tablespoons chopped pistachio nuts
¼ teaspoon garlic salt
¼ cup apricot preserves
Directions
To cut pork roast into a large rectangle that can be filled and rolled, cut lengthwise about 1/2 inch from top of pork to within 1/2 inch of opposite edge; open flat. Repeat with other side of pork, cutting from the inside edge to the outer edge; open flat to form rectangle.
Sprinkle apricots, 1/2 cup nuts, the garlic, salt and pepper over pork to within 1 inch of edge. Tightly roll up pork, beginning with short side. Secure with toothpicks, or tie with string. Pierce pork all over with metal skewer. Brush brandy over entire surface. Let stand 15 minutes. Brush again with remaining brandy. Cover and refrigerate at least 2 hours but no longer than 24 hours.
Heat oven to 325°F. Place pork, fat side up, on rack in shallow roasting pan. Insert meat thermometer so tip is in thickest part of pork. Roast uncovered 1 hour 30 minutes.
Meanwhile, in 2-quart saucepan, melt butter over medium heat. Stir in cracker crumbs, 2 tablespoons nuts and garlic salt; cook and stir 1 minute. Cool slightly.
Brush preserves over pork. Sprinkle with crumb mixture. Roast uncovered 30 to 60 minutes longer or until thermometer reads 160°F. Cover and let stand 15 minutes before serving for easier carving.
Expert Tips
Add color to the fruit and nut filling by replacing half of the dried apricots with dried sweetened cranberries.
Piercing the pork and allowing it to stand after brushing with apricot brandy helps to heighten the apricot flavor of the roast.
Cran-Pistachio Cookies
4 star rating
Prep: 60 min | Total: 60 min
Servings: 48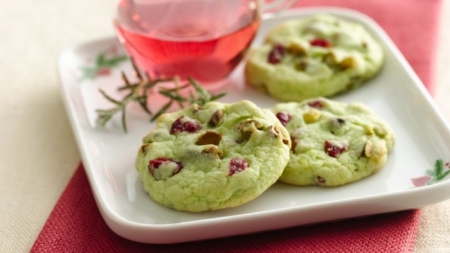 "Prize-Winning Recipe 2010! Pistachios, pudding mix and cranberries stir up with sugar cookie mix for a melt-in-your-mouth cookie."
Ingredients
Parchment Paper
1 pouch (1 lb 1.5 oz) sugar cookie mix
1 box (4-serving size) pistachio instant pudding and pie filling mix
¼ cup all-purpose flour
½ cup butter or margarine, melted
2 eggs
1 cup dry-roasted salted pistachio nuts, chopped
½ cup dried cranberries, chopped
Directions
Heat oven to 350°F. Line cookie sheet with Reynolds Parchment Paper; set aside. In large bowl, stir together cookie mix, pudding mix and flour. Stir in melted butter and eggs until soft dough forms. Add pistachios and cranberries; mix well.
Using small cookie scoop or teaspoon, drop dough 2 inches apart on lined cookie sheet. Press with fingers to slightly flatten.
Bake 9 to 11 minutes or until edges are light golden brown. Cool 2 minutes; remove from cookie sheet to wire rack. Cool completely. Store tightly covered at room temperature.
Expert Tips
Place food directly on Parchment Paper and bake as directed. Treats will bake evenly and release from paper with ease. Plus, because you're baking right on the paper, clean-up is a breeze.
For even baking, make sure cookies are of the same shape and size.
DON'T FORGET:
Pistachios can last for many months before going bad if you store them in airtight containers in cool and dry places.
Monday August 7, 2017
Cooking with Kate: All About Hatch
"Hatch" chile refers to several varieties of chile peppers grown in the Hatch Valley of New Mexico. The chile pepper plant is not native to the southwest, but thrives in the New Mexican environment with plenty of irrigation from the Rio Grande River. Although these peppers have been cultivated in New Mexico for more than 100 years, they've only become popular around Texas (and the U.S.) in the past 20 years or so.

Chile peppers are technically a fruit, although they are most often eaten as a vegetable due to their savory and spicy flavors. Roasting adds additional flavor to these fantastic peppers and makes cooking with them a snap. You can also freeze the roasted peppers so they can be used throughout the year. Hatch chiles are only available fresh during August and September, so pick some up, do a little roasting, and have fun cooking!
Hatch chile peppers aren't the only produce in season right now! Find the greatest quality produce at the best value when you shop according to the season with our summer produce guide.
Fun Hatch Facts: 
One fresh medium-sized green chile has as much Vitamin C as six oranges.
Green chiles are also a great source of Vitamin A, Vitamin B, and fiber.
Capsaicinoids—the chemical that make chile peppers spicy—are used in muscle patches for sore and aching muscles, as well as pepper spray!
You might think that green and red chiles are different types of peppers, but they are in fact fruit of the same plant picked at different times. The red chile is the fully ripened version of the green chile.
These spicy peppers are finding their way into everything—sauces, breads, cheeses, even ice cream! Check your local store for all the available Hatch chile products.
For a brief refresher on the nutritional merits of other summer produce, check out the blog post "Summer Fruit: A Delicious Problem" by our local registered dietitian, Angela Larson!
How to: Roasted Hatch Chiles
Roast green chiles using one of the methods below:
Broiler: Preheat broiler on high. Place chiles on a baking sheet and place under the broiler for 6-10 minutes, turning often, until chile skins blacken and blister.
Charcoal or Gas Grill: Preheat grill and place chiles 4-6 inches from heat. Cook, turning often, until chile skins blacken and blister.
Gas Stove: Turn stove to high. Using tongs, hold chiles over flames, turning often, until skins blacken and blister.
Once chiles are roasted, place in a plastic or paper bag for about 10 minutes to steam. Wearing gloves, take the chiles out of the bag and remove the skins by rubbing gently. Use a sharp knife to cut pepper open and remove the stems, membranes, and seeds. Use chiles immediately or let cool completely, package in airtight freezer bags and place in the freezer until ready to use.

Hatch Chile Deviled Eggs
Ingredients
½ cup mayonnaise
2 teaspoons juice from a jar of sliced jalapeños
2 tablespoons fresh cilantro, minced
½ teaspoon oregano
salt and pepper
1 Hatch chile, roasted, skin and seeds removed, finely diced
8-12 hard-boiled eggs, cooled and peeled
paprika, for sprinkling
Directions
In a small bowl, mix the mayonnaise with jalapeño juice, cilantro, oregano, salt and pepper, to taste. Cut the peeled eggs in half lengthwise and remove the hard-boiled yolks. Add the yolks to the mayonnaise mixture and mash until smooth. Stir in the chopped green chiles. Spoon mixture into a plastic zipper bag and seal. Snip off one corner and pipe the mixture into the boiled egg whites. Alternately – use a spoon to fill the whites. Sprinkle with paprika and additional cilantro. Cover and chill for up to 2 hours before serving.
Roasted Hatch Chile and Peach Salsa
Ingredients
4 large peaches, skin on, small dice
2 cloves of garlic, minced
½ cup white onion, small dice
½ cup cilantro leaves, roughly chopped
¼ cup fresh lime juice
2-3 Hatch chiles, roasted, skin and seeds removed, diced
salt and pepper
Directions
Add all ingredients to a large bowl and toss to mix. Season with salt and pepper and extra lime juice, as needed. Store in the refrigerator in an airtight container. Makes 3-4 cups of salsa.
Enjoy with chips or serve over grilled fish, chicken, or pork chops.
---
View other recipes from Brookshire Brothers Catering Coordinator, Kate Rudasill.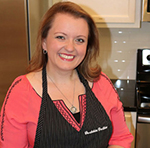 Kate Rudasill, Catering Coordinator for Brookshire Brothers, has been in the food-service industry for the past 14 years. As a graduate of Texas A&M University, a student of The Texas Culinary Academy, and a Nacogdoches, Texas native, Kate grew up with Southern tradition in her blood which caused her to have a deep love for bringing people together with food.