Tuesday January 16, 2018
What's in Season: The Easy Winter Guide
With two-day shipping, online streaming, swipe-right dating, we're living in an instant-click world. However, there are still some things that require extra time and patience—fruits and vegetables included. While you can purchase certain produce all year round, there's often a time and place when you can get them at their best flavor and greatest value. For example, when the temperatures are too cold here in the U.S. to get fresh blueberries—a summer fruit—you'd have to go farther south to get what you wanted, perhaps a two week shipment from Chile—with tax.
Our point is, when you shop for produce according to the season, you're guaranteed to pick fruits & vegetables that are not only better tasting, but also the best bang for your buck. Here's a quick list of what you should look for this winter.
Winter Fruits and Vegetables
(According to the USDA)
Apples
Avocados
Bananas
Beets
Brussels Sprouts
Cabbage
Carrots
Celery
Grapefruit*
Kale
Leeks*
Lemons*
Onions
Oranges*
Parsnips
Pears
Pineapple
Potatoes
Pumpkins
Rutabagas
Sweet Potatoes and Yams
Turnips
Winter Squash
The produce marked with an asterisk(*) is only in season during the winter. All other produce is in season for more than one season.
More ideas for tapping into your taste buds with winter produce:
A hot pot of chili on a cold winter's day is one of the most comforting foods in Southern cuisine. This particular recipe is quick and easy, and it features several winter veggies!
Butternut squash is a seasonal favorite because of its delicious buttery undertones, plus it's oh-so-nutritious! Check out this recipe from registered dietitian Angela Larson.
Turnips are a delicious low-carb alternative to potatoes with less than half the calories and carbs. Furthermore, they're rich in minerals, B vitamins, vitamin C, and—most importantly—in flavor.
Kate features several winter ingredients in her favorite recipes for National Soup Month: White Chicken Chili and Tuscan Bean & Kale Soup.
Tuesday January 13, 2015
Health Benefits of Fruits and Vegetables…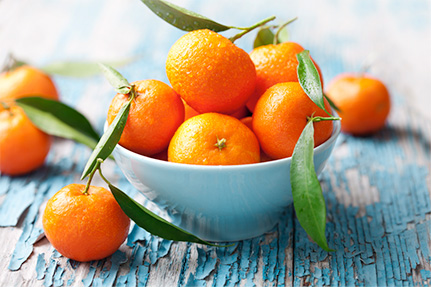 The natural antioxidants in fruits and vegetables will help keep your body working at its best, so consuming a diet that meets your daily recommended amount of fruits and vegetables is one of the best ways to give your body a strong defense against disease. Fruits and vegetables are protective to health as they're helpful at reducing the risk of coronary heart disease, stroke and some cancers. They're also low in calories, which helps prevent obesity … a significant risk factor for type 2 diabetes, cancer and cardiovascular disease.
"Mandarin oranges" is a term that applies to an entire group of citrus fruits. This group includes such varieties as Satsuma, Clementine, Dancy, Honey, Pixie, and tangerines in general.
How to Select Mandarin Oranges
Select fruits that are unblemished and heavy for their size. Avoid those with cuts, soft spots, or mold.
How to Store Mandarin Oranges
They may be stored in a cool, dark spot for a few days, but ideally should be refrigerated to extend shelf life up to 2 weeks.
Nutrition Benefits of Mandarin Oranges
Fat free, saturated fat free, cholesterol free, sodium free, an excellent source of vitamin C and a good source of vitamin A
Top 10 Reasons To Eat MORE Fruits & Vegetables
Why eat MORE fruits and veggies?
10: Color & Texture. Fruits and veggies add color, texture … and appeal …  to your plate.
9: Top 10 Reasons to Eat MORE Fruits and VeggiesConvenience. Fruits and veggies are nutritious in any form – fresh, frozen, canned, dried and 100% juice, so they're ready when you are!
8: Top 10 Reasons to Eat MORE Fruits and Veggies Fiber. Fruits and veggies provide fiber that helps fill you up and keeps your digestive system happy.
7: Top 10 Reasons to Eat MORE Fruits and VeggiesLow in Calories. Fruits and veggies are naturally low in calories. 
6: Top 10 Reasons to Eat MORE Fruits and VeggiesMay Reduce Disease Risk. Eating plenty of fruits and veggies may help reduce the risk of many diseases, including heart disease, high blood pressure, and some cancers. 
5: Top 10 Reasons to Eat MORE Fruits and VeggiesVitamins & Minerals. Fruits and veggies are rich in vitamins and minerals that help you feel healthy and energized. 
4: Top 10 Reasons to Eat MORE Fruits and VeggiesVariety. Fruits and veggies are available in an almost infinite variety…there's always something new to try!
3: Top 10 Reasons to Eat MORE Fruits and Veggies Quick, Natural Snack. Fruits and veggies are nature's treat and easy to grab for a snack.
2: Top 10 Reasons to Eat MORE Fruits and VeggiesFun to Eat! Some crunch, some squirt, some you peel … some you don't, and some grow right in your own backyard!
1: Top 10 Reasons to Eat MORE Fruits and VeggiesFruits & Veggies are Nutritious AND Delicious!
For more information on fruits and vegetables, visit http://www.fruitsandveggiesmorematters.org.