Monday November 13, 2017
Thanksgiving: The Make-Ahead Menu
There are four things you never want to be late for: weddings, funerals, airplane flights, and—you called it—Thanksgiving dinner. Being early for Thanksgiving—particularly if you're a contributing chef—is key to a healthy, happy holiday for everyone. Here are three recipes based on classic Thanksgiving dishes to help you get a jump-start on the ultimate feast, whether you're a host or honorary guest.
Make-Ahead Baked Sweet Potatoes
(Recipe courtesy of our valued vendor partner Betty Crocker)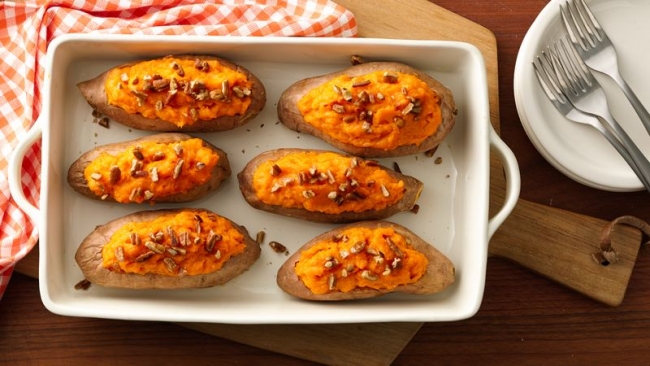 This healthy side dish only takes 15 minutes to prepare—and it keeps well for up to 24 hours! Who knew saving time could taste so delicious?
Read more: Another great option is this
crock-pot recipe
for a sweet potato casserole!
Ingredients
6 medium sweet potatoes (2¼ pounds)
2 tablespoons packed brown sugar
2 tablespoons butter or margarine, softened
Directions
Heat oven to 375ºF. Pierce sweet potatoes with fork to allow steam to escape. Bake about 45 minutes or until tender.
Cut thin lengthwise slice from each potato; carefully scoop out inside of potato, leaving a thin shell. Mash potatoes in a large bowl until no lumps remain. Beat in sour cream and milk. Beat in brown sugar, butter, and salt until potatoes are light and fluffy.
Place shells in ungreased rectangular baking dish, 13x9x2 inches. Fill shells with potato mixture. Cover and refrigerate no longer than 24 hours.
Heat oven to 400ºF. Bake uncovered about 25 minutes or until potato mixture is golden brown. If baking filled shells immediately after mashing potatoes, bake about 20 minutes.
---
Slow-Cooker Chive-and-Onion Creamed Corn
(Recipe courtesy of our valued vendor partner Betty Crocker)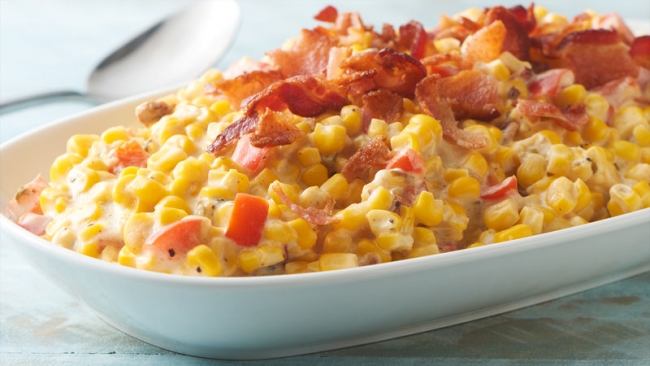 Keep things worry-free with this comforting side dish that's crock-pot easy and bursting with sweet flavor.
Ingredients
Slow Cooker Liners
4 slices bacon
4½ cups frozen whole kernel corn (from two 1-lb bags), thawed
½ medium red bell pepper, chopped (½ cup)
½ cup milk
¼ cup butter or margarine, melted
1 teaspoon sugar
½ teaspoon salt
⅛ teaspoon pepper
1 container (8 oz) reduced-fat chive-and-onion cream cheese
Directions
Place a slow cooker liner inside a 5 to 6½ quart slow cooker bowl. Make sure that the liner fits snugly against the bottom and sides of the bowl, and pull the top of the liner over the rim of the bowl.
In a 12 inch nonstick skillet, cook bacon over medium-high heat, turning occasionally, until crisp. Drain on paper towels. Crumble bacon.
Mix corn, bell pepper, milk, butter, sugar, salt, pepper and half of the bacon in the cooker. Refrigerate the remaining bacon.
Cover and cook on a High heat setting for 2 to 2 ½ hours.
Stir in cream cheese. Cook on a High heat setting for 10 more minutes. Stir well and then sprinkle with remaining bacon. Corn can be kept warm on a Low heat setting for up to 1 hour.
---
Layered Pumpkin Cheesecake
(Recipe courtesy of our valued vendor partner Betty Crocker)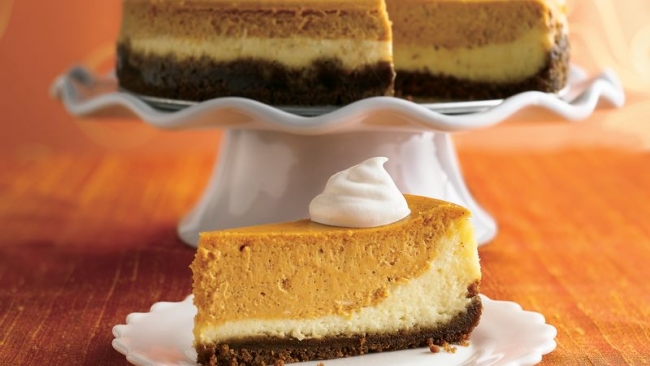 This highly-rated cheesecake recipe doubles the flavor with a layer of classic vanilla stacked with a layer of spiced-up pumpkin. Make it up to 24 hours ahead of your Thanksgiving get-together!
Ingredients
2 cups gingersnap cookie crumbs
¼ cup butter or margarine, melted
CHEESECAKE
4 packages (8 oz each) cream cheese, softened
1 cup canned pumpkin (not pumpkin pie mix)
1½ teaspoons ground ginger
1 teaspoon ground cinnamon
Directions
Heat oven to 300°F. Grease 9-inch springform pan with shortening or cooking spray. Wrap foil around pan to catch drips. In a small bowl, mix cookie crumbs and butter. Press crumb mixture in bottom and 1 inch up the side of the pan. Bake 8 to 10 minutes or until set. Cool 5 minutes.
In a large bowl, beat cream cheese with electric mixer on medium speed until just smooth and creamy;

do not overbeat

. On low speed, gradually beat in sugar. On low speed, beat in eggs, one at a time, until just blended. Spoon 3 cups of the cream cheese mixture into pan; spread evenly.
Stir pumpkin, ginger, cinnamon, and nutmeg into remaining cream cheese mixture; mix with wire whisk until smooth. Spoon over mixture in pan.
Bake 1 hour 25 minutes to 1 hour 30 minutes or until edges are set but center of cheesecake still jiggles slightly when moved.
Turn oven off; open oven door at least 4 inches. Leave cheesecake in oven 30 minutes longer. Remove from oven; place on cooling rack. Without releasing the side of the pan, run knife around edge of pan to loosen cheesecake. Cool in pan on cooling rack for 30 minutes. Cover loosely; refrigerate at least 6 hours but no longer than 24 hours.
Run knife around the edge of the pan to loosen cheesecake again; carefully remove the side of the pan. Place cheesecake on serving plate. Store cheesecake covered in refrigerator.