Monday April 17, 2017
Spring Clean Your Pantry
What's in the back of your pantry? Scared to look? Me too. I once (unknowingly) fed my husband a bowl of Cinnamon Toast Crunch cereal that had expired about five years prior. When he complained about the taste I explained that it was the reduced sugar variety and he dutifully finished the bowl before we discovered that the cereal rightfully belonged in a history museum. It's not just neglected items that can make the pantry a treacherous place, but it can also reveal our personal dietary pitfalls. The best place to start when making positive changes in your diet is in your pantry. By implementing some practical tips, keeping healthy staples on standby, and making a few impactful substitutions, you can have a pantry keeps you and your family eating well. 
     
     
     1.Keep the best stuff at the front of your pantry and at
     eye level. Ever had the tendency to open the pantry or
     refrigerator and just… stare? I would never do that, but I
     know plenty of people who do. (Okay, maybe I've been
     done that once or two hundred times.) Most everyone
     has a few treats squirreled away, but to keep your diet in
     the best possible balance, stash the unhealthy treats in
     the least visible places - near the back of shelves that
     aren't at eye level. If you have to think and act a bit more
     purposefully, you'll tend to eat "treat" foods less often.
     This is also helpful for remembering to use pantry
     staples that expire quickly or for using fresh goods like
     fruit, potatoes and onions (which have fewer
     preservatives and might expire sooner). 
     Find more tips on Farm Fresh Produce here.
2. Speaking of the good stuff, load up your pantry with more fresh products and staples that can be whipped into quick nutritious meals. Potatoes and sweet potatoes keep well and are a versatile ingredient for quick and easy meals and sides like baked and roasted potatoes. Keep some healthy soup options, chicken broth, and frozen or canned veggies on hand for mixing up a quick pot of soup. Don't forget nutritious starches like rice, quinoa, and beans to round out your healthy meal options. Seafood products like packages of salmon, tuna, oysters, sardines, and clams make a nutritious addition to any pantry, and don't forget to have some whole grain crackers to pair up with your seafood stash. Be prepared with a variety herbs, seasonings, and seasoning blends for tweaking recipes. 
3. Maintain a supply of grab-and-go snacks that will keep you satisfied and energized. Load your pantry with a variety of nuts, seeds, dried fruit, jerky, seasoned popcorn, quality granola bars, dark chocolate, and even dried veggie snacks.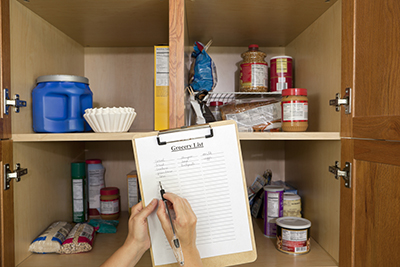 4. As you replenish pantry staples, replace them with healthier alternatives. Swap out vegetable oil for refined coconut oil, regular salt for sea salt or other less refined salts like pink Himalayan salt, and refined sugar for coconut sugar. Each of these replacement options is more nutrient dense and can be used one-for-one as a direct substitute in recipes compared to the items being replaced. 
Your most delicious, nutritious, and productive spring yet starts here. Make a trip to your local Brookshire Brothers store today for supplies and inspiration to whip your pantry into shape. Find a store near you!
Angela Larson is a registered dietitian (RD) who works with Brookshire Brothers promoting real fresh, real delicious healthy foods and providing nutrition education to the community. She is also a clinical dietitian representing Woodland Heights Medical Center in Lufkin where she does community education on food and nutrition. Food is her passion, so Angela loves trying new recipes and exploring the more holistic side of nutrition. Angela loves to cook, garden, and spend time outdoors. Look for Angela's monthly articles in Charm East Texas.