Monday April 3, 2017
Easter Egg-cellent Chocolate Covered Strawberries
Take an untraditional spin on Easter this year! When you hide those decorative and colorfully-dyed Easter eggs, save the cartons and hurry down to your local Brookshire Brothers for fresh strawberries. These chocolate covered strawberries can be the perfect sweet treat to complement your Easter celebration!
Easter Chocolate Covered Strawberries
Ingredients
16 large strawberries
1 1/2 cups milk, dark or white chocolate chips
Candied sprinkles, colored sugars, etc.
Parchment paper
Directions
1. Wash strawberries thoroughly. Dry carefully by patting gently with paper towels.
2. Place chocolate chips into small, microwaveable towl with tall sides.
3. Heat bowl in the microwave on high for 30 seconds. Remove bowl; stir chips with spoon. Return bowl to microwave and continue to microwave on high for an additional 30 seconds. Stir and repeat until chocolate is melted.
4. Dipping on strawberry at a time, submerge into melted chocolate by holding the steam between your fingers.
5. Slowly remove the strawberry from the chocolate (allowing excess chocolate to run off) and place on a piece of parchment paper to dry.
6. Immediately decorate the chocolate-covered strawberry with your favorite sprinkles.
7. Allow the chocolate to cool and harden at room temperature. Serve immediately or store in a tightly covered container in the refrigerator for up to 24 hours.
Friday February 3, 2017
Valentine Chocolate Covered Strawberries
You may have heard about, or even tasted, our famous Chocolate Covered Strawberries!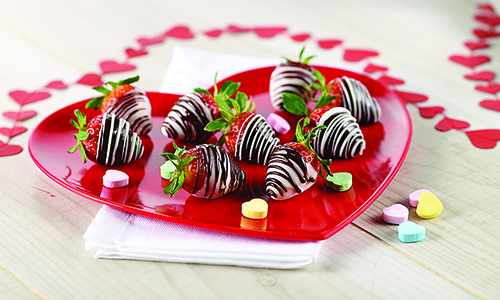 These delicious berries will be the highlight of your Valentine's Day. Take the worry out of gift ideas and treat your sweetheart! Pick from 6 or 12 ct, and choose your choice of chocolate, white chocolate or mixed chocolate. You can pre-order yours today by printing the form below and returning to your local Bakery Department or Store Management. 
Click here to download your order form!
*Some varieties may not be available in all locations. See store for exclusions.