Wednesday November 16, 2016
Save More. Go Digital.
Your Digital Coupons are finally here! Experience even more savings with Brookshire Brothers and our family of brands when you log in to your Celebrate account and start clipping and redeeming Digital Coupons. It's as easy as 1, 2, 3...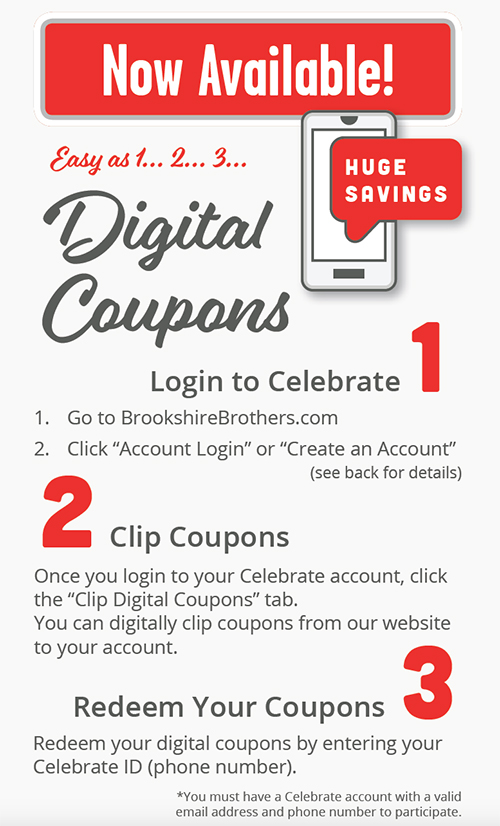 Want to check out our FAQ page? Click here!
Wednesday June 1, 2016
All Things "Celebrate"
You've heard and seen the program "Celebrate" in our stores, but are you still confused on what all you can get with being a member? Take a look below and see how valuable being a member of our loyalty community is! You only need ONE account for all the benefits below...
Celebrate Coupons
Every Wednesday at 5 AM, check your email for our Celebrate coupons! To redeem your coupons, you have two options: 1. Print the coupons or 2. Enter your Celebrate ID* (phone number) at checkout. Both will tie the qualifying item(s) and your Celebrate account and will be discounted when the cashier presses total.**
*The Celebrate ID is the primary phone number that was entered when signing up.
**The phone number entry can be recalled by your cashier if it is not entered before the transaction begins. 
A Birthday Gift For YOU
Your big day deserves the best! To celebrate, we're sending you an email with a special $5 OFF coupon inside! To redeem, follow the instructions in the email.
Member Monday
Every Monday and Friday, visit your local store and participate in our Member Monday offers by entering your Celebrate ID (phone number) at checkout. Stay up to date on each week's offer by subscribing to our weekly Celebrate email, browsing the weekly ad, or following any of our social channels.*
Food Club Friday
Another day, another deal! Save big on quality and affordable Food Club products every Friday with Food Club Friday. To redeem, enter your Celebrate ID (phone number) at checkout. Find the latest offer by subscribing to our weekly Celebrate email or following any of our social channels.
Digital Coupons 
We're offering another way to save! Log in to your Celebrate account, click "Digital Coupons" on the left-hand side of your page, and start clipping deals for you and your family! These offers are automatically loaded to your Celebrate account—no printing necessary! On your next visit to the store, pick up your qualifying items and enter your 10-digit phone number (Celebrate ID) at the register to redeem your Digital Coupons. New coupons are added every day, so stay tuned on our website or through our weekly "Your Latest Digital Coupons" email* every Friday! 
*The "Your Latest Digital Coupons" email is included in your subscription to our weekly Wednesday morning Celebrate email
Exclusive Contests, Events, Sales, and MORE
We offer a variety of uniqe contest, events, sales, and more as another way to bring value back to our Celebrate members! Right now, Celebrate members can SHOP EARN SAVE with Celebrate Rewards. Keep an eye out for more opportunities to participate in the savings through the weekly ad or the weekly emails!!
Monday November 30, 2015
Celebrate Coupons - Changes in Store!
Exciting changes to your Celebrate coupons are here! No need to worry when you don't have a printer, or when you're out of ink...you can now use your Celebrate coupons by entering your 10-digit phone number at checkout! That's right, you don't have to print your Celebrate coupons any longer! Just check your Celebrate email weekly to see the coupons for that week, purchase the qualifying items, enter your phone number, and redeem your coupon. It's really that simple.
Be sure to spread the word and check your receipt for your savings. At Brookshire Brothers, we're working to continue to Bring Home the Savings.
Friday October 2, 2015
Member Monday
We're giving our Celebrate loyalty members more reasons to literally celebrate! Starting this October, Celebrate members can take advantage of special "Member Monday" discounts. Here's the scoop:
Check your weekly ad each week for the exclusive Monday special.
If you missed our ad, "Like" our Facebook page for the same offer.
Offer valid Monday only - Limit 1 per Celebrate account.
Must be a Celebrate member to participate.
When purchasing item(s), simply input your Celebrate ID (10 digit phone number associated with your account) on the pin pad.
Look for a new offer each Monday!
Not signed up yet, click here!