Friday May 19, 2017
Celebrate Your Graduate
No matter the age of your graduate or the size of your celebration, we're congratulating all graduates this year! Let us help you navigate through the tears of joy as your loved one moves on to the next phase of life.
Our Bakery Experts love making each masterpiece more than just a cake. It's the centerpiece! Let us put the "good" in your next baked good!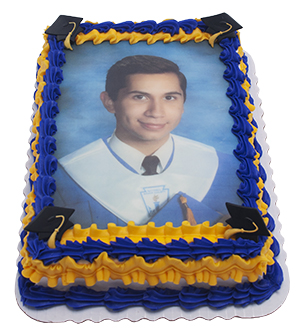 From single layer to double layer, 1/8 sheet to a full sheet, we know how to customize your specialty cake.
Not sure what you want? Talk it out with us! We're highly creative and love thinking outside the box. Not only do we have every color to match your school, but we have an assortment of flavors that will have you coming back for another piece. We can even put a picture on your cake with our Edible Image Technology!
And don't forget matching cupcakes for an added touch of fun. Available in large or small, these cupcakes will go fast!
If you want to treat your graduate to a down-home treat, look no further than our variety of Crème Cakes, Cakerie Cakes, and Mousse Cakes! These glazed and glorious, silky and light, decadent and delicious cakes fly off our shelves. There may not be anything like Granny's cake, but we come pretty close with these!
Stop by your local Brookshire Brothers today to find out how we can help you plan a celebration your graduate will be proud of! 
Congratulations, parents..you made it. And more importantly...
Congratulations, Class of 2017! 
Monday December 5, 2016
Happy Holi-Trays
The Christmas season is here, full of parties galore! We're here to serve your party-planning needs. What makes a celebration go from "fine" to "amazing"? Ordering party trays from your local Brookshire Brothers Bakery & Deli! With cookies, sliders, wings, fruit, vegetables, and more, we can bring the party. Call your store for more today!
Still are unsure of what to order? Take our advice and try one of these menus at your next Holiday Party! 
Office Christmas Brunch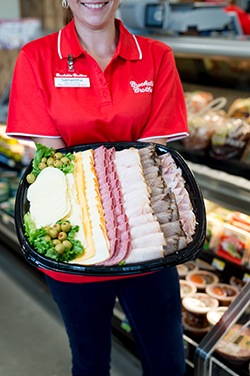 Start your party off with a Breakfast Tray filled with bite-sized pastries and scones. You can also grab a Bread Tray to pair with our Gourmet Meat & Cheese Tray from the deli. To finish off your brunch, grab a Mini Meatball Tray to satisfy your cravings.
No "Pot" Potluck
That's right. Throw a potluck party, but don't make yourself or your friends and family worry about what to cook. Forget the pots and pans and order trays! You can easily coordinate who can bring what tray to plan a beautiful dinner. Assign an  appetizer, such as the Cheese Tray, to your friend down the street. Ask Mom to bring a Hors D'oeuvres Tray of her choosing  - we suggest the stuffed peppers! You can take care of the Sandwich Tray and maybe even swing over a couple of aisles to grab some chips to go with it. And finish it off with a Cookie or Dessert Tray brought by your sister. 
Merry Christmas and Happy Holi-Trays to you and your family!