Tuesday February 26, 2019
Thrifty Thursday: Savings on top of Savings
We're pleased to announce the launch of THRIFTY THURSDAY, a double-triple coupon promotion that will run every Thursday starting now until further notice. Here's everything you need to know to enjoy savings on top of savings every week!
How does Thrifty Thursday work?
You can double coupons that are up to $0.99 off and you can triple coupons that are up to $0.49. For example, a coupon that's $0.25 off a box of Puffs tissues is tripled to be $0.75 off on Thrifty Thursday. Likewise, a coupon that's $0.75 off a bottle of Dawn dish soap will be doubled to be $1.50 off!
Need a place to start? Browse hundreds of digital coupons you can clip and redeem with Celebrate!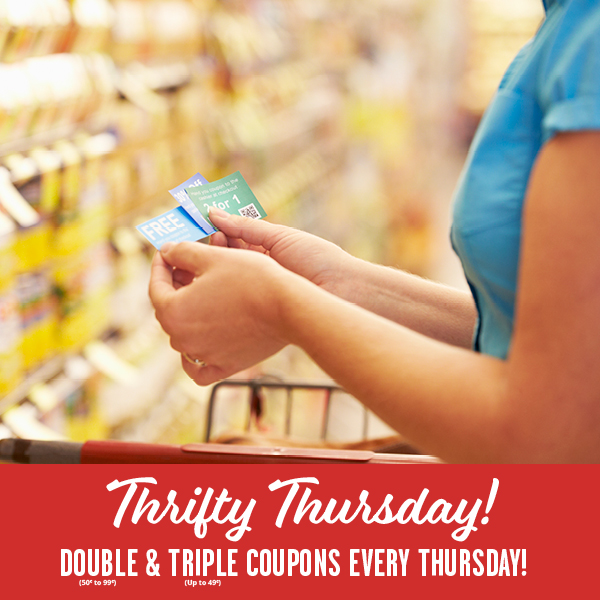 Once you've collected the coupons that you'd like to use or clipped the digital coupons you'd like to redeem, visit your local store to pick up your qualifying items. After you've done your shopping, simply present your coupons* to the cashier at checkout. Any qualifying discounts will automatically come off your purchase at the doubled or tripled rate.
*If you've clipped digital coupons on your Celebrate account, you will not need to present any physical coupons to the cashier. Once you enter in your Celebrate ID (the ten-digit phone number on your account), these coupons will automatically redeem at the double-triple rate—no printing necessary! Learn more about digital coupons today.

If there are any issues with your transaction, please feel free to speak with your local store director or contact us directly.
What stores participate in this promotion?
All of our stores participate in Thrifty Thursday, EXCEPT for some of our smaller, convenience style stores that do not receive the weekly ad including: Pollok (#3), Wells (#15), Lake Charles, LA (#60), Broaddus (#78), Zavalla (#81), Apple Springs (#83), Whitney (#102), Lufkin (#110), Nacogdoches (#111), Grapeland (#112), Wells (#113), and Hudson (#114).
Other policy guidelines:
Limit 20 Coupons, per transaction, per day, per customer/household
Transactions may NOT be separated that would allow the 20 coupon limit or other limits to be exceeded.
Limit 3 coupons per any like items, including all flavors/varieties of a product line
If the coupon states "Do not Double", the coupon will not be doubled.
For further guidelines, please view our complete Coupon Policy.