Posted on Wednesday, December 10, 2014
As the busy holidays approach, you might think there is no time for baking in your schedule. No worries. With these quick tips and helpful hints, you're going to have time this year to bake your cookies and eat them, too. Plus, you'll have time to get the rest of the to-dos done!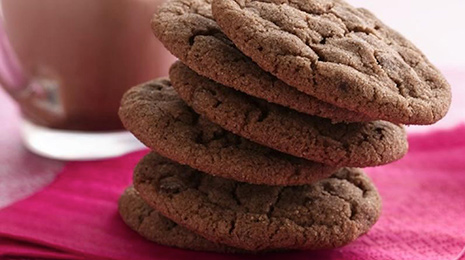 Use top-quality ingredients
Always use the best ingredients when baking so your cookies look and taste great. Nothing says indulgence like the holidays, so don't skimp on the fine cocoa, pure vanilla and real butter. Line baking sheets with high-quality Reynolds Parchment Paper to help cookies bake evenly and keep them from sticking, so they always look as perfect as they taste.
Avoid decorating disasters
To keep your counters and table clean and stain-free, place sheets of Reynolds Parchment Paper under your cooling racks while you frost and decorate your cookies. When you're finished fold up and throw out the paper along with the mess.
Cleanup rescue
Don't get trapped in the kitchen forever because clean-up takes hours! Using Reynolds Parchment Paper on cookie sheets keeps cleanup under a minute. Just lay the paper on an ungreased baking sheet, place the cookies on the paper, and bake as usual. When the cookies are cool enough to remove, simply toss the paper and wipe off the pans.
Package perfection
Lay sheets of Reynolds Parchment Paper between cookie layers. This will help keep cookies from crumbling, losing their decorations and sticking together. Use the lids of your containers to trace the right size and shape, and cut out sheets that fit perfectly. Lay the Reynolds Parchment Paper on the bottom of the container, in between the cookies, and on the top. If there's extra room in the container, place a crumpled sheet on top before securing the lid to keep cookies from shifting and breaking.
Participate in a cookie exchange
There's no better way add an assortment of different cookies to your mix than to be a part of a cookie exchange with friends, coworkers, or neighbors. If none of your acquaintances organize cookie exchanges initiate one yourself. It can be as simple or elaborate as you like, but the general rule is that each guest brings 1 dozen cookies for every person participating.
Make the holidays extra sweet by baking cookies with Reynolds Parchment Paper. For more cookie ideas and tips visit www.reynoldsparchment.com.