Tuesday November 19, 2019
Real Fresh, Real Delicious: Thanksgiving Sides – Color, Texture, and Flavor
Choosing the perfect sides to accompany your Thanksgiving meal can feel like an intimidating task. My favorite approach? Think color, texture, and flavor! Just like any well-composed meal, aim to vary these components with your chosen Thanksgiving sides so that the meal isn't repetitive or monotonous. A little something colorful, a little something crunchy, and a little something spicy can go a long way toward making your Thanksgiving feast well-balanced, memorable, and most of all, delicious. 
Try one of these delicious recipes to add some color, flavor, and texture inspiration to your Thanksgiving spread this year. 
Happy Thanksgiving!
Crunchy Cabbage, Apple, and Pomegranate Salad

(Adapted from Smitten Kitchen's Brussels sprouts, Apple, and Pomegranate Salad)
Note:  This recipe also works well with well washed and well-shredded kale leaves.  Recipe can be easily doubled to feed a crowd. 
Ingredients
¼ large red onion, diced small
2 tbsp. red wine vinegar
1/4 teaspoon kosher salt (or 1/8 teaspoon table salt)
3 tbsp. lemon juice (from one lemon)
2 tbsp. honey
3 tbsp. olive oil
5 cups thinly sliced cabbage (10 oz.)
3/4 cup fresh pomegranate seeds (from one large pomegranate)
1 large unpeeled apple, cored and diced (any variety desired)
3/4 cup pecans, lightly toasted and chopped coarsely
Salt and pepper to taste
1/2  tsp. table salt
Directions
Pickle the red onions by combining them with red wine vinegar and ¼ teaspoon kosher salt. 
Set aside to pickle while preparing the other ingredients (at least 15 minutes). 
Combine lemon juice, honey, and olive oil in a well-sealed jar and shake vigorously to combine.  (Alternately, combine in a bowl and whisk well.) 
Combine cabbage, pomegranate seeds, and diced apple in a bowl. 
Drizzle dressing over the top, add pickled onions and all the pickling liquid, and toss to combine. 
Add toasted pecans and salt. 
Add black pepper to taste.
Serve. 
*Adapted from Smitten Kitchen's Brussels sprouts, Apple, and Pomegranate Salad
---
Spicy Roasted Cauliflower with Pecorino Romano Cheese
Ingredients
1 head cauliflower, washed and outer leaves trimmed
2 tbsp. extra virgin olive oil
2-3 tbsp. grated Pecorino Romano cheese
½ tsp. red pepper flakes (or less if a less spicy dish is desired)
Salt and pepper
Directions
Position oven racks to top and bottom positions. 
Preheat oven to 450 degrees. 
Prepare a large sheet pan.
Halve cauliflower through central stem.
Cut each half into four equal wedges.
Trim bottom of cauliflower stem to remove any tough parts. 
Place on sheet pan and drizzle with olive oil. 
Sprinkle evenly with salt and pepper, to taste. 
Place cauliflower on bottom rack of oven and roast for 10-12 minutes. 
Rotate pan and move to top rack of oven for an additional 10 minutes until cauliflower is tender and edges have browned. 
After removing from oven place on serving platter and sprinkle with grated cheese and red pepper flakes. 
Serve immediately.
---
Mashed Sweet Potatoes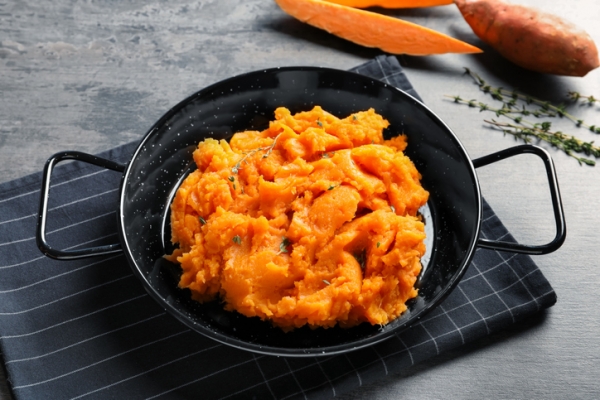 Ingredients
4 tbsp. unsalted butter, cut into 4 pieces
2 tbsp. half and half
½ tsp. table salt
½ tsp. granulated sugar
2 pounds sweet potatoes
Directions

Combine butter, half and half, salt, sugar, and sweet potatoes in a 3 to 4 quart saucepan. 
Cook, covered, over low heat, stirring occasionally, until potatoes fall apart when poked with a fork, 35-45 minutes. 
Off heat, mash sweet potatoes in saucepan with potato masher. 
Stir in pepper and serve immediately.  
*Adapted from America's Test Kitchen
---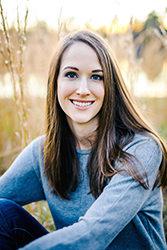 Angela Larson is a registered dietitian nutritionist (RDN) who works with Brookshire Brothers promoting real fresh, real delicious foods.  Delicious food is her passion, so she loves trying new recipes and exploring the more holistic side of health and nutrition.  When Angela isn't working with Brookshire Brothers, she's a mostly stay-at-home mom who loves to cook, garden, and spend time outdoors with her husband, Austin, and their two daughters.