Submitted by
Angela Larson - Dietitian
on Tuesday, August 13, 2019
I love a simple roast chicken recipe that can be left in the fridge to marinade overnight and popped in the oven the next day for an easy entrée. Plus, while the chicken is cooking, you can easily use the extra time to whip up some side dishes and enjoy the smells wafting around the kitchen. This particular Jerk Chicken recipe is Caribbean inspired, but the marinade can be made with common pantry staples. Moreover, you can tame this dish down or make it extra hot, all by just adjusting the amount of spicy pepper added to the marinade. Depending on your preferences, you can either remove or leave the spiciest part of the pepper—the ribs and the seeds—before blending it into the marinade. Removing these parts will make the marinade less spicy; leaving them will be more spicy. Be sure to wear gloves when handling spicy peppers!
Serve with a simple side of steamed rice, spooning the pan drippings over the rice for flavor. The pineapple mint side salad is not to be missed, and it can be easily pulled together while the chicken is roasting.
So set sail with your taste buds to the Caribbean this week with this easy, flavorful, and healthy dinner.
Roast Jerk Chicken with Pineapple Mint Salad
Ingredients
Chicken and Marinade
½ cup chopped white or yellow onion
5 scallions, trimmed and roughly chopped
3 garlic cloves, peeled
1 (1-inch) piece of fresh ginger, peeled (or may substitute 1 teaspoon dried ginger)
1 habanero chile (to taste, see note above)
2 tablespoons soy sauce
1 ¾ teaspoons salt
1 ½ teaspoons ground allspice (or 3 teaspoons whole allspice)
1 teaspoon black pepper
½ teaspoon cinnamon
¼ teaspoon ground cloves (or ½ teaspoon whole cloves)
¼ teaspoon nutmeg
2 teaspoons regular molasses
1 ¼ cups extra virgin olive oil
1 4-pound chicken, cut into pieces (or 4 pounds of desired chicken pieces, bones in and skin on)
Lime wedges for serving
Pineapple Mint Salad
1 (3-pound) fresh pineapple, trimmed and chopped into bite sized pieces
1 tablespoon extra-virgin olive oil
1 teaspoon coarse, flaky, or Kosher salt (or ½ teaspoon regular table salt)
2 to 3 sprigs fresh mint
2 scallions, trimmed and sliced thin
Directions
To prepare marinade:
Blend all ingredients except chicken and lime wedges in a blender or food processor until well blended and smooth, about 30 seconds to 1 minute.
Transfer chicken and marinade to a gallon-sized zipper lock bag and seal the bag, pressing out any excess air.
Toss chicken inside the bag several times to coat well.
Place in the refrigerator for least 2 hours and up to 24 hours.
To cook chicken:
If time allows, remove chicken from refrigerator for up to 1 hour before cooking.
Preheat oven to 425F and place oven rack in middle position.
Arrange chicken pieces in a 9x13 casserole dish or a baking pan with the skin side up and drizzle marinade over the pieces to coat.
Roast the chicken for 50 minutes to 1 hour 10 minutes, or until chicken breasts reach an internal temperature of 160 degrees or dark meat reaches an internal temperature of 170 degrees.
Allow to rest for 5-10 minutes before serving, spooning pan drippings over the chicken.
Serve with steamed rice and pineapple side salad.
To prepare pineapple mint salad:
Remove mint leaves from stems and coarsely chop.
Toss all ingredients together.
Serve with roasted chicken.
Recipe adapted from The Perfectly Roasted Chicken by Mindy Fox.
---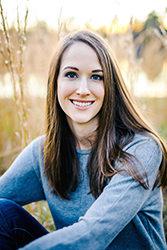 Angela Larson is a registered dietitian nutritionist (RDN) who works with Brookshire Brothers promoting real fresh, real delicious foods. Delicious food is her passion, so she loves trying new recipes and exploring the more holistic side of health and nutrition. When Angela isn't working with Brookshire Brothers, she's a mostly stay-at-home mom who loves to cook, garden, and spend time outdoors with her husband, Austin, and their two daughters.