Submitted by
Angela Larson - Dietitian
on Monday, February 24, 2020
Everyone should have an easy pot roast recipe up their sleeve. Okay, not literally up their sleeve, because that would just be weird. Or perhaps, it would be genius. But back to the topic at hand, a yummy pot roast recipe is seriously one of the easiest, yet most satisfying savory crowd-pleasers that exist. This is my absolute favorite pot roast recipe that I've made many times for my family over the years. The tomatoes add a wonderful sweet acidity to the dish that brings all the flavors together. The mushrooms are like juicy little flavor bombs and add a wonderful texture to the dish. Turnips or parsnips can easily be swapped out for the potatoes for a lower carb version. The slow cooker can be used as well to make this an easy weeknight dinner.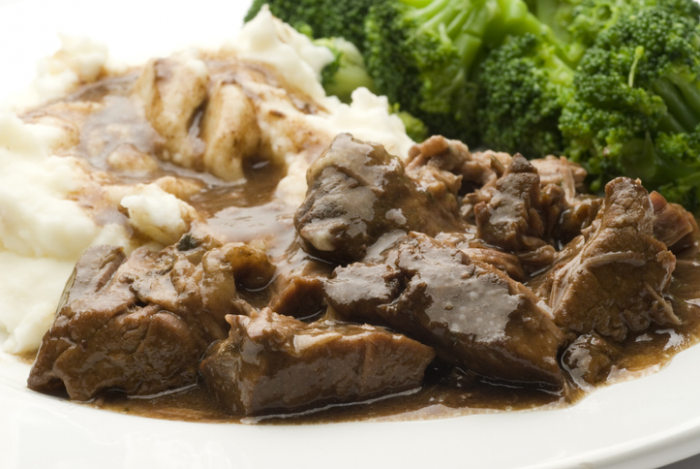 My Favorite Pot Roast with Tomatoes and Rosemary
Ingredients
1 boneless chuck roast, about 3 ½ pounds
Salt and pepper
2 tablespoons extra-virgin olive oil
1 medium onion, chopped medium
12 ounces petite baby carrots
1 rib celery, chopped
10 ounces white mushrooms, cleaned and quartered
4 medium garlic cloves, minced
½ cup low sodium chicken stock
½ cup low sodium beef stock
½ cup dry red wine (or additional beef/chicken stock if wine isn't your thing)
1 teaspoon dried thyme
1 28-ounce can diced tomatoes
1 ¾ cups water or additional chicken stock
1 sprig fresh rosemary
1 pounds small red potatoes, scrubbed and chopped into ¾" dice
Directions
Adjust oven rack to middle position and heat oven to 300 degrees. Thoroughly pat roast dry with paper towels; sprinkle generously with salt and pepper.
Heat oil in large heavy-bottomed Dutch oven over medium-high heat until shimmering but not smoking. Brown roast thoroughly on all sides, reducing heat if fat begins to smoke, 8 to 10 minutes. Transfer roast to large plate; set aside. Reduce heat to medium; add onion, carrot, celery, and mushrooms to pot and cook, stirring occasionally, until beginning to brown, 6 to 8 minutes. Add garlic and cook until fragrant, about 30 seconds. Add chicken and beef broths, dry red wine, dried thyme, and diced tomatoes, with juice, scraping bottom of pan with wooden spoon to loosen browned bits. Return roast and any accumulated juices to pot; add enough water or chicken stock to come halfway up sides of roast. Bring liquid to simmer over medium heat, then place large piece of foil over pot and cover tightly with lid; transfer pot to oven. Cook, turning roast every 30 minutes, until fully tender and meat fork or sharp knife easily slips in and out of meat, 3 1/2 to 4 hours. (Alternately, place in the slow cooker on low heat for 4-6 hours.) About 1 hour before roast is finished, add diced red potatoes to the cooking liquid.
Transfer roast to carving board; tent with foil to keep warm. Allow liquid in pot to settle about 5 minutes, then use wide spoon to skim fat off surface. Add sprig of fresh rosemary and boil liquid over high heat until reduced to 1 1/2 cups; discard rosemary and thyme sprigs. Season to taste with salt and pepper.
Using chef's or carving knife, cut meat into 1/2-inch-thick slices, or pull apart into large pieces; transfer meat to warmed serving platter or bowl, pour sauce and vegetables over meat, and serve.
*My family likes this dish served alongside steamed brown rice.
---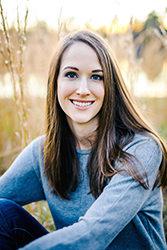 Angela Larson is a registered dietitian nutritionist (RDN) who works with Brookshire Brothers promoting
real fresh, real delicious
foods. Delicious food is her passion, so she loves trying new recipes and exploring the more holistic side of health and nutrition. When Angela isn't working with Brookshire Brothers, she's a mostly stay-at-home mom who loves to cook, garden, and spend time outdoors with her husband, Austin, and their two daughters.