Friday January 31, 2020
Oven-Baked Nashville Hot Chicken Sliders Recipe
Grabbing a rotisserie chicken from your local Brookshire Brothers deli for these Oven-Baked Nashville Hot Chicken Sliders will make you the winner of the big game this weekend!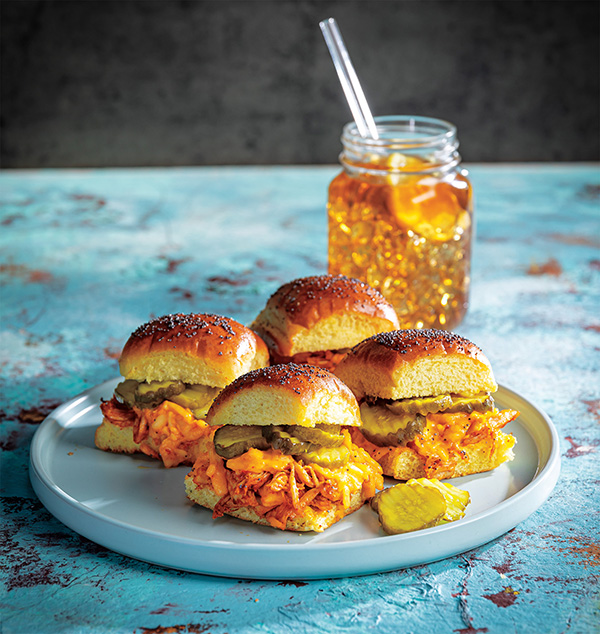 Nashville Hot Chicken Sliders
Ingredients
Food Club® Non-Stick Vegetable Oil Cooking Spray
2½ cups shredded skinless rotisserie chicken breast meat
½ cup Food Club® Ready To Serve Chicken Broth
2 tablespoons Food Club® Light Brown Sugar
1 tablespoon Food Club® Cayenne Pepper
1 teaspoon Food Club® Garlic Powder
1 teaspoon Food Club® Paprika
½ teaspoon Food Club® Texas Style Chili Powder
1 package (12 rolls) King's Hawaiian Sweet Rolls, split lengthwise
12 Food Club® Bread & Butter Chips plus additional for garnish (optional)
1 cup pimento cheese spread
1 tablespoon Food Club® Sweet Cream Unsalted Butter, melted
½ teaspoon poppy seeds
Directions 
Preheat oven to 350°. Spray 11 x 7-inch baking dish with cooking spray.
In large skillet, cook chicken, broth, sugar, cayenne pepper, garlic powder, paprika and chili powder over medium-high heat 4 minutes or until heated through, stirring occasionally.
Place bottom rolls, cut side up, in prepared dish; top with chicken mixture, pickles, cheese and top rolls, cut side down. Brush tops of rolls with butter and sprinkle with poppy seeds; cover dish with aluminum foil.
Bake sliders 15 minutes or until heated through; uncover and bake 5 minutes or until tops of sliders are lightly browned. Let stand 5 minutes; cut into sliders and serve with additional pickles, if desired. Makes 12 sliders.  
Visit your 
local
 Brookshire Brothers for you watch party needs!