Friday October 7, 2016
"Push Up" Breast Cancer Awareness
October is Breast Cancer Awareness Month and we want to spread awareness while having fun! "Push up" your girls while making "push-it-up" cake pops with your friends. Spending time baking and focusing on women's health will cause you all to rally and respond to this sisterly need!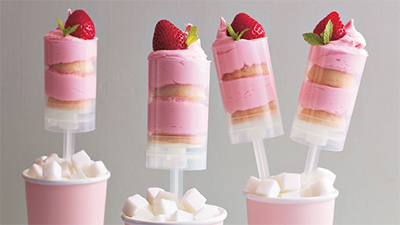 Pretty In Pink Push-It-Up Cake Pops
Recipe courtesy of Betty Crocker
Ingredients
1 box Betty Crocker™ SuperMoist™ white cake mix
1 1/4 cups water
1/3 cup vegetable oil
3 egg whites
1 container (12 oz) Betty Crocker™ Whipped strawberry mist frosting
12 plastic push-up pop containers
12 small fresh strawberries
12 sprigs fresh mint, if desired
Directions
1. Heat oven to 350°F. Spray 24 mini muffin cups with cooking spray.
2. In large bowl, beat cake mix, water, oil and egg whites with electric mixer on low speed 30 seconds. Beat on medium speed 2 minutes. Fill muffin cups half full with batter. (Cover and refrigerate remaining batter until ready to bake; cool pan before reusing and spray again with cooking spray.)
3. Bake 10 to 15 minutes or until toothpick instered in center comes out clean. Remove cupcakes from pans to cooling racks; cool completely, about 15 minutes. (Repeat with remaining batter to make about 48 additional mini cupcakes. Freeze cupcakes for another use.)
4. Spoon frosting into decorating bag (fitted with desired tip) or resealable food-storage plastic bag (with small corner cut off). To assemble, drop 1 cupcake into each push-up container; pipe desired amount of frosting on cupcake. Top each with second cupcake; pipe with frosting. Garnish with strawberry and mint sprig.