Tuesday January 17, 2017
Cooking with Kate: It's Always Soup Weather
I've decided that Texas has taken a rain check on winter weather this year…and while the spring weather and sunshine in January is appreciated, it's depriving us of one of my favorite times of the year – soup weather! So if you're like me and can eat soup any time of the year, here are two of my all-time favorite soup recipes! Enjoy!
Tuscan Bean and Kale Soup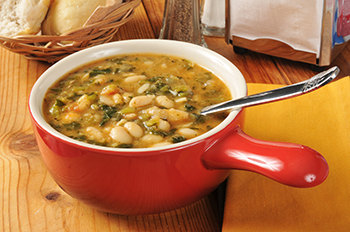 makes 6-8 servings 

2 tablespoons olive oil
6 cloves garlic, minced
1 large onion, diced
¼ cup tomato paste
1 teaspoon red pepper flakes
2 teaspoons dried oregano or Italian seasoning
1 cup dry white wine - Chardonnay or Pinot Grigio
(Check out our Beverage Depot for great wine suggestions)
1 (28 oz) can petite diced tomatoes
3 (14.5 oz) cans Great Northern Beans, drained and rinsed
6 cups chicken broth
salt and pepper, to taste
4 tablespoons butter
1 ½ pounds raw shrimp, peeled and deveined
(Frozen, cooked shrimp can be used – just thaw before cooking)
¼ cup fresh parsley, chopped
1 bunch fresh kale, rinsed and torn into small pieces
½ cup fresh basil, torn into small pieces
1 wedge Parmesan cheese
Heat olive oil in a large pot over medium high heat. Add onions and garlic and cook for 3 to 4 minutes. Add tomato paste and cook an additional 2 minutes. Stir in red pepper flakes and dried oregano; stir and cook for another 30 seconds. Add wine to deglaze the pan and whisk, scraping the bottom of the pan. Bring to a simmer and reduce, cooking until the wine is reduced by half.  Add canned tomatoes, rinsed beans, and chicken broth. Stir to combine and simmer for 20-25 minutes. Add salt and pepper to taste. Add the kale to the soup and stir well. Add the torn basil and simmer for another 5 minutes, tasting and adding salt and pepper (or even more red pepper flakes), as needed.
While the soup is simmering, cook the shrimp. Melt butter in a small skillet over medium-high heat. Add the shrimp and chopped parsley and toss to cook until no longer opaque, about 4 minutes. Season with salt. Set aside. (If using frozen shrimp – thaw well before tossing with butter and parsley in the skillet. Heat until warm and then add to the soup.)
To serve – transfer soup to a large serving bowl and top with the shrimp, or ladle into individual bowls and top with 3 or 4 shrimp. Just before serving, use a vegetable peeler to shave large pieces of parmesan cheese on top of each bowl of soup. Enjoy!
White Chicken Chili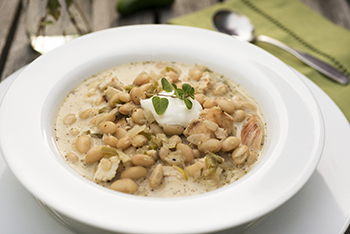 makes 6-8 servings
1 lb boneless, skinless chicken breasts or 4 cups shredded, cooked chicken
2 tablespoons olive oil
1 large onion, chopped
3 cloves garlic, minced
2 (15 ½ oz) cans Great Northern Beans, rinsed and drained
1 (14 oz) chicken broth
2 (4 oz) cans chopped green chilies
1 can whole kernel corn, drained
1 teaspoon salt
¼ teaspoon cayenne pepper
1 tablespoon cumin
1 teaspoon oregano
1 cup sour cream
½ cup heavy whipping cream
For serving: shredded cheddar, sour cream, salsa, chopped green onions
Cook chicken by sautéing or boiling. Let cool slightly and shred or cube into ½ inch pieces. Set aside.
In a large pot, heat oil over medium heat. Add diced onion and garlic and sauté for 3-4 minutes. Add cooked chicken, beans, chicken broth, corn, green chilies, and seasonings. Bring to a simmer, cover and cook for 30 minutes. Remove from heat.  Add sour cream and heavy cream; stir well. Return to low heat until ready to serve. White Chili is great with cornbread, crackers, shredded cheddar cheese, salsa, sour cream, and chopped green onions.
NOTE: This is a great crockpot recipe – Add cooked chicken and all ingredients except sour cream and heavy cream to a large crockpot. Cook on low heat for 4-6 hours or high heat for 2-3 hours. Add sour cream and whipping cream, and heat on low for another 30 minutes before serving.
Click here to see other recipes from Brookshire Brothers Catering Coordinator, Kate Rudasill.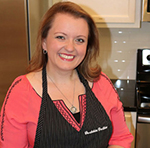 Kate Rudasill, Catering Coordinator for Brookshire Brothers, has been in the food-service industry for the past 14 years. As a graduate of Texas A&M University, a student of The Texas Culinary Academy, and a Nacogdoches, Texas native, Kate grew up with Southern tradition in her blood which caused her to have a deep love for bringing people together with food.