Monday September 16, 2019
Make it a Fast Feast with Sheet Pan Chicken Fajitas
The whole family will love gathering around the table for a new spin on Taco Tuesday with these Sheet Pan Chicken Fajitas! They are easy and perfect for gathering around the table during
Family Meals Month
. Also be sure to read below the recipe for savings with our Fajita Fast Feast.
Sheet Pan Chicken Fajitas
Ingredients
3 tbsp. vegetable, grapeseed or avocado oil, divided
3 bell peppers, seeds removed, ¼-inch thick slices
1 yellow onion, thinly sliced
1½ lb chicken breasts
2 tsp. chili powder
1 tsp. cumin
1 tsp. garlic powder
1 tsp. kosher sea salt
½ tsp. ground black pepper
½ tsp. paprika
⅛ tsp. chili flakes or cayenne pepper (optional)
1 lime
 Directions
Preheat oven to 400 degrees.
Cut chicken into 1/4 inch strips.
Place a standard size rimmed baking sheet in the oven while it heats so that it's nice and hot.
In large bowl toss 1 tablespoon oil with the bell peppers and onions.
Carefully remove the hot baking sheet from the oven and spread the peppers and onions evenly across the sheet. Place in the oven and bake for 8 minutes.
Meanwhile, in the same bowl, combine the remaining oil along with the chicken, chili powder, cumin, garlic powder, salt, black pepper, paprika and chili flakes.
Remove the sheet from the oven, drain off any excess liquid and add the chicken, making sure to separate the pieces of chicken from each other (that way they don't bake together.
Return to the oven and bake for 15-20 minutes or until the vegetables are roasted and the fajitas are golden brown.
Remove, squeeze the lime juice over top and serve with desired toppings.
---
  But wait, there's MORE!!  
We've prepared a feast of savings perfect to pair with this delicious dish—don't miss out!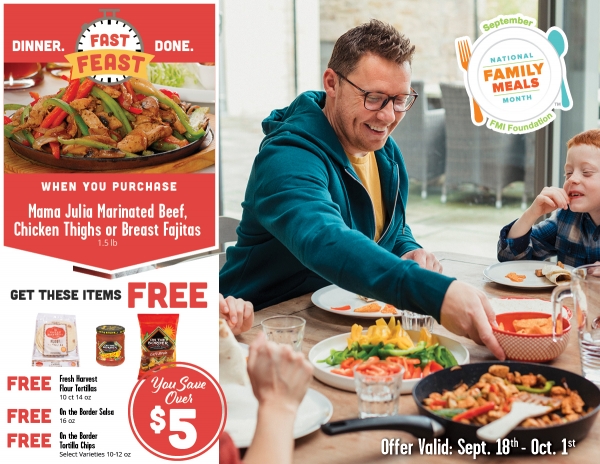 Fast Feast: Buy 1, Get 3 Free
September 18 through October 1, 2019

When you buy one package of Mama Julia Marinated Beef Skirt, Chicken Thighs or Breast Fajitas (1.5 lb), you get 3 items FREE! The best part? You can mix and match your free products, or get three of the same particular product free!
1 - On the Border Cafe Style Chips (10-12 oz)
1 - On the Border Salsa (16 oz)
1 - Fresh Harvest Flour Tortillas (10 ct)
*Promotion is not available at the following stores: