Posted on Monday, December 7, 2015
Donut holes never tasted so good! Read more for a great hard apple cider kick to the traditional Christmas dessert.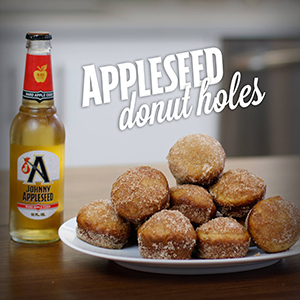 Ingredients
Donut Holes:
2 cups Johnny Appleseed Hard Apple Cider
2 whole cloves
2 cups all-purpose flour
1 1/2 teaspoon baking powder
1 1/2 taspoon baking soda
1 teaspoon cinammon
1/4 teaspoon salt
1 large egg
2 tablespoons salted butter, melted
2/3 cup light brown sugar
1/2 cup buttermilk
2 tablespoons apple sauce, naturally sweetened - no sugar added
1 teaspoon vanilla extract
Cinnamon Sugar Coating:
3 tablespoons butter, melted
1/2 cup granulated sugar
1 tablespoon cinnamon


Directions
Donut Holes:
Start by simmering the Johnny Appleseed with the 2 cloves in a small saucepan over medium heat for 15-20 minutes until the apple cider reduces down to ½ cup. Remove the cloves from the concentrate and pour the Johnny Appleseed into a container and refrigerate while you prepare the donut batter.
Position a rack in the center of the oven and preheat the oven to 350 degrees F. Spray a mini muffin pan with non-stick cooking spray and set aside.
In a large bowl, Mix together the flour, baking powder, baking soda, cinnamon and salt, set aside. In a medium bowl, combine the egg, melted butter, and brown sugar, whisk until smooth (the smoother this is, the fluffier the donut holes!) Then, add in the apple sauce, vanilla, buttermilk, and the refrigerated Johnny Appleseed concentrate.
Add the wet ingredients to the dry ingredients and whisk until just well-combined. Pour the batter by the teaspoon into the prepared muffin pans about ¾s of the way full. Make sure to not overfill. Bake the donut holes for 9-11 minutes.
Cinnamon Sugar Coating:

In a medium bowl, combine the sugar and cinnamon together. Dip the tops of each donut hole into the melted butter then coat with the cinnamon sugar mixture. Repeat with all the donut holes. Depending on how long you dip the donuts into the butter, you may need more butter and/or more cinnamon sugar.