Thursday October 3, 2019
Hearty Italian Dishes for Italian Heritage Month
When most people think of Italian food, they think of pizza and hearty plates of pasta with cheese and tomato sauces. Well, October is Italian Heritage Month, and we are celebrating with four recipes to celebrate some of the staples of delectable Italian foods.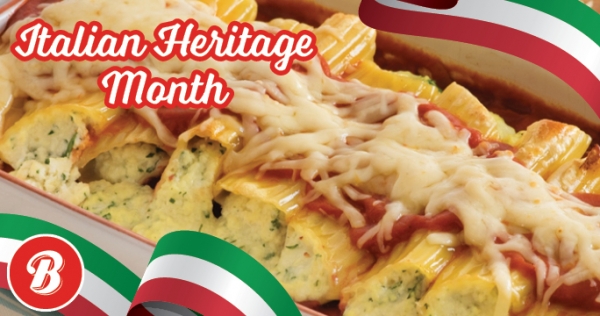 Easy Italian Sausage Pizza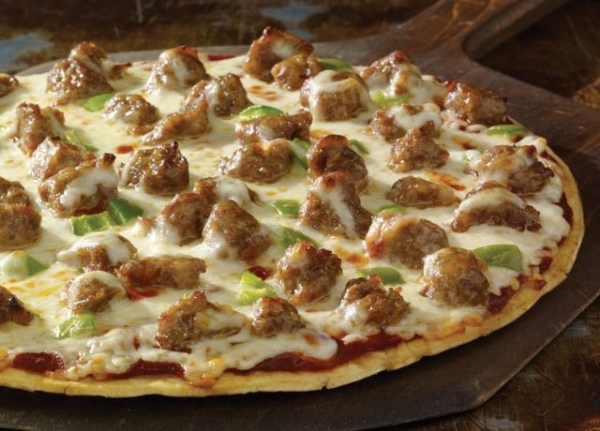 Ingredients
1 package Johnsonville Fresh Italian Mild, Sweet, or Hot Ground Sausage.
1 24 oz package prepared gourmet pizza crusts (2 crusts)
1½ cups pizza sauce
2½ cups shredded mozzarella cheese, divided
1 medium green bel pepper, chopped
Directions
Preheat oven to 425 F°.
Place two pizza crusts on baking sheets or pizza pans. Spread Pizza sauce over crusts.
Top each with 1 cup of cheese. Pinch the sausage into 1- inch pieces and arrange on pizzas.
Sprinkle with the green pepper and the remaining cheese.
Bake for 8-12 minutes or until the sausage is no longer pink and reaches 160 F° and the cheese is melted.
---
Slow-Cooker Italian Sausages and Peppers with Rotini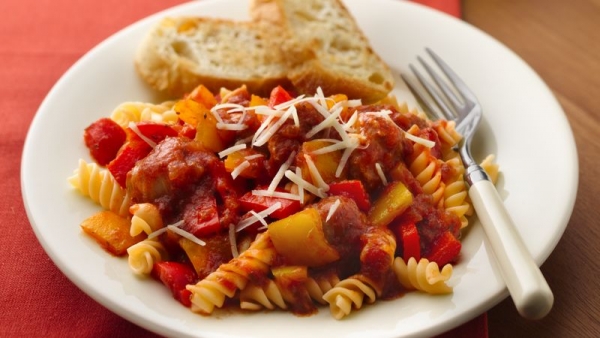 Ingredients
1 package (19.5 oz) turkey Italian sausages, cut into 1-inch pieces
1 cup finely chopped sweet onion
4 cloves garlic, finely chopped (2 teaspoons)
2 medium yellow bell peppers, cut into 1/2-inch pieces
2 medium red bell peppers, cut into 1/2-inch pieces
1 jar (26 oz) tomato pasta sauce
4 1/2 cups uncooked rotini pasta (12 oz)
6 tablespoons shredded Parmesan cheese
Directions
Spray 3- to 4-quart slow cooker with cooking spray.
In cooker liner, mix all ingredients except pasta and cheese.
Cover; cook on Low heat setting 6 to 8 hours.
Cook and drain pasta as directed on package.
Serve sausage mixture over pasta; sprinkle with Parmesan cheese.
*Recipe courtesy of our vendor partner Pillsbury. 
---
Baked Manicotti with Three Cheeses

 Ingredients
10 Skinner Manicotti pasta shells
15 oz ricotta cheese
1½ cups reduced fat shredded mozzarella cheese
½ cup shredded parmesan cheese
1 egg beaten
¼ cup chopped parsley
¼ tsp salt
1/8 tsp ground black pepper
1½ cups pasta sauce
½ cup water
Directions
Preheat oven to 375 F°.
Prepare pasta according to package directions; drain.
Place ricotta cheese in medium bowl. Stir in 1 cup of the mozzarella, parmesan, egg, parsley, salt, and ground black pepper. Mix well.
Fill pasta with the cheese mixture, using a teaspoon.
Combine pasta sauce with water; pour half the sauce mixture into a 7 x 11-inch baking dish. Arrange filled pasta in dish and top with the remaining sauce. Sprinkle with remaining mozzarella.
Cover with foil and bake for 40 minutes. Pace under broiler briefly if desired.
---
Grilled Italian Chicken Foil Packs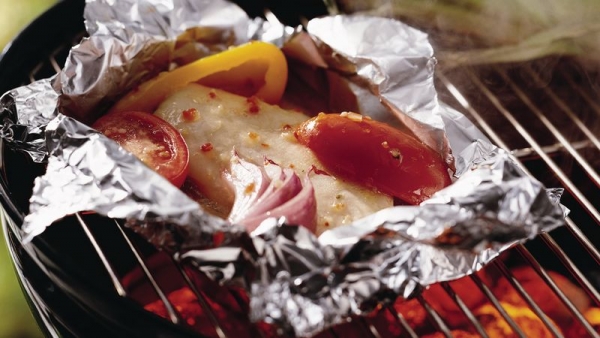 Ingredients
4 boneless skinless chicken breasts (about 1 1/4 lb)
1 medium yellow bell pepper, cut into 4 wedges
4 plum (Roma) tomatoes, cut in half
1 small red onion, cut into 8 wedges
1/2 cup reduced-fat Italian dressing
Directions
Heat gas or charcoal grill. Cut 4 (18x12-inch) sheets of heavy-duty foil.
Place 1 chicken breast, 1 bell pepper wedge, 2 tomato halves and 2 onion wedges on center of each sheet.
Pour 2 tablespoons dressing over chicken and vegetable mixture on each packet.
For each packet, bring up 2 sides of foil over chicken and vegetables so edges meet.
Seal edges, making tight 1/2-inch fold; fold again, allowing space for heat circulation and expansion.
Fold other sides to seal.
Place packets on grill over medium heat.
Cover grill; cook 18 to 22 minutes, rotating packets 1/2 turn after 10 minutes, until juice of chicken is clear when center of thickest part is cut (170°F).
Place packets on plates.
Cut large X across tops of packets; carefully fold back foil.