Submitted by
Angela Larson - Dietitian
on Tuesday, May 15, 2018
Did you know that pansies and violas are edible and taste just like lettuce? Pick up the ingredients for this real fresh, real delicious salad at
your neighborhood Brookshire Brothers
—flowers optional! The best part? Berries are in season now!
A Berry Pretty Salad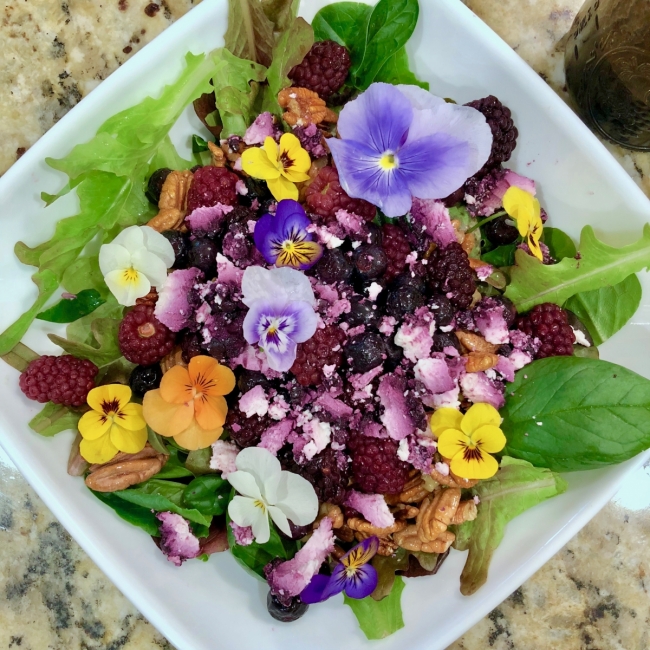 With Goat Cheese, Honey Toasted Pecans, and Balsamic Vinaigrette
Ingredients

5 oz salad greens
½ c. pecans
2 Tbs honey
3 Tbs extra virgin olive oil
3 Tbs balsamic vinegar (I used a well-aged variety for more sweetness)
1 tsp Dijon mustard
½ teaspoon salt
1 c. berries (I used blackberries and blueberries), rinsed and drained
1/3 c. crumbled goat cheese
Pepper, to taste
Optional garnish: pansies or viola flowers
Directions
Toast pecans lightly in a dry skillet over medium-high heat, stirring frequently, for about 6 minutes or until fragrant. While still warm, add honey to pecans and toss to coat.
Mix extra virgin olive oil, balsamic vinegar, Dijon, and salt in jar or container. Shake vigorously until emulsified.
Divide lettuce between two bowls for two large dinner salads or four bowls for smaller side salads. Top with toasted pecans, crumbled goat cheese, berries, and salad dressing. Add cracked pepper to salad, to taste. Garnish with pansies or violas for an extra special and beautiful salad.
---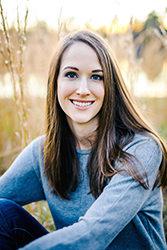 Angela Larson is a registered dietitian (RD) who works with Brookshire Brothers promoting
real fresh, real delicious
foods and nutrition education to the community. She is also a clinical dietitian representing Woodland Heights Medical Center in Lufkin where she does outreach education on food and nutrition. Food is her passion, so Angela loves trying new recipes and exploring the more holistic side of nutrition. Angela loves to cook, garden, and spend time outdoors. In addition to the
Brookshire Brothers blog
, look for Angela's monthly articles in Charm East Texas.