Posted on Friday, March 6, 2015
Score major points with game-day guests with these clever ideas for custom snack mixes for the big game!
Add even more excitement to game day with DIY Team Colors Chex Mix. It's easier than you think—and gives you the perfect excuse to load up on all your favorite snacks. Plus, there is no such thing as a losing combination, which makes this idea a total win-win!
There are lots of ways to set up the play on this. If you've got guests rooting for both sides, make one mix for each team (we suggest one sweet and one savory). If you're all on the same side, make one mix to match your team. Or, if you've got a crowd and want to go all out, set out base mixes and plenty of add-ins so guests can create a signature mix.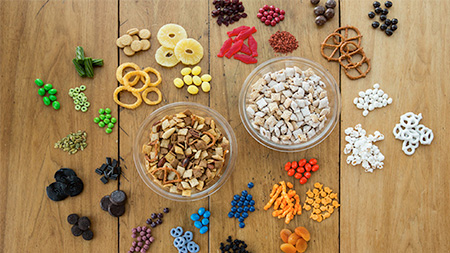 The first step in creating your custom team Chex Mix is making the base (or bases). For savory creations, we favor the Original Chex® Party Mix and for sweet mixes we start with Chex® Muddy Buddies. Best of all? Each of them takes just 15 minutes to make. (But if time is of the essence, there's always pre-made Chex Mix™ Snack Mix filled with all the same great flavors.)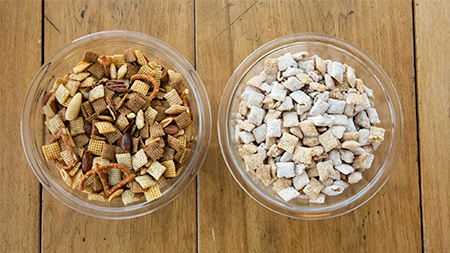 Next comes the fun part: customizing your mix. Basically, anything goes! Here are some of our favorite color-coordinated add-ins.
Red: Swedish Fish • Craisins • Strawberry Skittles • Bac-O Bits
Orange: Dried Apricots • Cheetos • Orange Peanut M&Ms • Mini Gold Fish Crackers
Yellow: Dried Pineapple Rings • Lemon Heads • Funyuns • Golden Oreo Minis
Green: Green Apple Licorice Bites • Green Fruity Cheerios • Lime Skittles
Blue: Dried Blueberries • Blue York Peppermint Candy Pieces • Blue Peanut M&Ms
Purple: Blueberry Yogurt Pretzels • Purple Trix Pieces
Brown: Oreo Minis • York Peppermint Patties • Mini Pretzels • Malted Chocolate Balls
Black: Black Licorice Wheels • Black Nibs • Dark-Chocolate Pomegranate Candies
White: White Cheddar Popcorn • White Chocolate-Dipped Pretzels • Yogurt-Covered Raisins