Posted on Tuesday, June 20, 2017
Summer is here and so is the heat! Cool off with this fantastic version of chilled gazpacho – a cold soup originating in Spain made with fresh fruits and vegetables. This recipe will be featured at Lufkin's Farm Feast dinner, a parntership with Lufkin CVB and Brookshire Brothers. It includes sweet strawberries, tangy cucumbers, and vine ripened tomatoes, and gets a slight kick of heat with a fresh jalapeño or two. Brookshire Brothers is the place for all of your fresh produce! If you ever need help finding anything, be sure to ask our friendly produce employees. Stay cool this summer and enjoy this recipe with me!
Sweet & Spicy Strawberry Tomato Gazpacho with Citrus Goat Cheese
Ingredients
1 pint fresh strawberries, cleaned and hulled
5 small vine ripe tomatoes, roughly chopped
½ cucumber, chopped
1-2 jalapenos (depending on heat), seeded and chopped
½ bunch fresh mint, chopped (plus extra for garnish)
2 limes, zested and juiced, divided
¼ - ½ cup honey
salt and pepper to taste
Garnish
2-4 ounces goat cheese, softened
zest of 2 limes (from above)
1/2 - 1 teaspoon cracked black pepper
Directions
For the gazpacho
Place strawberries, tomatoes, cucumber, jalapeños, mint, lime juice, honey, and salt and pepper into a blender and puree until smooth. Pour soup into a large, covered container and chill in refrigerator for at least 3 hours. Stir well and adjust seasonings, adding more honey for additional sweetness and more salt and pepper, if needed.
For the garnish
Place goat cheese, lime zest and pepper into a small bowl and stir together
until fully combined.
Serving
Ladle chilled soup into each bowl and top with a small dollop of prepared goat cheese and snips of fresh mint leaves.
---
Click here to see other recipes from Brookshire Brothers Catering Coordinator, Kate Rudasill.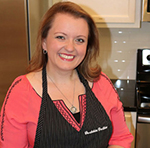 Kate Rudasill, Catering Coordinator for Brookshire Brothers, has been in the food-service industry for the past 14 years. As a graduate of Texas A&M University, a student of The Texas Culinary Academy, and a Nacogdoches, Texas native, Kate grew up with Southern tradition in her blood which caused her to have a deep love for bringing people together with food.