Posted on Monday, July 13, 2020
This flavorful one-skillet dish is the perfect addition to your family's dinner rotation.
Skillet Sausage Pasta
Ingredients
1 tablespoon olive oil
1 (13 oz) package smoked sausage, sliced
1 large onion, diced
3 cloves fresh garlic, minced
2 cups chicken broth
1 (10 oz) can mild food Club diced tomatoes and green chilies
½ cup heavy cream
8 ozs. uncooked pasta – penne, Cavatappi, Gemelli
Salt and pepper, each
2 cups Monterey Jack cheese, shredded
3 green onions, thinly sliced
Directions
Preheat oven to broil (high).
In a large, oven-safe skillet, heat olive oil over medium-high heat. Add onions and cook until translucent, about 4 minutes.
Add sausage cook until lightly browned, about 2 minutes.
Add garlic and cook until fragrant, about 1 minute.
Add chicken broth, diced tomatoes, heavy cream, uncooked pasta, salt and pepper, and stir.
Bring to a simmer, cover skillet, and reduce heat to low. Simmer until pasta is tender, about 12 minutes.
Remove the lid. Sprinkle with shredded cheese and sliced green onions.
Broil in the preheated oven until cheese is melted, spotty brown, and bubbly, about 3-5 minutes.
Watch carefully so that the cheese does not burn.
Serve with a green salad.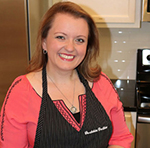 Kate knows food. She grew up with the Southern tradition of good food with the hospitality to match. A graduate of Texas A & M University, a student of The Texas Culinary Academy, and a Nacogdoches, Texas native, Kate's greatest joy is bringing people together over a scrumptious meal.