Posted on Monday, March 23, 2020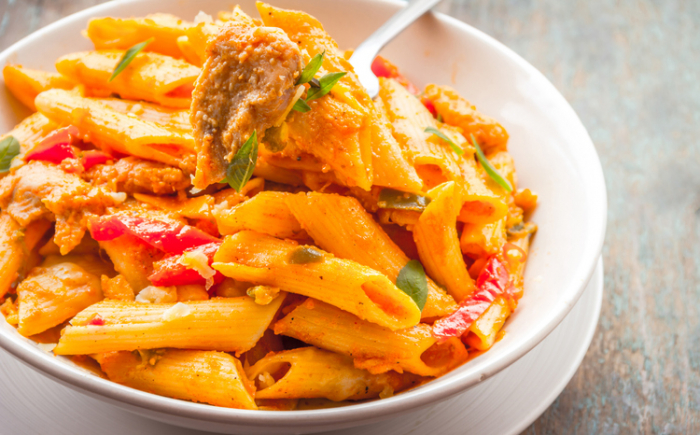 Ingredients
2 tablespoons olive oil
1 lb. chicken breasts, thawed
1 package taco seasoning or 3 tablespoons fajita seasoning
1 medium onion, small diced
2 bell peppers (green, red, orange, or yellow), small diced
3 cloves garlic, minced
2 cups chicken broth
½ cup heavy cream or half and half
1 (10 oz) can diced tomatoes and green chiles (Rotel)
8 oz uncooked pasta (penne, rotini, fusilli, gemelli, farfalle, campanelle, cavatappi, or orecchiette)
½ teaspoon salt
½ teaspoon fresh ground pepper
Directions
Cut the chicken into bite-sized pieces. Season with half of the taco seasoning. Heat 1 tablespoon olive oil over high heat in a large skillet with a lid. Add the chicken to the skillet and cook, without stirring, until one side is browned, about 1-2 minutes. Turn the chicken to the other side and cook until browned. Remove the chicken from the skillet and set aside.
In the same skillet, heat the remaining olive oil over high heat. When the oil is very hot again, add the onions, bell peppers, and the rest of the taco seasoning. Cook, stirring occasionally, until the veggies are slightly blackened. Turn heat to low, add minced garlic, and stir until fragrant and well combined, about 30 seconds. Remove the veggies to the plate/bowl with the chicken.
In the same skillet, add the chicken broth, cream or half and half, diced tomatoes, uncooked pasta, salt and pepper. Stir to combine and bring to a boil; cover, reduce heat to medium-low, and cook for 10-12 minutes (depending on your pasta shape) until pasta is al dente and liquid is mostly absorbed. Add the chicken, peppers, and onion back to the skillet and stir to combine. Cook an additional 2-3 minutes until everything is heated through.
Serve immediately with steamed/roasted vegetables or a green salad.
---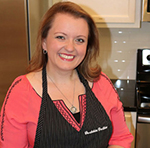 Kate knows food. She grew up with the Southern tradition of good food with the hospitality to match. A graduate of Texas A & M University, a student of The Texas Culinary Academy, and a Nacogdoches, Texas native, Kate's greatest joy is bringing people together over a scrumptious meal.