Posted on Tuesday, September 7, 2021
September is National Chicken Month, and we have plenty of delicious recipes for you to try when you're not enjoying our Famous Fried chicken! This recipe is a perfect way to liven up that Brookshire Brothers Rotisserie Chicken that you picked up for a quick dinner. Enjoy these quick and easy BBQ chicken quesadillas with pineapple and cilantro from our Director of Catering Kate Rudasill.
BBQ Chicken Quesadillas with Pineapple and Cilantro
Ingredients
8 Fresh Harvest flour tortillas, fajita-size
4 tablespoons Food Club barbeque sauce
1 cup shredded rotisserie chicken (original or barbeque flavored)
¼ red onion, thinly sliced
½ cup fresh pineapple, in bite-sized pieces
¼ bunch fresh cilantro, chopped
2 cups Food Club shredded Monterrey jack cheese
4 tablespoons (½ stick) butter, softened
Food Club sour cream, for serving
Directions
Preheat a cast-iron grill pan (medium-high heat), gas or charcoal grill, or electric griddle to 375°F.
Sprinkle 1 tortilla with ¼ cup shredded cheese.
Add shredded chicken, sliced red onion, pineapple pieces, and chopped cilantro.
Add small dots of barbeque sauce evenly around toppings (about 1 tablespoon per quesadilla).
Sprinkle with another ¼ cup of shredded cheese.
Top with another tortilla.
Spread softened butter on outsides of both tortillas.
Grill or griddle for 2-4 minutes on each side or until tortillas are crisp and cheese is melted.
Slice in triangles and serve immediately with sour cream and more cilantro.
---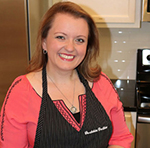 Kate knows food. She grew up with the Southern tradition of good food with the hospitality to match. A graduate of Texas A & M University, a student of The Texas Culinary Academy, and a Nacogdoches, Texas native, Kate's greatest joy is bringing people together over a scrumptious meal.