Posted on Tuesday, August 27, 2019
School is in full swing and the long Labor Day weekend is upon us. Cookouts and potlucks will be on the weekends agenda and we've got a Blueberry Pie Bar recipe that will be all the talk around the grill and pool. BONUS: Keep reading for special savings on blueberries this weekend only!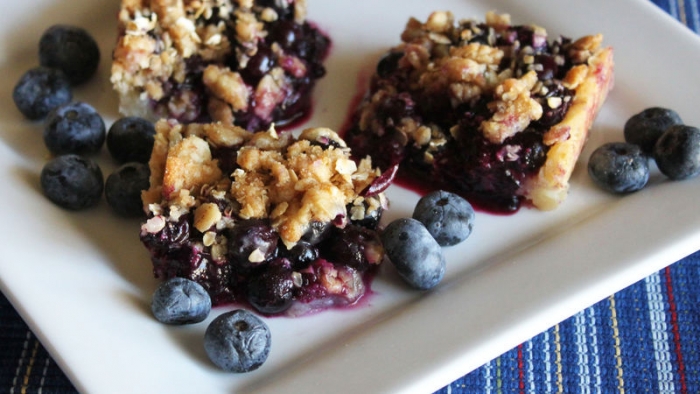 Blueberry Pie Bars
Ingredients
1 roll (16.5 oz) Pillsbury™ refrigerated sugar cookies
1/2 cup quick-cooking oats
1/4 cup packed brown sugar
1/4 teaspoon ground cinnamon
1/2 cup granulated sugar
4 teaspoons cornstarch
Juice of 1 lemon
4 cups fresh blueberries
Directions
Heat oven to 375°F.
Spray 9-inch square baking pan with cooking spray.
Break up three-fourths of cookie dough into pan.
With floured fingers, press dough evenly in bottom of pan to form crust.
Bake 15 to 20 minutes or until golden brown.
Meanwhile, in medium bowl, crumble remaining cookie dough.
Add oats, brown sugar and cinnamon; toss.
Set aside.
In small bowl, stir together granulated sugar, cornstarch and lemon juice.
Gently stir in blueberries.
Sprinkle blueberry mixture evenly over crust.
Crumble oat mixture over blueberry mixture.
Bake 30 to 40 minutes or until topping is golden brown and filling is bubbly.
Cool 1 hour before serving.
Cut into squares.
*Recipe courtesy of our vendor partner Pillsbury.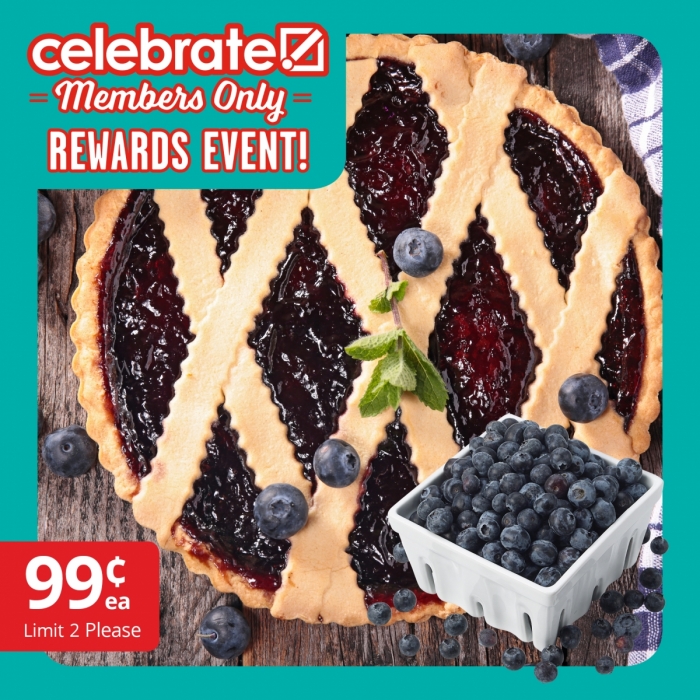 Get Blueberries (1pint) for only $0.99 during this weekend's Celebrate Rewards Event! These hot savings are only good for 8/31 and 9/1 only—DON'T MISS OUT!! Our deals include:
Wright Sliced Bacon Hickory or Applewood (24 oz) $5.99 - Limit 1
King's Hawaiian Hamburger or Hot Dog or Slider Buns or Mini Sub Rolls (12 -12.8 oz) $0.99 - Limit 1
Gatorade Sports Drinks (6 pk 12 oz bottles) 3/$5 - Limit 6
Pillsbury Toaster Strudel (11.7 oz) 5/$5 - Limit 5
Fresh Harvest Family Pack Large Eggs (18 ct) $0.99 - Limit 2
And More!!!!
Not a member? SIGN UP
here
!
To redeem, enter your phone number at checkout. Limits apply with a $20 additional purchase per Celebrate member. While supplies last. No rain checks.
Additional purchase excludes alcohol, tobacco, gift cards, lottery, stamps, money orders, Western Union, pharmacy, fuel and items in the Celebrate Rewards Event.