Monday September 9, 2013
Brookshire Brothers Comes to Valley Mills
A 92-­year‐old grocery company embraces history by coming to the Central Texas town of Valley Mills. Brookshire Brothers will acquire Wiethorn's Grocery store on Friday, September the thirteenth.  Curtis Wiethorn will run the store for the last time on Saturday. The store will close Sunday for inventory and open on Monday morning as a Brookshire Brothers Express. Brookshire Brothers will continue a tradition that started in this same building in the 1890s - providing groceries and exceptional customer service to the people of Central Texas.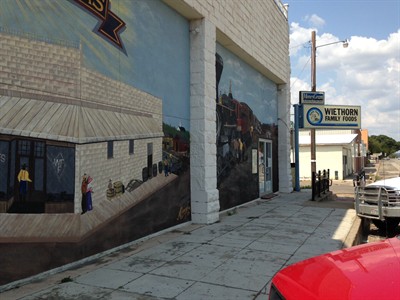 In making the announcement, Company CEO and President Jerry Johnson says, "Our philosophy is always to embrace and respect the local flavor of an existing, family-­run store.  We find that the more continuity we can maintain with the business, the smoother the transition."   Johnson adds, "Valley Mills is a close-­knit community of genuine people. That's the way we feel about our Brookshire Brothers family.  We exist to serve the families and communities where we have stores."  Johnson assures shoppers that Brookshire Brothers will continue the established tradition of service and quality that Wiethorn's has provided through the years.
A Brookshire Brothers veteran, Sharlyn Feathers will serve as the Store Director.  Feathers of the Waco area, has served as the Assistant Store Director in Brookshire Brothers' Salado and Lorena stores.  She knows the people of Central Texas and is excited about the opportunities in Valley Mills. She anticipates opening Monday with a full-­staff of Wiethorn's veterans.
What does the future hold for Brookshire Brothers?  Company spokesperson Sally Alvis says, "We are excited about expanding our existing footprint in the Waco area.  We are also looking at plans for future development of the Brookshire Brothers Express in Valley Mills."
Brookshire Brothers is an employee-­owned company operating 77 retail grocery stores and 35 convenience stores in Texas and Louisiana. Started in 1921 by brothers Austin and Tom Brookshire, the company and its 6000 employee-­owners remain customer driven, dedicated to celebrating family and community.  For more information, visit our website at  
www.brookshirebrothers.com
.