Wednesday March 22, 2017
Brookshire Brothers Express Store Relocating in Valley Mills Texas
New store, same friendly folks! Brookshire Brothers moved its Valley Mills operations to a new store located at 902 Avenue C on Wednesday, March 22nd. The Valley Mills Chamber of Commerce, City of Valley Mills and Valley Mills ISD will be helped Brookshire Brothers kick things off with a ribbon cutting at 12:00 PM. Grand Opening festivities included a prize wheel, raffles, giveaways, and performances by Valley Mills ISD cheerleaders and band. 
Store Director Wes Thiele invites his Valley Mills neighbors to stop by, check out the new store, and say hello to his extraordinary team. Thiele has more than 20 years of grocery experience, including almost three years at the cur-rent Valley Mills Brookshire Brothers Express location. As a Valley Mills native, he loves fishing, sports, and spending time with his family. While serving as Store Director, Thiele considers himself fortunate to help bring this new location to his hometown and introduced Tori Smith as his Assistant Store Director during the ribbon cutting ceremony. The new Brookshire Brothers Ex-press location will feature fresh meat and produce, a hot deli with daily spe-cials, Western Union, money orders, and a full-service courtesy booth. 
In addition to the fun provided by the Valley Mills cheerleaders and band, folks were invited to come out and enjoy the grand opening activities by spin-ning on the prize wheel, registering for giveaways and enjoying refreshments. Customers can take advantage of additional in store savings by joining CELEBRATE – Brookshire Brothers' loyalty program. Celebrate members receive digital coupons and also enjoy weekly specials and promotions. 
Brookshire Brothers just celebrated its 95th birthday with more expansion plans on the horizon. The company believes in super serving its customers and its communities with quality goods, great values and the extra bonus of shopping with someone you know. The Valley Mills store will employ about thirty people, including local high school students. 
Brookshire Brothers is employee-owned and community driven. Its assets include 115 retail outlets incorporating grocery stores, convenience stores, as well as free standing tobacco, pharmacy and petro locations. Its footprint stretches east to Lake Charles, Louisiana, west to Dublin, Texas, north to Whitesboro, Texas and south to Ganado, Texas. For more information about Brookshire Brothers and its family of brands please visit www.brookshirebrothers.com. 
Monday September 9, 2013
Brookshire Brothers Comes to Valley Mills
A 92-­year‐old grocery company embraces history by coming to the Central Texas town of Valley Mills. Brookshire Brothers will acquire Wiethorn's Grocery store on Friday, September the thirteenth.  Curtis Wiethorn will run the store for the last time on Saturday. The store will close Sunday for inventory and open on Monday morning as a Brookshire Brothers Express. Brookshire Brothers will continue a tradition that started in this same building in the 1890s - providing groceries and exceptional customer service to the people of Central Texas.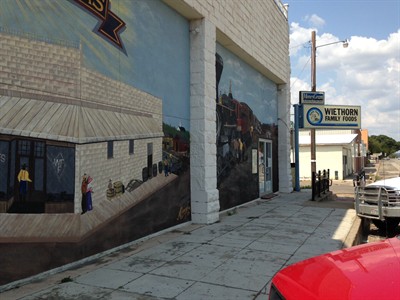 In making the announcement, Company CEO and President Jerry Johnson says, "Our philosophy is always to embrace and respect the local flavor of an existing, family-­run store.  We find that the more continuity we can maintain with the business, the smoother the transition."   Johnson adds, "Valley Mills is a close-­knit community of genuine people. That's the way we feel about our Brookshire Brothers family.  We exist to serve the families and communities where we have stores."  Johnson assures shoppers that Brookshire Brothers will continue the established tradition of service and quality that Wiethorn's has provided through the years.
A Brookshire Brothers veteran, Sharlyn Feathers will serve as the Store Director.  Feathers of the Waco area, has served as the Assistant Store Director in Brookshire Brothers' Salado and Lorena stores.  She knows the people of Central Texas and is excited about the opportunities in Valley Mills. She anticipates opening Monday with a full-­staff of Wiethorn's veterans.
What does the future hold for Brookshire Brothers?  Company spokesperson Sally Alvis says, "We are excited about expanding our existing footprint in the Waco area.  We are also looking at plans for future development of the Brookshire Brothers Express in Valley Mills."
Brookshire Brothers is an employee-­owned company operating 77 retail grocery stores and 35 convenience stores in Texas and Louisiana. Started in 1921 by brothers Austin and Tom Brookshire, the company and its 6000 employee-­owners remain customer driven, dedicated to celebrating family and community.  For more information, visit our website at  
www.brookshirebrothers.com
.