Monday March 2, 2015
Blue Moon Belgian White
The beer's light, spicy citrus flavors pair well with seafood such as grilled shrimp, Asian dishes like pad thai, and marinated chicken dishes.
Ingredients and Profile:
Malts: Pale, White Wheat, Oats
Hops: Blend of Imported and Domestic
Our Twist: Valencia Orange Peel , Coriander
IBUs: 9
Original Gravity: 13º Plato
ABV: 5.4%
Glassware
Pour our Belgian White* into our signature Blue Moon® glass to highlight the depth of the beer. This glass opens wide at the top to make room for the aromatic citrus notes. Cap with a creamy, white head and garnish with an orange slice.
Appearance: Will appear cloudy because it's unfiltered for more depth of flavor.
Aroma: You'll notice a zesty orange fruitiness with a light spicy wheat aroma.
Taste: The flavor starts crisp and tangy and ends with a coriander and orange spiciness. The Valencia orange peel gives a subtle sweetness to the beer.
Mouthfeel: The oats give the beer a nice creamy body, so it's not too thin.
Finish: Our Belgian White* has a slow finish of coriander and orange spiciness.
One of our favorite recipes to pair with Belgian White Belgian-Style Wheat Ale is Blue Moon® Belgian White Artfully Crafted Grilled Chicken
Serves: Makes 4 Servings
Prep Time: 5 Minutes
Cook Time: 75 Min.
Difficulty: Easy 
Ingredients
1 (4-lb) whole chicken
2 tbsp. seasoning salt
4 tbsp. paprika (smoked paprika preferred)
1 tsp. white pepper
1/2 tsp. cayenne pepper
1 can Blue Moon Belgian White*
5 cloves
1 tsp. coriander seeds
Orange rind
Honey
Directions
Rinse chicken inside and out, and pat dry with paper towels. Combine seasoning salt, paprika, white pepper, and cayenne. Generously coat chicken with this mixture.
Drink half the can of Blue Moon Belgian White* (don't waste it!). Place beer can on a solid surface. Place cloves, coriander seeds, and orange rind inside beer can, with a dab of honey. Grabbing a chicken leg in each hand, plunk the bird cavity over the beer can. Transfer the bird-on-a-can to your grill and place in the center of the grate, balancing the bird on its 2 legs and the can like a tripod.
Cook the chicken over medium-high, indirect heat (i.e., no coals or burners directly under the bird), with the grill cover on, for approximately 75 minutes or until the internal temperature registers 165°F in the breast area. Remove from grill, and let rest for 10 minutes before carving.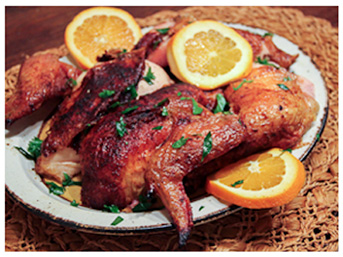 *Belgian-style wheat ale.