Monday February 13, 2017
Cooking with Kate: An Adventure in Food and Wine
Brookshire Brothers and the Lufkin Convention and Visitors Bureau is on its third round of
Pour & Explore: A Trip Around the World of Wine.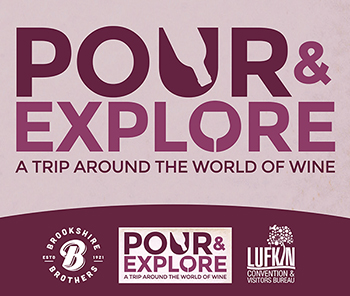 So far we've visited several wine-producing vineyards including Washington, Oregon, and coming up soon, California. This partnership with the Lufkin CVB is long-standing and has several events under its belt. After recent Pour & Explore Events, several requests have been made for recipes that were served by Brookshire Brothers Catering. As we continue our trail down the West coast, we don't want to ruin the surprise of California's recipes, but we want to share a past recipe from November's Pour & Explore: Destination Oregon. These cheese puffs were a favorite that night and will be a hit when you serve alongside soup or as a snack for your guests!
Gougères - French Cheese Puffs
Makes 24 medium cheese puffs
1 cup (8 ounces) water
1 stick unsalted butter, cut into several pieces
½ teaspoon salt
½ teaspoon dry mustard powder
1 cup (5 ounces) all-purpose flour
4 large eggs, lightly beaten
1 ½ cups (6 ounces) grated cheese, like gruyère or sharp cheddar
Combine the water, butter, salt, and dry mustard in a medium saucepan and bring to a rolling boil. Once all the butter has melted, remove the pan from heat and add the flour all at once. Stir vigorously until the mixture comes together and resembles mashed potatoes. Return the pan to medium-low heat and stir for 3-5 minutes to dry out the dough. The dough is ready when it glistens and is thick enough to hold a spoon upright. (Some starch buildup on the bottom of the pan is normal.) Transfer the dough to the bowl of a stand mixer fitted with a paddle attachment. Beat the dough on a medium-low speed for one minute until it stops steaming and is just warm to the touch. Continue beating and add the egg in four additions. Wait for each addition to be absorbed and for the dough to smooth out before adding the next. Scrape down the sides of the bowl if needed between additions. In the end, the dough should come together in a very smooth, creamy batter. Stir in the shredded cheese.
Heat the oven to 450°F. Scoop rounded tablespoons of dough onto sheet pans lined with silicone mats or parchment paper. Space them at least an inch apart. Bake the gougères for 5 minutes and then turn the heat down to 350°F. Bake for another 20-25 minutes, rotating the pans once during baking. The finished gougères will be puffed, deep golden-brown, and dry to the touch (the cheese may still be bubbling a bit). They will also feel light and hollow when picked up. Transfer the sheet pan to a cooling rack. Serve warm or room temperature. Leftovers can be stored in the refrigerator and re-crisped in a warm oven before serving or frozen for up to three months.
Additional Notes:
• Freeze for Later: To have gougères on hand for later, try freezing them shaped but un-baked. Scoop and then freeze them directly on the baking sheet. Once frozen, you can transfer them to a freezer storage container. Bake them directly from the freezer while still frozen; just add a couple of extra minutes in the oven.
• Bigger or Smaller Gougères: Make the gougères any size that appeals to you. Teaspoon scoops are a fun party snack or soup topper while double-sized gougères are nice for making sandwiches or as part of a brunch spread.
---
Pour & Explore: Destination California will be held at the Pitser Garrison Convention Center on Thursday, February 23rd, at 6:30p.m. As we "tour" the California wine regions, the renowned winemakers will be on hand to walk you through the wines they've selected to accompany each of the five courses. This specially designed menu includes ingredients native to California, like wild mushrooms and hazelnuts, and the fusion cuisine that has made California a destination culinary hot spot. Seating is limited, and tickets are available through the Lufkin CVB, (936) 633-0359, for $65 a person or $550 for a reserved table of eight.
---
Click here to see other recipes from Brookshire Brothers Catering Coordinator, Kate Rudasill.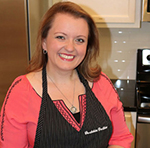 Kate Rudasill, Catering Coordinator for Brookshire Brothers, has been in the food-service industry for the past 14 years. As a graduate of Texas A&M University, a student of The Texas Culinary Academy, and a Nacogdoches, Texas native, Kate grew up with Southern tradition in her blood which caused her to have a deep love for bringing people together with food.