Thursday August 27, 2015
The Flu Stops Here!
Imagine for a moment that you've just purchased your dream home – a 5,000 square foot beauty overlooking a gorgeous inlet of a majestic lake. After purchasing such a beautiful home, sometimes changing the air filter is the last thing to come to mind. It can take weeks of dusting, sneezing and coughing before realizing that your air filter needs to be changed!
Unfortunately, the flu shot and our attitude toward it is a lot like the air filter in our little daydream. Flu season tends to sneak up on us every year. Summer produces a sort of deep but comfortable daze brought on by tall glasses of lemonade and hours by the pool. Then, all of a sudden, school starts, kids and adults gather indoors, germs spread and flu season is here.
How can we break this sickening cycle? Be proactive and use your best defense against the flu – the flu shot! And because the vaccine takes about 2 weeks in the body to establish full protective capacity, getting the vaccine before flu season reaches its peak (generally November to March) is your best bet to avoid becoming another patient at your doctor's office.
This time of year is busy enough with the start of school and the upcoming holiday season, so get vaccinated early to prevent common flu symptoms such as body aches, fever/chills, runny nose, cough, sore throat and fatigue.
This flu season, don't wait to stop by a Brookshire Brothers Pharmacy location to get your flu shot. Vaccination against the flu is an easy and important duty for you and your family. In addition to the flu vaccine, please visit with your pharmacist to discuss other vaccines that are important. At Brookshire Brothers Pharmacy, we're giving more ways to have "Wellness Delivered."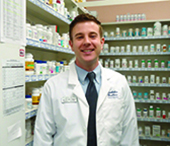 Matt Baker, PharmD
Brookshire Brothers Pharmacy – Lufkin, TX
Tuesday July 28, 2015
Get Vaccinated!
Here's a question you probably haven't considered – are you at risk for a pneumococcal disease?
In other words, do you suffer from lung, heart, liver or kidney disease? 
Here are some more questions you should ask…
Do you have a disease that affects your immune system such as cancer, HIV/AIDS, or a missing or damaged spleen? 
Are you over age 65?
Do you smoke? 
Answering yes to any of these questions may indicate that you are at an increased risk of contracting a disease caused by the bacteria streptococcus pneumoniea, a bacteria commonly found in the nose and throat. The Centers for Disease Control and Prevention (CDC) estimates that 900,000 people a year contract lung infections from this bacteria resulting in 400,000 hospitalizations and up to 63,000 deaths. While these figures are sobering, there is one simple way to fight back against this microbe that is wreaking so much havoc. 
Are you ready? Get vaccinated! That's right, there are currently two available vaccines that guard against pneumococcal infections. Which vaccine type you will receive depend on factors like your age and current health conditions. Vaccines, like the pneumococcal vaccine, are often your best defense against illness. And with flu season fast approaching, the pneumococcal vaccine can be paired with your annual flu shot which is recommended for all persons over 6 months of age. 
If you have questions about whether or not you should receive the pneumococcal vaccine or which vaccine you should receive, talk to your doctor or your Brookshire Brothers Pharmacist. Invest in a healthier you by taking proactive steps to decrease your chance for illness. 
Exercise. Eat Healthy. Get plenty of rest. Get vaccinated!  
Matt Baker, PharmD
Brookshire Brothers Pharmacy – Lufkin, TX