Friday May 25, 2018
The Right Prescription for Summer Traveling with Meds
Summer is here! Oh, how the smell of sunscreen and chlorine brings back memories of childhood and that uplifting, amazing feeling of freedom as the last bell rang for the school year. Man, did I love summer. It was the time for playing with friends, sleeping in, staying up late and—most importantly—vacations!
Our family retreats were not extravagant or expensive by any means, yet they were meaningful, fun-filled times I will always remember.  Mom and Dad would load up the car and stop for donuts on the way out of town as we kids longed for just a glimpse of our intended destination.
Now that I have children of my own, I can appreciate all that my parents were surely feeling.  As my lovely wife and I pack up the car each summer in anticipation of a lengthy road trip, we knowingly look at each other and say—"Can you remind me why we're doing this?"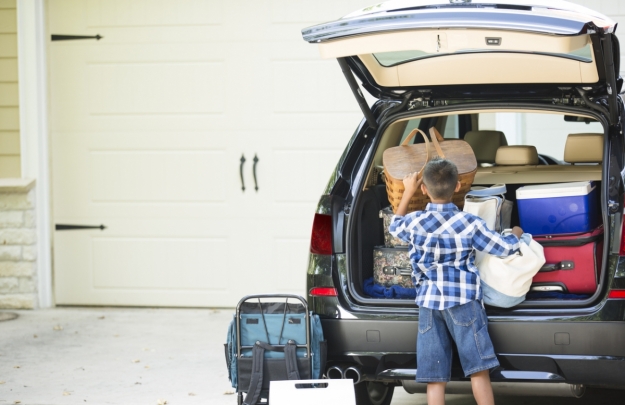 Don't get me wrong, I love my kids but traveling with them is hard.  Rules that you didn't even know your family had start to come into play: how many times you can poke your sister before she's allowed to tattle, how many centimeters of a cheese stick must be allocated for sharing, how the rear-AC in the car can be adjusted so long as there is a two-thirds majority amongst siblings.  A vacation that is meant to be simple and relaxing can quickly get complicated to the point of ruining the fun.
Adding to these complications, traveling with medications (for a person of any age) can be really challenging. There's a lot to think about regarding medication supply, storage, timing of doses while en route, etc.  Even the simple process of ingesting a pill each morning can easily be disrupted by vacation agendas.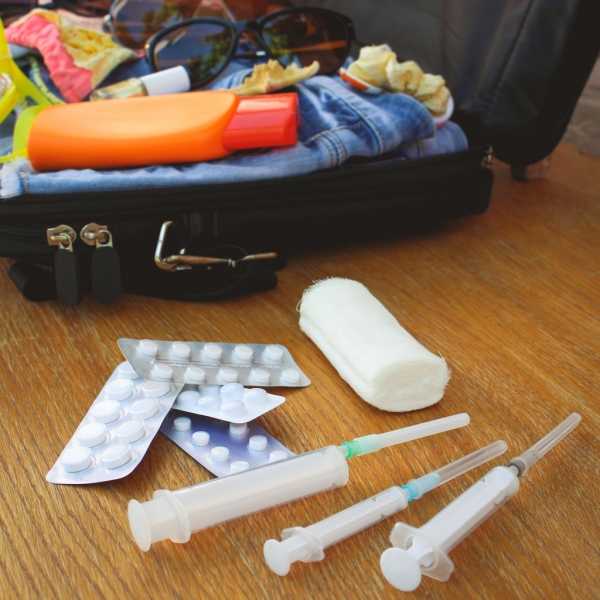 Tip #1 – If you don't have it, you can't take it.
 Make sure you have enough medication on hand (plus one or two days in case of a travel delay) for your entire trip. If you happen to be going on an extended vacation and your insurance company won't quite cover a refill of your medication just yet,
ask your pharmacist
to call the insurance company to request a vacation supply.  Most insurance companies will accommodate this request and you'll be on the road in no time.
Tip #2 –"Honey did you pack the…"Ever been on vacation and experienced heartburn or a headache but your medicine cabinet was 500 miles away?  Planning for all your over-the-counter medication needs can be easily overlooked.  At minimum, be sure to pack Tylenol for headache or fever, Zantac or Pepcid for acid indigestion, a first aid kit for minor cuts and scrapes, and an OTC sleep aid for any hotel room insomnia.
Tip #3 – What about my insulin?
  Insulin is kept under refrigeration prior to use which presents a problem when traveling.  However, did you know that vials and pens of insulin, once in use, can be kept at room temperature for up to 28 days, some up to 42 days?  Some eye drops, suppositories and even oral medications are also stored in the fridge so
consult your pharmacist
about options for traveling with those.
Tip #4 – Keeping regular.  Traveling can disrupt day-to-day bathroom activities adding an uncomfortable wrinkle in vacation plans.  Taking fiber supplements or a stool softener (Colace) once daily while traveling can certainly help persuade a stubborn digestive system while on the road.  Be sure to stay hydrated and eat lots of fruits and vegetables too in order to ease things along.
---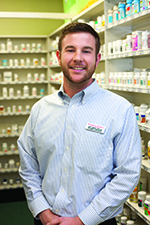 Matt Baker is a pharmacist with Brookshire Brothers Pharmacy in Lufkin.  He received his undergraduate degree from Texas A&M University in 2005 and his Doctor of Pharmacy from the University of Houston in 2010.  He writes a monthly pharmacy and wellness article for the Lufkin Daily News and is active in the community.  Matt's passion is serving his patients while ensuring that they are equipped to understand and take their medications properly. 
Sunday October 15, 2017
Celebrating Hispanic Heritage 2017
Six Dishes, Four Countries, One Kitchen. 
While today marks the last day of National Hispanic Heritage Month, we think this bold and exciting culture is always worth celebrating. At Brookshire Brothers, we continually strive to understand and celebrate other cultures so that we can better serve our communities.  Hispanic heritage is particularly important to us as a company with a richly diverse workforce, as well as a footprint that reaches as far south as Ganado.
As such, we'd like to share six traditional dishes—courtesy of our vendor partner Goya Foods—to take a journey of flavors across the world without ever leaving your home kitchen. With a menu that's perhaps both familiar and foreign, treat your friends and family to an adventure at your next dinner or gathering.
Visit your local Brookshire Brothers to get started today!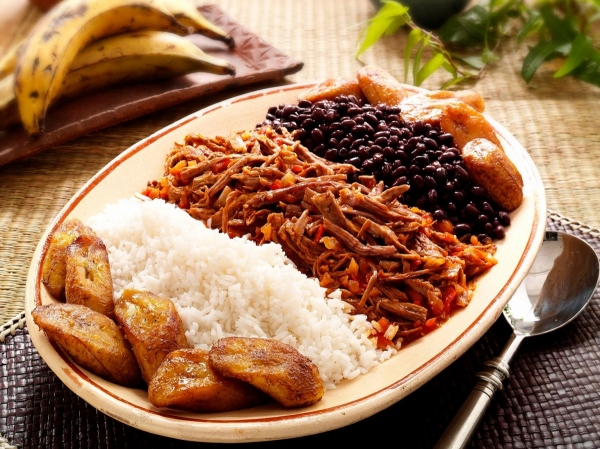 Venezuelan Shredded Beef (Pabellón Criollo)
 Yields 4-6 Servings
Ingredients
1 flank steak about 2 lbs., cut in 4 pieces
1 onion roughly chopped
2 packets GOYA® Beef Bouillon*
1 quart water
2 cups chopped onion
2 tsp. GOYA® Minced Garlic, or 4 cloves fresh garlic, minced* 
2 tbsp. GOYA®Corn Oil*
1 can (8 oz.) GOYA® Tomato Sauce*
1 packet GOYA® Sazón without Annatto*
½ tsp. GOYA® Leaf Oregano*
½ tsp. GOYA® Adobo with Cumin*
1 can (15 oz.) GOYA® Black Bean Soup, heated*
1 packet (11 oz.) GOYA® Frozen Ripe Plantain, cooked according to package directions*
3 cups cooked CANILLA® Extra Long Grain Rice*
* Brands are substitutable
Directions
In saucepan, combine meat, onion, bouillon and water. Bring to boil, lower heat and simmer until very tender (about 1½ hours). Add more water as necessary to keep meat covered. Allow meat to cool in broth. When cool enough to handle, shred meat. Reserve 1 cup of broth.
In meantime, puree onion, red pepper and garlic in food processor.
In skillet heat oil on medium high. Add shredded meat and lightly brown. Add pureed vegetables, tomato sauce, Sazon, oregano, Adobo and reserved broth. Bring to boil, lower heat and simmer until mixture dries about 20 minutes. 
Arrange meat, black beans, rice and plantain on platter and serve.
CONTINUE THE JOURNEY
Mexico
Chicken Flautas — "Tacos are an everyday event in Mexico with many different fillings. When tacos are rolled tightly and pan-fried until crisp so they resemble tubes or "flutes," they become flautas. This delicious, crunchy variation of tacos comes from Jalisco, Mexico, where it is a popular snack food. Here, chicken stewed with tomato sauce and onions is the filling of choice, but can be substituted for steak or pork. Whichever protein you choose, the flautas should be prepared and eaten right away for the best taste." (GOYA)
Grilled Chicken Fajitas — "For an outdoor meal that's fun for everyone, serve up a sizzling batch of Grilled Chicken Fajitas! Here, boneless, skinless chicken breasts come alive with flavor and pizzazz when marinated in GOYA® Mojo Criollo. Grill the marinated chicken breasts, peppers and onions and serve with the toppings of your choice for a festive dinner, tonight!" (GOYA)
Chicken and Avocado Quesadillas — "These chicken and avocado quesadillas are guaranteed to be the life of your summertime fiestas! Here, a tasty combination of GOYA® Fancy Pimientos, GOYA® Diced Green Chiles, scallions, fresh cilantro and GOYA® Salsita are topped with shredded cooked chicken and creamy avocado, coming cozily together in GOYA® Soft Taco Flour Tortillas with melted shredded cheese. This flavor-loaded quesadilla is bound to keep your party guests coming back for more!" (GOYA)
El Salvador
Salvadoran Pupusas with Cabbage Salad

 — "A staple of Salvadoran cuisine, 

pupusas

 are handmade, stuffed corn tortillas. Savory, flavor-packed 

pupusas 

Salvadoreñas are traditionally filled with beans, cheese, and pork. This 

pupusas

 recipe is especially easy, made with GOYA® Masarica Instant Corn Masa Flour, and stuffed with a choice of GOYA® Refried Red Beans (Volteados Style) and white cheese. 

Pupusas

 are served with a tangy pickled cabbage salad." (GOYA)
Colombia
Colombian Beef and Pork Empanadas

 — "These typical Colombian-style 

empanadas

 are tasty turnovers made with savory yellow corn dough stuffed with seasoned pork and beef mixed with cooked potatoes. The meat filling is typically made with cooked and shredded beef and pork, but here, we use ground meat to cut down in cooking time with similar tasty results. Served at social gatherings, family parties and celebrations throughout the year, these Colombian Beef and Pork Empanadas are the perfect tasty, hand-held party food. Serve with lime wedges and a 

ají picante

." (GOYA)
Friday July 21, 2017
Cooking with Kate: Destination Argentina
One of my favorite things about my job is researching different cuisines from around the world for themed events. Lately, I've been learning about Argentinian dishes, and one food keeps coming up over and over—quince. Argentina is one of the world's top producers of quince, and many describe the fruit as similar in texture and appearance to an apple or pear, but usually bright yellow when fully ripe. Unlike, pears and apples, quinces are rarely eaten raw because they are too hard and sour. Because
this produce
is high in pectin, it is often used to make jams and jellies. Commercially, quince is produced into a sweet/tart, sticky, hard paste known as
dulce de membrillo
. This paste is then used in sandwiches and tarts, like the pastafrola recipe below.
Pastafrola
Traditional Argentine Tarts with Quince Jam
Yield: 1 (9-10") tart or 8-10 individual tarts
Ingredients
For the crust:
1 cup sugar
1 stick + 6 tablespoons salted butter, room temperature
1 teaspoon good quality vanilla
1 egg + 1 egg yolk, room temperature
3 cups all purpose flour
1 egg + 1 tablespoon water, for egg wash
For the filling:
2 cups (15-16 ounces) quince jam / paste (dulce de membrillo or membrillo casero)*
2-3 tablespoons water
Directions
For the crust:
Mix the sugar and butter together with a hand mixer until creamy. Add the vanilla, egg, and egg yolk. Continue to mix with a hand mixer until smooth. Using a spoon, incorporate the flour and salt, a little at a time, being careful not to handle or overwork the dough too much. Wrap the dough in plastic wrap and refrigerate for 30 minutes.
For the filling:
Place the quince paste into a medium bowl. Add the water and mash with a fork until you have a smooth paste.
To assemble: 
Separate the dough into 2 pieces: ¾ for the crust and ¼ to make the strips for the lattice topping. Roll out the larger portion of dough to about ¼" thickness. Lightly coat a pie dish or tart pan with cooking spray or butter, and press the dough into the dish. Spoon the quince paste into the crust. Roll out the second piece of dough and cut into long strips with a knife or pizza cutter. Add the dough strips to the top of the tart in the classic lattice pattern or have fun making your own design.
In a small bowl, mix the egg with the water. Brush the crust with a little of the egg wash, and bake at 350°F for 20-30 minutes, until crust is golden brown. Let cool for 10-15 minutes before serving.