Wednesday April 29, 2015
Nature's Health Food - Strawberries
Enjoy Nature's Health Food for May. Strawberries are healthy and great for smoothies and other snacks.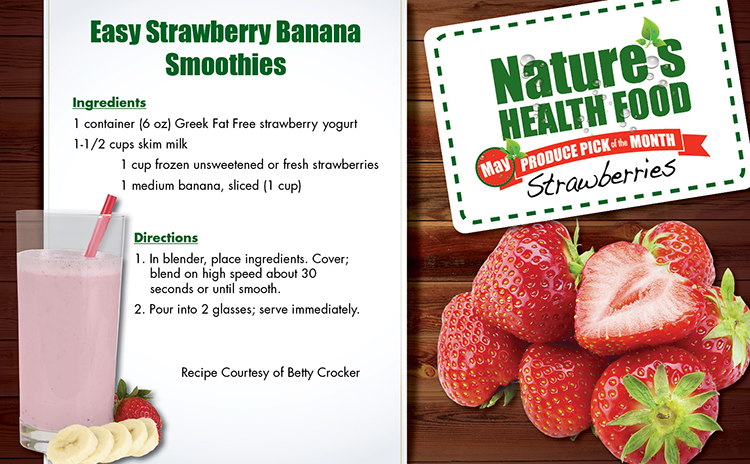 To download PDF, click here
Wednesday January 14, 2015
For the LOVE of FOOD!
Spend the Night IN and Show Your Love
Simple. Sensational. Stress free. There's no better way to show your love than putting together a home-cooked meal at home. Like a lot of things in life, cooking that sweetheart special generally sounds better than it ends up being. That bottle of wine, steak, sides and dessert that looked so great in the cookbook don't always materialize in real life the way you imagined it.
So we've put together a no-fail, no-fuss menu guaranteed to deliver a meal you'll relish with plenty of time left over to gaze into your love's eyes, laugh without worry of the timer going off, and dream of the memories you've yet to make.
Enjoy this LOVE-LY menu that involves no sweat, no swearing, and no regrets!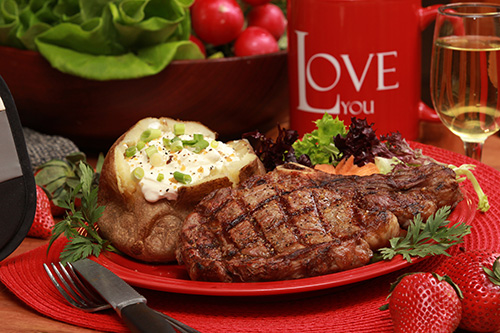 Love Me Tender Rib-Eyes
Ingredients
1 cup Vinegar (any brand will do)
1 cup cooking oil (any brand will do, including olive oils, if preferred)
1 generous tablespoon of Steak or Meat Seasoning (we prefer Tex Joy Steak seasoning or McCormick Montreal steak seasoning)
2 Angus Pride Rib-Eye Steaks (Your Brookshire Brothers butcher is happy to cut and trim them to your specifications!)
Instructions
Mix the vinegar, cooking oil and meat seasoning together.
Pour 1/4 of the marinade into a baking pan.
Place raw steaks on the pan then pour remaining marinade*
Place baking pan in the refrigerator for up to 24 hours.
Every time you open the refrigerator flip them in the pan to recoat the top.
We love this technique because it TENDER-izes the meat just right!
Cooking Instructions
Fire up charcoal or propane grill
Sear the steak on each side after temperature is hot
Grill to preferred doneness
*Do not use marinade as a sauce on cooked meat (use marinade only on raw meats).
Baked to PERFECTION Potato
Ingredients
2 large Russet Potatoes
1 tablespoon Olive Oil
Kosher Salt
Instructions
Run your potatoes under water then pat-dry clean.
Rub teaspoon of olive oil over your potatoes.
Sprinkle kosher salt to taste.
Cooking Instructions
Place potatoes in oven at 450 degrees and roast for 45 minutes or until the center of the potato offers no resistance when cut with a knife.
Dress the potato with toppings of your choice.
Healthy and FRESH EXPRESSions
Don't fret on washing greens or chopping veggies. Grab a FRESH EXPRESS SALAD KIT, toss it, serve it and call it done!
SWEET and SINsational ENDINGS
What dinner is complete without dessert? With Brookshire Brother's Homemade Fudge or our decadent Chocolate Dipped Strawberries, you'll have a sweet ending to your perfect night "in". Packaged by the dozen or half dozen, the berries are dipped and ready for you to GRAB and GO from our Bakery.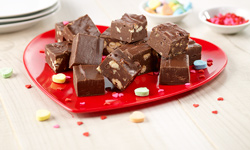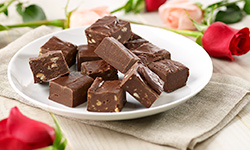 A PERFECT PAIRing
Champagne or sparkling wines are known to aid in digestion when sipped before a meal.  Let us suggest Cupcake Moscato and Korbel Champagne.
Wine experts suggest red wines like Bogle Noir to go with steak.  We know not everyone enjoys a hearty red, so sample our Kendall Jackson Vinthers Reserve Chardonnay, or KJ Chardonnay as it is often shortened to!