Thursday March 12, 2020
Cooking With Kate: The Luck of the Irish…
Did you know that St. Patrick's Day has been celebrated in the United States since 1601 before the US was a country? Now, more than 1600 years after the life of St. Patrick, we commemorate Irish and Irish-American culture on March 17th by wearing green clothing, eating green foods, and having a pint of Guinness, Harp, or Smithwick's. Here are two St. Patrick's Day inspired recipes! Check out your local Brookshire Brothers and Brookshire Brothers Anywhere for great deals!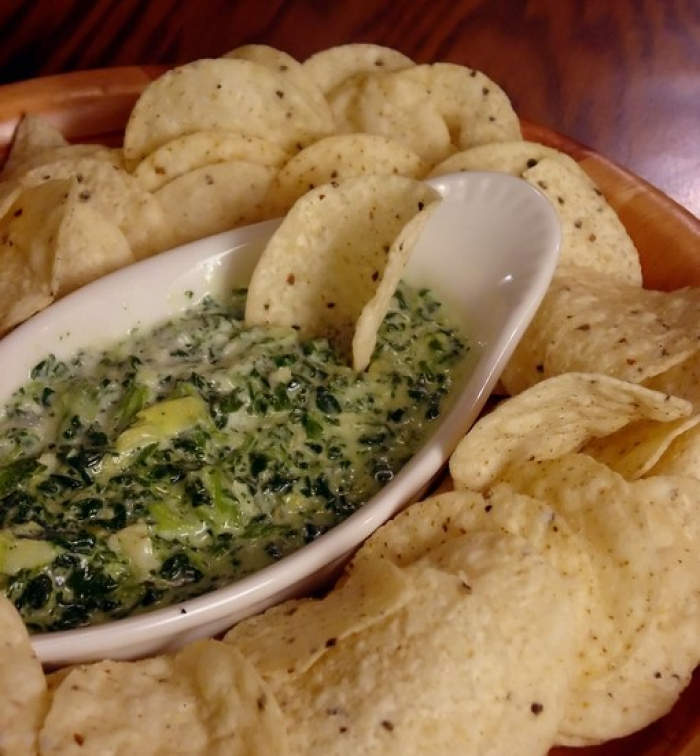 Spinach Artichoke Dip
Makes 12-15 servings.
 Ingredients
2 tablespoons minced garlic, fresh or jarred
1 (10 oz) package frozen chopped spinach, thawed and drained
3 (6.5 oz) jars marinated artichoke hearts, drained and chopped
1 (10 oz) jar premade Alfredo sauce
8 ozs. shredded mozzarella cheese
3 ozs. shredded Parmesan cheese (not the grated cheese in the can!)
4 ounces cream cheese, softened
Pretzels, crostini, crackers, and/or chips, for serving
Directions
Preheat oven to 350°F. Lightly grease an 8" X 8" glass baking dish.
In a large bowl, mix all ingredients until well blended. Spread mixture in the greased baking dish.
Bake at 350°F for 20-30 minutes or until dip is hot and bubbly and the cheese is melted.
Serve warm with pretzels, crackers, chips, and/or crostini.
Irish Coffee Cupcakes
Rich, espresso-infused chocolate cupcakes with Whiskey Irish Cream Buttercream Frosting
Makes 24 cupcakes
Ingredients
1 (15.25 oz) box Dark Chocolate Fudge cake mix
3 large eggs
1 cup warm water
2 tablespoons instant espresso powder (Medaglia D'Oro is a good brand!)
1/3 cup vegetable oil
Frosting Ingredients 
3 sticks (12 ozs.) salted butter, room temperature
1 ½ lbs. (24 ozs.) powdered sugar, sifted
1 tablespoon good quality vanilla extract or vanilla bean paste
¼ cup Bailey's Irish Cream liquor
¼ cup Jameson Irish Whiskey
Directions
Preheat oven to 350°F. Line a 24-count muffin cup pan with paper cupcake liners.
To make the cupcake batter – In a small bowl or measuring cup, mix warm water and espresso powder until dissolved. In a large bowl, whisk eggs, espresso, and vegetable oil until blended. Add cake mix and mix until combined. Divide batter evenly between the 24 cupcake liners (they should be about ¾ full). Bake in the preheated oven for 18-25 minutes or until the cupcake springs back slightly when gently pressed. Let cool completely before frosting.
To make the buttercream frosting – In the bowl of an electric stand mixer fitted with the paddle attachment, beat the butter on medium-high speed for 7-8 minutes. Change the speed to low and slowly add in the sifted powdered sugar. Continue mixing until the sugar is fully incorporated. Add in vanilla, Bailey's and Jameson whiskey and mix until incorporated. Turn the mixer back up to medium-high speed and beat the buttercream for an additional 7-8 minutes. If the buttercream is too thick, add in more Bailey's, one teaspoon at a time until you reach the desired consistency. Frost cooled cupcakes and serve.
Note: Frosting can be stored for up to three days in the refrigerator in an airtight container. Before using, bring frosting to room temperature and beat with an electric mixer until smooth.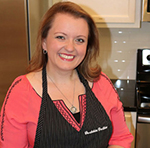 Kate knows food. She grew up with the Southern tradition of good food with the hospitality to match.  A graduate of Texas A & M University, a student of The Texas Culinary Academy, and a Nacogdoches, Texas native, Kate's greatest joy is bringing people together over a scrumptious meal.
Monday March 12, 2018
Real Fresh, Real Delicious, Really Green Smoothie
With Saint Patrick's Day around the corner, spring in the air, and the produce section
at my neighborhood Brookshire Brothers
overflowing with fresh seasonal produce, what better way to celebrate than with a tasty green treat?  No need for artificial food coloring when you can use nature's pantry to create a delectable green smoothie that will please kids and adults alike. Plus, smoothies are a quick and tasty way to get in your daily fruits and veggies!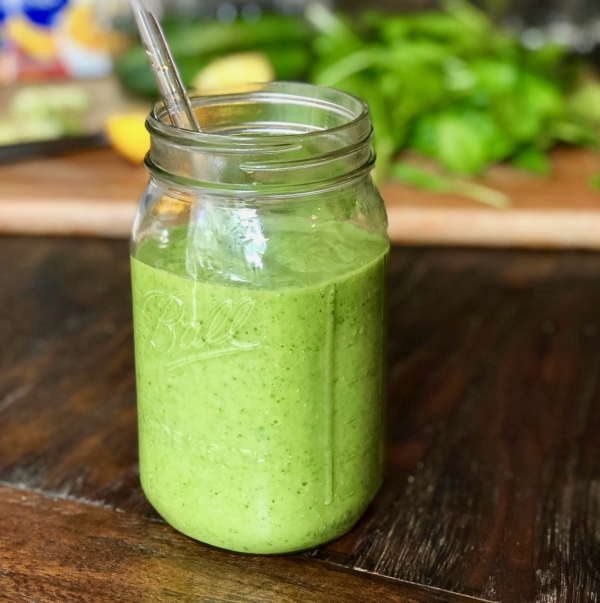 The art of the smoothie is all about the combination of ingredients. At my local Brookshire Brothers, I spotted plenty of
farm fresh produce
for inspiration. I decided to blend fresh apples and cucumbers in my recipe, but feel free to swap out ingredients and make it your own. You can sub in fresh oranges, bananas, kiwi, blueberries, strawberries, double the frozen fruit, or whatever you feel inspired to do!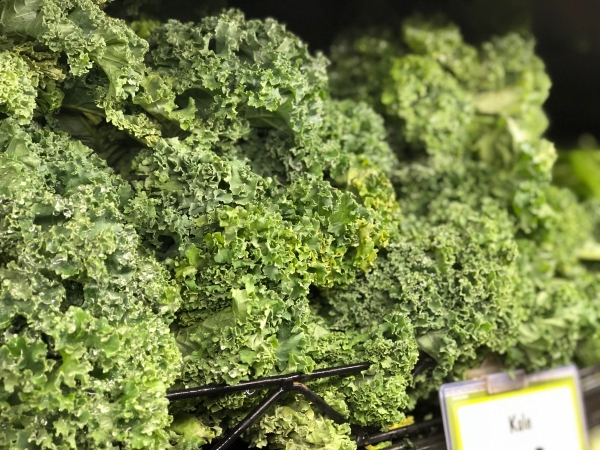 For a sweeter drink, choose frozen mango or frozen pineapple and use coconut water or 100% juice for the liquid component.  For a mildly sweet lower calorie smoothie, I used an almond/coconut milk blend.  If using the drink as a meal replacement, try using regular milk or half yogurt half milk to boost the protein.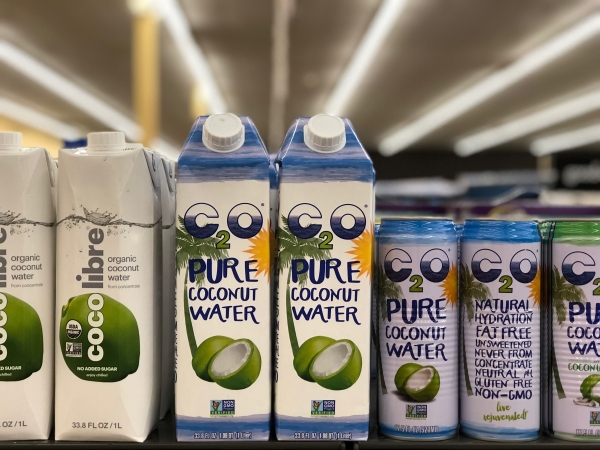 I added a spoon full of chia seeds for some healthy omega-3 fats, but flax seed works as well or you can skip them all together.  For the green stuff, try hand fulls of fresh spinach, kale, or Swiss chard to make it as beautiful as it is healthy.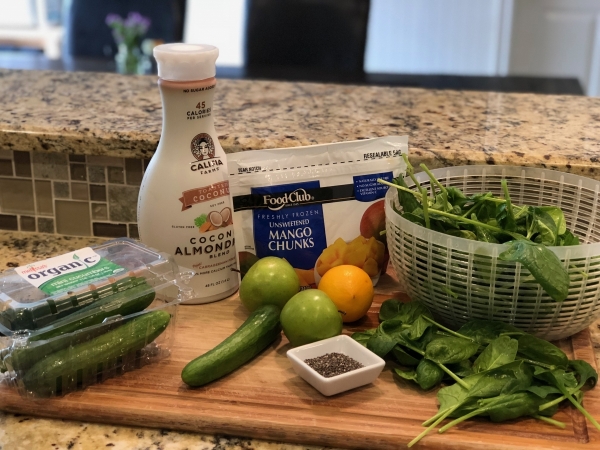 As you can see, there are plenty of ways to make your own pot of (green smoothie) gold at the end of the rainbow.  Wishing you good luck and good health!  Enjoy!
THIS WEEKEND ONLY: Join our text promotions and get 10% OFF ANY FROZEN FOODS—perfect for adding frozen fruits to your smoothie recipe! To sign up, text JOIN [insert your store number] to 59652.
---
SHAMROCK SMOOTHIE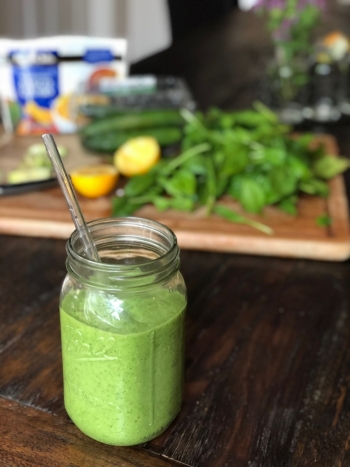 Ingredients
1 cup frozen mango, pineapple, or other frozen fruit of choice
Two small or one large apple, cored and cut into chunks
1/2 cucumber or one mini cucumber cut into chunks
1 cup almond milk, coconut milk, regular milk, yogurt, coconut water, or 100% juice of choice
1 tablespoon of lemon juice (or half a lemon squeezed)
1 Tablespoon of whole chia seeds or flax seeds (optional)
Two big hand fulls (about two cups packed) of fresh spinach, kale, or Swiss chard
Directions
Add all ingredients to blender and mix until well blended. Add greens in batches as needed.  
Makes 4 cups (32 ounces)
---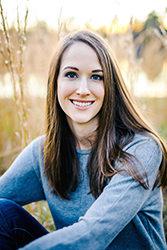 Angela Larson is a registered dietitian (RD) who works with Brookshire Brothers promoting 
real fresh, real delicious
 foods and nutrition education to the community. She is also a clinical dietitian representing Woodland Heights Medical Center in Lufkin where she does outreach education on food and nutrition. Food is her passion, so Angela loves trying new recipes and exploring the more holistic side of nutrition. Angela loves to cook, garden, and spend time outdoors. In addition to the 
Brookshire Brothers blog
, look for Angela's monthly articles in Charm East Texas. 
Friday March 17, 2017
St. Patrick's Day Lucky Shake
Hiland Milk has gathered all of the leprechauns and four leaf clovers to bring you a tradition you'll be wanting to adopt! Try your luck at this Lucky Shake recipe and if you're really lucky, you won't want until next St. Patty's Day to try it again!
Lucky Shake
Ingredients
2 cups Vanilla Ice Cream
1/ 1/4 cups Hiland Dairy Milk (any variety)
1/4 teaspoon mint extract
8 drops green food coloring
Directions
Combine all ingredients in a blender. Blend until smooth - enjoy!
Thursday March 5, 2015
How to Make Green Beer
Learn the tips and tricks you need to create the perfect pint of green beer while avoiding common pitfalls (looking at you, flat turquoise beer). 
What you'll need: 
Beer
Pint glass
Green food coloring
How to:
Use a light-colored beer such as a pilsner or pale ale. The lighter the beer, the brighter the color. A dark beer will require more food coloring, which leads to green teeth.
Add beer to the coloring. To avoid flat beer, grab a pint glass and squeeze in 3- 5 drops of green food coloring. Slowly pour beer from a 12-ounce can or a 16-ounce bottle into the glass. Watch the color mix as the beer goes in. Want more color? Add a drop or two more of food coloring. If you put the beer in first, you'll have to stir it, which will make the beer go flat.
Stick with liquid green food coloring that comes in the little squeeze bottles. Adding blue to yellow-hued beer seems like a clever alternative, but we don't recommend, because you'll end up with turquoise beer.
Wednesday March 4, 2015
Sweeten the Pot
Mini Grasshopper Cheesecakes
Crushed cookie crumbs make up the base of these easy, tasty cheesecakes.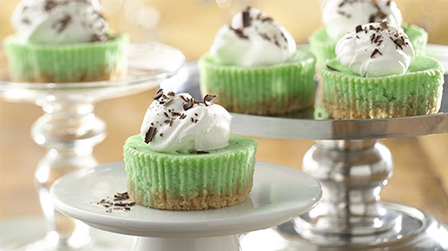 Prep time: 20 min
Total time: 3 hr 40 min
Ingredients: 7
Servings: 18
Ingredients:
Crust
1 roll Pillsbury™ refrigerated sugar cookies
3/4 cup butter, melted
Filling:
2 packages (8 oz each) cream cheese, softened
2/3 cup sugar
3 eggs
One teaspoon peppermint extract
4 to 6 drops green food color
Topping: Sweetened whipped cream and chocolate shavings, if desired
Steps:
Heat oven to 350°F. Cut cookies into slices as directed on roll. Place 2 inches apart on 2 ungreased large cookie sheets.
Bake 14 to 16 minutes or until cookies are deep golden brown and crispy. Cool 1 minute; remove from cookie sheets to cooling rack. Cool completely, about 10 minutes. Crumble about half the cookies into fine crumbs to make 2 cups cookie crumbs.
In small bowl, mix cookie crumbs and melted butter. Place foil baking cup in each of 18 regular-size muffin cups. Press about 1 tablespoon cookie mixture in bottom of each baking cup. Reduce oven temperature to 300°F. Bake 5 minutes.
In large bowl, beat cream cheese and sugar with electric mixer on medium speed, scraping bowl frequently, until smooth and creamy. Add eggs, one at a time, beating until smooth after each addition. Stir peppermint extract and food coloring. Pour about 1/4 cup of the filling on top of each of the cookie crusts.
Bake 20 to 22 minutes or until edges are set and centers are still slightly jiggly. Turn oven off, and open door slightly. Cool cheesecake in oven 30 minutes. Remove from oven to cooling rack; cool at room temperature 30 minutes. Refrigerate about 2 hours or until cheesecakes are chilled. Top with sweetened whipped cream and chocolate shavings.
End-of-the-Rainbow Cookie Parfaits
Kids and adults will flip for these easy rainbow parfaits that are easy to make and over-the-top delicious!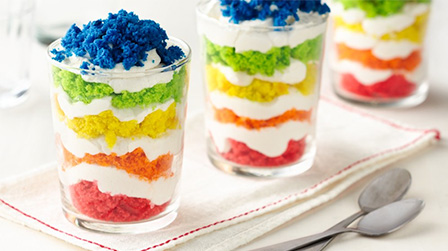 Prep time: 30 min
Total time: 55 min
Ingredients: 6
Servings: 12
Ingredients:
1 roll (16.5 oz) Pillsbury™ refrigerated sugar cookies
2 eggs
Red, orange, yellow, green and blue gel food colors
1 pint whipping cream
3 tablespoons sugar
1 teaspoon vanilla
Steps:
Heat oven to 350°F. Spray 10 regular-size muffin cups with cooking spray. Let cookie dough stand at room temperature 10 minutes to soften. 
In large bowl, break up cookie dough; add eggs. Beat with electric mixer on medium speed until smooth and well combined. Divide dough evenly into 5 small bowls. Color dough with red, orange, yellow, green and blue food colors, stirring until well combined.
Scoop dough into muffin pans, making 2 cupcakes of each of the 5 colors, for a total of 10 cupcakes. Bake 15 to 18 minutes or until toothpick inserted in center comes out clean. Cool in pan 5 minutes. Remove cups from pan to cooling rack to cool completely, about 30 minutes. 
Meanwhile, in medium bowl, beat whipping cream, sugar and vanilla with electric mixer on medium high speed until stiff peaks form.
Crumble each of the cupcakes, keeping the colors separate. Sprinkle red cake crumbles into each of 12 glass parfait cups, glasses or small jars. Pipe whipped cream on top of each. Repeat process with orange, yellow, green and blue cake crumbles, finishing with the blue cake crumbles. Serve immediately, or refrigerate until ready to serve.
Mini Whoopie Pies
It doesn't get much easier than these 5-ingredient whoopie pies made with Pillsbury® sugar cookie dough!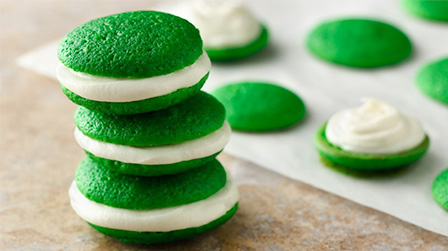 Prep time: 20 min 
Total time: 50 min
Ingredients: 5
Servings: 34
Ingredients:
1 roll (16.5 oz) Pillsbury™ refrigerated sugar cookie dough
2 eggs
1/2 cup plus 1 tablespoon all-purpose flour
1/2 teaspoon green gel food color
1 cup cream cheese creamy ready-to-spread frosting (from 16-oz container)
Steps:
Heat oven to 350°F. Line 2 large cookie sheets with cooking parchment paper. Let cookie dough stand at room temperature 10 minutes to soften.
In large bowl, break up cookie dough. Add eggs, flour and green food color. Beat with electric mixer on medium speed about 30 seconds or until well blended. Place mixture in decorating bag fitted with tip, or place in resealable plastic food-storage bag and cut off 1 corner. Pipe batter into 1 1/4-inch circles 1 inch apart on cookie sheets.
Bake 8 to 10 minutes or until cookies are set and spring back when touched. Cool 2 minutes on cookie sheets. Remove to cooling racks to cool completely, about 30 minutes.
To make 1 whoopie pie, pipe frosting between 2 cookies.
Tips: Give these whoopie pies extra-special flavor by filling them with your favorite homemade cream cheese frosting!
Thursday February 26, 2015
St. Patrick's Day Dinner Party
Celebrate the holiday at home with a meal that says "St. Patrick's Day" from start to finish. Greet guests with some good Irish beer options and nibblers. Crackers and Irish cheddar cheese or dip and green veggies, such as broccoli and zucchini, are a good bet. No luck of the Irish needed. Though it's always a welcome bonus!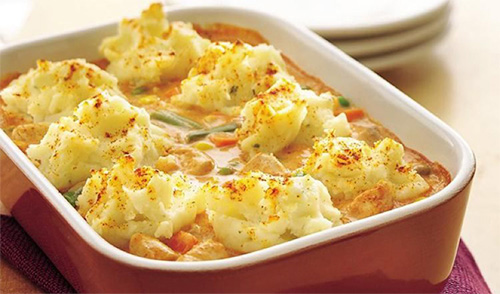 Special St. Patrick's Day Touches
Pump up the St. Paddy's Day soirée with these Irish-oriented party ideas including music, decorations and more.
Blarney Rock Play Irish music in the background. Go with traditional Irish folk songs or more current rock from artists like U2, The Pogues or Van Morrison.
Double-Duty Centerpiece Green candles in multiple sizes and strings of green plastic beads strewn about make for easy, inexpensive and pretty table dressing. Plus, you have a little something on hand to ensure everyone has a touch o' green.
Sláinte Stock Irish beers such as Harp, Guinness and Kilkenny, or make your own green beer with a few drops of green food coloring. The lighter the beer, the better the result.
That's Crafty Decorate plain napkins, paper coasters or place mats with a shamrock stamp dipped in green ink. Make your own stamp by carving a shamrock shape into a potato half or by using a heart-shaped stamp three times—one for each leaf—then drawing in the stem.
Pretty, Patriotic Get helium-filled balloons in green, white and orange, the colors of the Irish flag. Let them dangle throughout the party.
Grown Green Choose flowers in different shades of green such as chrysanthemums, hydrangea, calla lily, carnations, eucalyptus or orchids. Make an arrangement, or tuck single stems in select spots.