Monday October 19, 2015
Cooking with Kate: Finally Fall
The temperatures are finally dropping. Time for scarves and boots, crunchy leaves, fire pits, and all things pumpkin! Not only is pumpkin a staple ingredient for pumpkin pies and muffins, it is a good source of fiber, Vitamin A, Vitamin C, and beta carotene. Pumpkin seeds are also high in protein. Here are a couple of my favorite savory pumpkin recipes to start out the fall pumpkin season.
Spiced Pumpkin Seeds
2 cups raw pumpkin seeds
4 tablespoons butter, melted
½ teaspoon seasoned salt
½ teaspoon garlic salt
1 tablespoon Worcestershire sauce
Preheat oven to 275°F. Spray a rimmed cookie sheet with non-stick spray. In a medium bowl, combine all ingredients except the pumpkin seeds. Mix well. Add the seeds and toss to coat. Spread seasoned seeds on the prepared pan and roast at 275°F for 1 hour, stirring every 15 minutes, until toasted and crisp. Store in an airtight container.
Roasted Pumpkin Soup
2 medium sugar or pie pumpkins, fresh
Sugar or pie pumpkins differ from carving pumpkins. They are smaller, more dense, and have more flavor than carving pumpkins.
3 (15 oz) cans packed pumpkin puree may be substituted for the roasted pumpkin
1 medium sweet onion, diced
½ stick butter
1 quart chicken stock or broth
1 teaspoon salt
½ teaspoon ground black pepper
¼ teaspoon ground cinnamon
¼ teaspoon ground ginger
1 pinch ground nutmeg
1 cup heavy cream + extra for garnish
¼ - ½ cup toasted pumpkin seeds, for garnish
Preheat oven to 300°F. Cut and remove a small circle at the top of each pumpkin. Remove pulp and seeds; discard. Place pumpkins on a baking sheet and roast at 300°F for 30-45 minutes or until pumpkins are tender. Let cool slightly before removing pumpkin flesh from skin. Set aside.
In a large pot, melt butter and sauté diced onion until soft (about 5 minutes). Add chicken stock, pumpkin flesh (or canned pumpkin), and spices. Mash pumpkin slightly and mix well. Bring to a simmer over medium heat and cook until heated through (10-15 minutes), stirring occasionally. Working in batches, transfer the soup mixture into a blender and puree until completely smooth and creamy. A hand or immersion blender may also be used. Return the soup to the pot and add the heavy cream. Keep warm over medium-low heat until ready to serve.
Ladle soup into soup bowls or small hollowed out pumpkins. Garnish with a drizzle of heavy cream and a sprinkle of toasted pumpkin seeds. Serve immediately. Makes 6-8 servings.
Friday October 9, 2015
Have a Spook-tacular Healthy Halloween
Candy may be everywhere you look this time of year, but your Halloween celebration can be on the healthy side. Enjoy serving these great recipes that will still satisfy your sweet tooth and cast a spell on all your party goblins!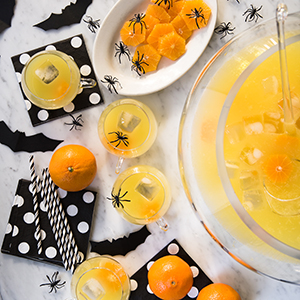 Bubbling Witches Brew
(Makes 5 cups)
3½ cups fresh mandarin orange juice
½ cup fresh lemon juice
1 cup chilled sweet sparkling soda
Chill freshly squeezed mandarin orange juice and lemon juice. Before serving, mix into a punch bowl or pitcher and stir in 1 cup chilled sweet sparkling soda and ice cubes. Taste for sweetness. To garnish, peel and slice mandarin oranges.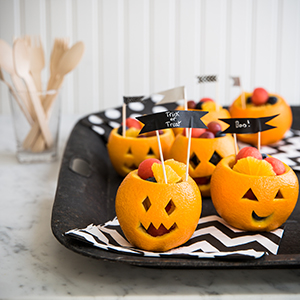 Spook-tacular Fruit Cups
(Need 1 orange for each fruit cup)
Orange Pieces
Melon Balls
Grapes
Blueberries
Cut off the top 1/5 of the orange and use a paring knife to separate the fruit from the inside of the orange, being careful not to cut through the peel. It's not necessary to get all of the flesh out, just enough to fill with cut fruit. If necessary, shave a small amount of peel off the bottom so the cups sit level, being careful not to create an opening in the base. Use a paring knife to carve faces and fill each cup with your choice of orange pieces, melon balls, grapes and blueberries.