Tuesday January 23, 2018
Cooking with Kate: 6 Easy Steps for Organizing Your Freezer
I love the start of a new year. It's a great opportunity to organize and start fresh after the busy holidays, especially when it comes to the kitchen. In particular, cleaning out your freezer and/or deep freeze gives you a chance to free up a too-full freezer and make plans to re-stock for the busy months ahead. Here are some tips and tricks for keeping your freezers organized, plus a recipe for a yummy freezer-ready meal: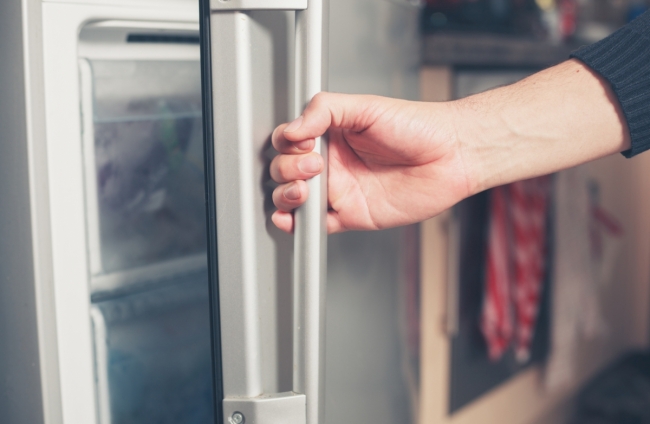 How to Keep Your Freezer Organized in 6 Easy Steps
Label EVERYTHING
Always include what the food is, the date it was prepared, and recommended cooking instructions.
Freeze individual servings
No more thawing an entire bag or container of something you just need a little of. Portion out your meals or ingredients ahead of time, freeze them individually, and then just use what you need.
Freeze things flat
Using gallon or quart sized freezer storage bags is a GREAT way to store a lot of things. Fill the bag, remove the air, and lay it flat to freeze. Once frozen, you can stand it up on its side where it's only an inch or two wide—a great space saving technique!
Inventory (right on your freezer!)
Keep a regular inventory of what you have in your freezer by keeping a list on the door of your pantry or where you write out your grocery list. BONUS: dry erase markers work on most freezer doors so you can write your inventory right where you need it! If you don't want to write directly on the surface in your kitchen, purchase a small magnetic dry erase board and attach it to the side. Review and revise your list each time you use up or add something.
Keep a list of how long food lasts in the freezer
With a full freezer, it may be hard to decide what you need to eat your way through first. Find a good printable, like
the FDA's guide
or
this easy to read sheet
, to keep on hand so you always know which foods should be at the top of your list.
Remove or rearrange freezer shelves
Freezer shelves can sometimes get in the way instead of helping to keep things organized. Most shelves and drawers are adjustable and can be rearranged (or removed) to make the most of available space.
Tomato Basil Chicken
Ingredients
8 chicken breasts, boneless with skin
Salt and pepper to taste
3 tablespoons olive oil
1 tablespoon butter
½ cup dry white wine
1 can (28 oz) diced tomatoes
1 can (14 oz) whole tomatoes
2 tablespoons (heaping) tomato paste
1 package fresh basil, torn into small pieces
8 cloves garlic, peeled and left whole
Directions
Preheat oven to 400 degrees. Salt and pepper chicken breasts.
Heat ovenproof skillet or Dutch oven over medium-high heat. Add olive oil and butter. When oil/butter is hot, add chicken to the pan. Using tongs, brown on all sides, about 2 minutes. Remove chicken from pan.
Pour in wine, scraping the bottom of the pan to loosen any bits. Cook for 1 minute. Pour in tomatoes with their juice and add tomato paste. Add salt and pepper to taste, stirring to combine. Bring sauce to a boil, then turn off heat. Add fresh basil, 8 cloves of peeled (but whole) garlic, and the chicken. Toss to coat the chicken in the sauce. Place the lid on the pot or skillet and cook in the oven for 1 hour.
Remove lid and check sauce. If it's overly thin, remove the chicken from the pot and boil the sauce on the stovetop for 5 to 10 minutes. Check seasonings and add salt and pepper, as needed.
Serve with buttered noodles, steamed rice or roasted potatoes, fresh grated mozzarella and parmesan, a green salad, and crusty garlic bread.
To freeze: Let chicken cool and place in foil pan, baking dish, or gallon freezer storage bag. Cover tightly, label and freeze. Thaw overnight in the fridge before re-heating in the oven or on the stove for 30-45 minutes or until warm.
---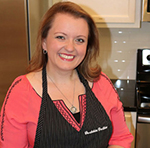 Kate Rudasill, Catering Coordinator for Brookshire Brothers, has been in the food-service industry for the past 14 years. As a graduate of Texas A&M University, a student of The Texas Culinary Academy, and a Nacogdoches, Texas native, Kate grew up with Southern tradition in her blood which caused her to have a deep love for bringing people together with food.
Friday July 21, 2017
Keepin' it fresh: How to store groceries
With longer days and no school, summer is often a great opportunity to get things done around the house (especially if you skipped spring cleaning). While it's common for a To-Do list to include cleaning the fridge out, not many people realize that there is an optimal way to organize the food in their fridge. Below are some tips on how you can keep your groceries fresh with good storage.
THE DOOR
The warmest temperatures. Recommendation: Non-perishables
Lunch, dinner, breakfast, snack time, second breakfast
—whatever the reason, most people are in and out of their fridge throughout the day. Consequently, the refrigerator door becomes a high traffic site for warm room temperatures. The USDA confirms these circumstances with their suggestion to store your least-perishable foods in the door, such as condiments. In fact, even though some refrigerators have door compartments for eggs, USDA claims it's better practice to store a carton of eggs on a shelf.

UPPER SHELVES
Mild and cool temperatures. Recommendation: Ready to eat food
When it comes to organizing the refrigerator shelves, Science 101 reminds us that heat rises while cold air sinks. In other words, foods that do not depend on cold temperatures to remain fresh and safe should usually be stored on upper shelves in the milder temperatures. These foods might include leftovers, dairy products, cooked meats, and other packaged foods. Additionally, storing these foods at the top of the fridge keeps them separate from raw food that should be stored on the lower, colder shelves.
LOWER SHELVES
The coldest temperatures. Recommendation: Meats and poultry
Aside from the science of sinking air, the bottom of the fridge is also where the refrigerator coil is often located, rendering it the coldest place to store groceries. This is usually the best spot to keep highly perishable foods such as raw
meat, poultry, and seafood
. For best food safety practice, the USDA advises to keep these particular foods secure in the original packaging or a sealed container to prevent cross contamination.
CRISPER
Cold and moist temperatures. Recommendation: Fruits and vegetables
According to ReFED, fruits and vegetables account for approximately 40% of annual food waste in the U.S., which is more than almost all other types of food combined. Part of this waste could be resolved with better storage, which is where crisper drawers come in handy. These drawers are designed to retain moisture, making it the optimal place to store
fresh produce
(otherwise they dry out).
Most food guides further recommend separating fruits and vegetables if there are two drawers. A natural plant hormone called ethylene can cause sensitive types of produce to become overripe. In other words, storing an apple with cucumbers could cause the cucumbers to ripen too quickly. There are lists that specifically distinguish which produce types ethylene-generative and ethylene-sensitive, but an easy rule of thumb to remember is that most fruits are the former, while most vegetables are the latter.
Remember, the above guidelines are general. Some fridges have different designs so don't ignore what you've noticed about your own fridge. Nevertheless, hopefully these tips will help you maximize the use of your fridge, as well as the life of your groceries!
Thursday December 17, 2015
A Day in the Life: My Organized and Healthy Kitchen
A minute saved, is a minute earned. After December's busy happenings, this is the time of the year that I have to really plan ahead to get everything accomplished. For me, it all starts in the kitchen.
I'm sure we can all agree that cooking and eating at home is healthier and less expensive, but can sometimes be time consuming. With a little pre-planning and cooking at home, you can actually save time and money (and it can even be healthier)!
To save my sanity…I mean time, I create a shopping list for the week. No running to the store for a missing ingredient in our house. I send my (wonderful) husband to the grocery store with the list in-hand and he purchases everything that we need for a week's worth of meals.
While he is at the store, I begin the meal planning process. With input from my twin girls, I plan our weekly lunches and dinners. This is where planning becomes your friend! Save yourself from the "what's for lunch?" question by packing leftovers. Eating leftovers can save so much money if you're willing to spend some time planning on how to utilize the leftovers. Here's an example of what my calendar looked like for December -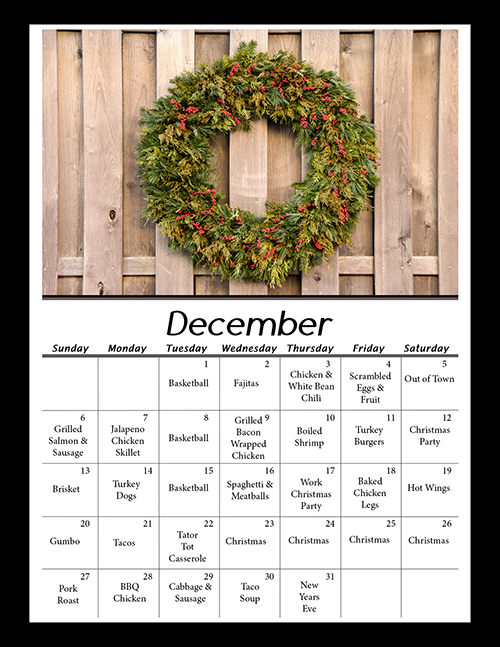 For my family of four, this is the norm for us. We all work like a well-oiled machine when it comes to lunch and dinner. I hope this gives you a glimpse into my crazy, but organized life. I love all things healthy and planned and hope to bring more ideas for 2016 from my kitchen.
Tuesday September 22, 2015
6 Ways to Avoid Holiday Madness
Summer might have just ended, but the busiest season of the year is right around the corner - the Holiday Season! Fall parties are starting up, which lends its hand to Halloween parties, then Thanksgiving get togethers, Christmas parties, and finally the pinnacle of all, New Year's Eve Celebrations. With this albeit fun, but energy-sucking time of the year, we've got you covered on how to save on time!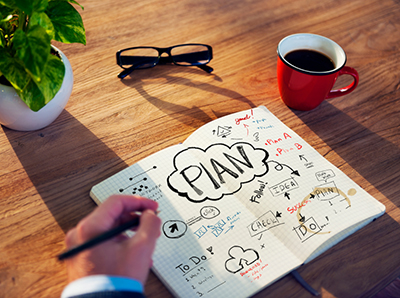 Shop the sale
When running your daily or weekly errands, pay attention to the sale prices and clearance aisles. You may not need it now, but you could next week. If you're already out and about, chances are you have the time to spend now rather than later. Don't put yourself in a bind next week when you need a last minute gift for a birthday party or one more ingredient to finish your meal.
Make a list
Sure, you get the basics every time you go to the store, but the one time you don't make a list is the one time you forget the very thing you went to the store for. Next time, plan ahead and take stock of what items you need.
Avoid peak shopping hours
When shopping during the week, lunchtime and rush hour (5-6 PM) are peak shopping times. To avoid long lines, try mid-morning or mid-afternoon to have a relaxing shopping experience.
Break out the crockpot
The best time saving utensil in your kitchen is your crockpot. Throw everything in before you leave for work and return to a nice smelling house with dinner ready to go.
Delegate
Get your husband and kids involved. While you're cleaning one room, have them clean the others. Or while you're shopping for milk and eggs, have your husband step an aisle over to grab cheese.
Make a routine
This may go against the free spirits, but schedules and routines can really help save time. Set a day of the week for cleaning certain rooms, or cooking certain meals. Whatever things you do everyday, make routines for.